BYD Yangwang U8 Is A $150K Floating Off-Road EV That Does Tank Turns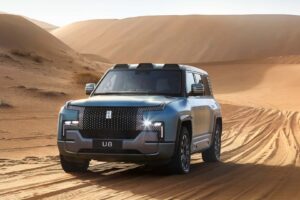 If you're among the rapidly shrinking group of people that still underestimate Chinese automakers, you probably need a reality check, and BYD's newest launch is as good as any.
China's largest EV maker has officially unveiled the Yangwang U8 Premium Edition in China, following a preview earlier this year. Marketed under BYD's high-end sub-brand Yangwang, the U8 is a $150,000 luxury off-road SUV that features a sophisticated four-motor series plug-in hybrid system delivering up to 1,180 horsepower.
Thanks to four-wheel independent torque vectoring control enabled by the Yangwang U8's e4 Platform, the massive SUV is able to do all-terrain tank turns, continue driving after one tire blows out, and even float on water for short periods of time.
Yes, you read that right, this massive SUV – it's 209.4 inches long and it has a curb weight of 7,628 pounds – can stay afloat for up to 30 minutes and move forward at 1.8 miles per hour by accelerating and turning its wheels. It can also perform tank turns while floating (see official video below via CarNewsChina).
https://www.youtube.com/embed/ssxVNTa6IGE?si=Mb6uEp–IGiRTRlQ
That said, BYD notes that the emergency flotation feature is a "passively triggered emergency function" designed for flash floods or off-road water obstacles, and it advises users against attempting it without due cause. Once triggered, the vehicle needs to be returned to the factory for a thorough check.
Moving on, the BYD Yangwang U8 appears to have been designed with the goal of amassing as many superlatives as possible.
4-Motor Powertrain Enables 112-Mile EV Range, 0-62 MPH In 3.6 Sec
For example, it has a combined driving range of up to 621 miles (1,000 kilometers) with a full battery and 75-liter fuel tank, eliminating range anxiety. Since the U8 is an extended-range electric vehicle (EREV), the powertrain also includes a 2.0-liter turbocharged four-cylinder gas engine that works as a power generator for the battery.
The BYD Blade battery has LFP chemistry and a capacity of 49 kilowatt-hours, enabling an all-electric range of 112 miles under the CLTC cycle. The battery is integrated into the chassis using BYD's Cell-to-Chassis (CTC) technology. Charging the battery from 30 to 80 percent takes as little 18 minutes when using a DC fast charger (at rates of up to 110 kW).
The battery also offers 6 kW vehicle-to-load (V2L) capability, enough to power electronic devices and high-power equipment for up to 25 hours; a 2.2 kW onboard 220V power supply is also offered.
Gallery: 2024 BYD Yangwang U8 Premium Edition
Each of the four electric motors makes 220 kilowatts (295 horsepower) for a combined power of 880 kW (1,180 hp) and combined torque of 944 pound-feet (1,280 Newton-meters). This gives the U8 Premium Edition supercar acceleration: 0-62 mph is dispatched in 3.6 seconds. The top speed is limited to 124 mph.
Besides the e4 Platform, the Yangwang U8 also owes a lot of its capability to the DiSus-P Intelligent Hydraulic Body Control System. As its name suggests, this system ensures continuous damping control and adjusts damping rigidity.
It reduces body roll and the risk of rollover during high-speed cornering, reduces pitch during acceleration or braking, and protects the vehicle from damage in challenging road conditions.
The system offers 5.9 inches between the minimum and maximum ground clearance and BYD says it is certified for up to 300,000 lifts. Another cool application is one-click leveling when camping and an easy-access loading feature.
Body-On-Frame Construction For Serious Off-Roading Abilities
This brings us to the BYD Yangwang U8's off-road capability, and the first thing you need to know is the luxury SUV has body-on-frame construction, so it deserves to be called an off-roader.
With the suspension in the highest setting, the U8 can wade through 3.3-feet deep water without a snorkel and offers serious off-road angles: 36.5° (approach), 35.4° (departure), and 25.5° (breakover). The approach and departure angles are significantly better than the Mercedes-Benz G-Class' 31° and 30°, respectively, while the breakover angle is only 0.5° lower.
To get a sense of what the Yangwang U8 can do off-road, BYD says it's the first mass-produced electrified vehicle to conquer Bilutu Peak, the world's tallest stationary sand dune – aka the "Desert Everest" – at 1,600 feet. The vehicle offers 15+1 off-road modes, so it's safe to say it can adapt to pretty much any terrain.
A Cornucopia Of Technology And Luxury
The U8 tech fest continues with the Yangwang Pilot ADAS that consists of 38 sensors, including 3 LiDAR units, 5 millimeter-wave radars, 14 ultrasonic sensors, and 16 cameras. Together with two NVIDIA Drive Orin intelligent driving processors boasting a combined computing power of up to 508 TOPS, the ADAS enables Highway Driving Assist (HDA), City Navigation Autopilot, and Automated Valet Parking. 
In total, there are over 30 Level 2 ADAS features, including Adaptive Cruise Control (ACC) and Automatic Parking Assist (APA). It's worth noting that Highway Driving Assist, City Navigation Autopilot, and Smart Cockpit functionalities will be available through future over-the-air (OTA) software updates.
Inside, the U8 Premium Edition boasts a dual-layered cockpit featuring a 12.8-inch OLED Galaxy Curved Center Display, dual 23.6-inch longitudinal screens for the driver and front passenger, two additional screens for rear passengers, and a smaller screen on the console between the rear seats. A 70-inch augmented reality head-up display, intelligent voice control, and three wireless charging spots supporting 50W fast charging are also part of the package.
As for the luxury part, the photos do the cabin justice; suffice to say it features high-end Nappa leather seats with intelligent bolstering and 10-point matrix hot stone massage, Sapele wood from Africa, a 22-speaker Dynaudio Evidence Series high-end audio system with Dolby Atmos 7.1.4 surround sound, Rhythmic starlit sunroof, and a refrigerator.
Taking all this into account, it's not surprising that the BYD Yangwang U8 Premium Edition is China's most expensive mass-produced EV at $150,000 (1,098,000 yuan). Deliveries to customers in China start in October and an all-electric variant might launch next year, according to CarNewsChina citing sources familiar with the matter.
https://www.youtube.com/embed/xEflRdyIbJc?si=kKcpxCUJX1XY_WVh
Source: BYD via CarNewsChina
Source: Read Full Article