Cruise Robotaxi Fleet Causes Gridlock On Austin Street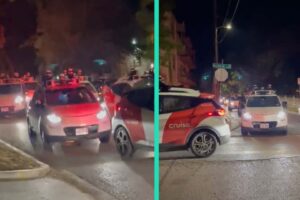 Roughly 20 autonomous taxis operated by General Motors' Cruise business unit caused a traffic jam on San Gabriel Street in Austin, Texas last weekend, prompting residents to vent out on social media.
Images and videos posted on X (formerly Twitter) show a small fleet of driverless Chevrolet Bolt EVs advancing at tortoise speeds with their hazard lights on, with some of them having managed to turn around and face each other somehow, in what looks like a slow-motion four-wheeled robot faceoff.
In a statement sent to The Drive, a Cruise spokesperson hinted that high levels of pedestrian and vehicle traffic were the cause of the robotaxis going haywire, but footage shot on the scene shows few people were actually around the cars.
"Foot and vehicle traffic on the street was heavy," said a Cruise spokesperson for The Drive. "Our cars are designed first and foremost to prioritize safety—and that includes using caution around pedestrians."
All Cruise AVs are remotely monitored and the cars that were involved in this latest incident eventually left the area on their own, according to the spokesperson, who added that the company was alerted to a crowding event on Austin's San Gabriel Street on Sunday and that technicians were able to address the issue.
One person who was at the scene and shot several photos and videos said that Cruise workers were trying to operate the Bolt EVs via remote control.
This isn't the first time GM's robotaxi business stepped on the nerves of residents in the cities it operates, with several incidents documented in San Francisco, the latest of which – involving a fire truck – led to the company reducing its fleet by 50 percent. Other notable mishaps include cars getting stuck in wet concrete, colliding with a semi-truck that was making a turn, getting tangled in caution tape, and rear-ending a municipal bus.
Rather ironically, Cruise ran a full-page advertisement in the New York Times in July where it said that "Humans are terrible drivers," adding that 42,795 Americans were killed in car crashes last year. Unsurprisingly, this didn't bode well with a former head of the National Highway Traffic Safety Administration, who said that it's unscrupulous to use the pain and suffering of people to promote a business.
Sources: @pradnico (X), The Drive
Source: Read Full Article