Cruise told by California DMV to reduce fleet of self-driving vehicles by 50% following crash with fire truck – paultan.org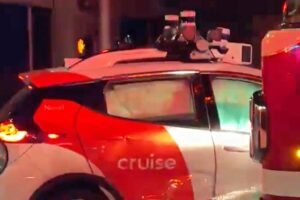 Screen capture from X (Twitter) post
General Motors subsidiary, Cruise has been told by the California Department of Motor Vehicles (DMV) to immediately reduce its fleet of self-driving taxis in the state by 50%, TechCrunch has reported.
A Cruise robotaxi was reported to have collided with an emergency vehicle, upon entering an intersection on a green light, having right of way, and was hit by the emergency vehicle which appeared to be on its way to the scene of an emergency, according to a separate TechCrunch report.
As the agency that regulates the testing and deployment of autonomous vehicles in the state, the California DMV is investigating "recent concerning incidents" involving Cruise vehicles in San Francisco, and has called on the firm to reduce its robotaxi fleet by 50% and have no more than 50 driverless vehicles operating in the daytime, and 150 driverless vehicles at night until investigations are complete, according to the report.
The incident comes a week after the California Public Utilities Commission approved self-driving taxi operators Waymo and Cruise to offer 24-hour, seven-day paid taxi services in San Francisco, as a result of a 3-1 vote in favour of robotaxis following a seven-hour meeting in San Francisco attended by people for and against the proposal.
"Safety is of the traveling public is the California DMV's top priority. The primary focus of the DMV's regulations is the safe operation of autonomous vehicles and safety of the public who share the road with these vehicles," it said in a statement, adding that it has the right to suspend or revoke testing and/or deployment permits if it determines an unreasonable risk to public safety is found.
Prior to the approval by the commission, both Waymo and Cruise have been running services on an experimental basis, within time and geographic limits inside San Francisco.
A little after 10PM last night one of our cars was in a collision at Polk and Turk St and we wanted to provide an update on what we know at this time. (1/5)
— cruise (@Cruise) August 18, 2023
All in all, the damage is super light. Good learning experience. A deaf, colorblind, human driver would have probably also gotten clipped.
In this situation, if you don't hear the truck and you don't notice the approaching scattered red light, reflecting on the buildings/street… pic.twitter.com/mTAGEQkAEk
— oFFMetaSweat (@oFFMetaSweat) August 18, 2023
Looking to sell your car? Sell it with myTukar.
Source: Read Full Article