Drivers told to use Sport Mode sparingly to avoid higher repair bills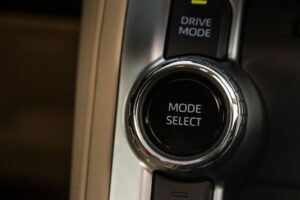 Drivers have been advised on when they should use a high-performance button on their car.
Many new cars that feature automatic gearboxes, particularly hybrids and electric models, feature a Sport Mode which can be engaged to improve the way the vehicle drives.
The automotive advice website Hotcars.com noted that engaging this mode can help to make the car accelerate faster and high a higher top speed than in its usual driving setting.
The company explained that the mode can improve performance by letting the engine rev higher before changing gears.
Whilst this makes the car quicker off the mark and sound like a supercar, it does have a side effect that all drivers should be aware of before engaging it.
READ MORE: 'I'm a mechanic – if your air con smells there's two potential causes and one is serious'
With the engine revving higher than normal, Sport Mode makes a car less fuel efficient, particularly if the driver uses it to accelerate harshly.
However, since many cars allow drivers to engage the mode with the push of a button on the dashboard, Hotcars.com suggested that motorists only turn it on when they want some extra power.
The company also noted that many cars will reset to a normal driving mode each time that the vehicle is restarted.
Don't Miss…
'I've been a mechanic for 55 years – a classic motoring myth can ruin your car' [INSIGHT]
Four simple tips help drivers save thousands of pounds on tires [ANALYSIS]
Mechanic restores abandoned Porsche Cayenne that was forgotten for a year [REPORT]
Hotcars.com also advised drivers that using Sport Mode during every journey could wear out the cars engine faster.
Whilst manufacturers design engines to last longer than before, working an engine harder can cause prolonged damage to the gearbox.
Additionally, cornering at higher speeds could lead to increased tire wear, increasing the potential of accidents if the treads on them are too low.
We use your sign-up to provide content in ways you've consented to and to improve our understanding of you. This may include adverts from us and 3rd parties based on our understanding. You can unsubscribe at any time. More info
Some models to feature Sport Mode also include adjustable suspension that becomes firmer when the function is turned on.
Whilst this can improve the vehicle's handling and steering, cutting down on body roll at high speeds, it could lead to occupants experiencing motion sickness.
Conversely, a number of models with adjustable suspension also feature a Comfort Mode, which sacrifices some performance for an improved ride quality.
Source: Read Full Article