Elderly drivers could benefit from a range of new driving law changes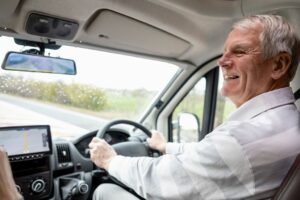 Mark Harper slams Labour over war on motorists
Elderly drivers are among a series of motorists who could benefit from major new driving law changes.
Transport Secretary Mark Harper announced a 30-point plan to stop "over-zealous enforcement measures" with motorists handed more freedom.
The new plans are set to simplify parking payments and tackle local authorities' power to enforce fines in a dramatic boost for road users.
The new plans were announced at this week's Conservative Party conference in Manchester as the Tories start to position towards the next General Election.
Transport Secretary Mark Harper said: "We're backing drivers and our new long-term plan will improve journeys for millions across the country, whether they're commuting to work or college, parking up for a day trip, or charging their electric car.
READ MORE Families of elderly drivers issued new DVLA warning in bid to avoid 'tragedies'
"Our plan for drivers will support thousands of skilled jobs and help grow the economy, sitting alongside our continued record investment in public transport and active travel – ensuring people have the freedom to travel how they want."
Older drivers would likely benefit from the Government's pledge to make journeys "smoother and quicker" under the proposals.
Among the plans outlined by the Government is the new 20mph guidance in England to prevent "inappropriate blanket use". A consultation will also begin on removing local authorities' access to DVLA data to enforce schemes by camera.
A call for evidence will be launched to look at ways to restrict local authorities' ability to generate surpluses from traffic offences.
DON'T MISS
Elderly drivers at risk of £100 fine by making major parking mistake[LATEST]
DVLA urges elderly drives to make simple change to driving licence renewal[ANALYSIS]
Elderly drivers over age of 70 targeted by DVLA in fresh warning to UK motorists[COMMENT]
We use your sign-up to provide content in ways you've consented to and to improve our understanding of you. This may include adverts from us and 3rd parties based on our understanding. You can unsubscribe at any time. More info
Low Traffic Neighbourhoods (LTNs) which have not secured local consent will also be reviewed.
Guidance on the enforcement of yellow box junctions will also be altered to ensure drivers are not penalised unfairly.
Meanwhile, a new National Parking Platform will allow motorists to use multiple parking apps when stopping by the autumn of 2024.
Revising the guidance about the public's right to challenge parking policies will also be looked at. Mr Harper has also promised to super "families" and "make driving easier" for licence holders.
Edmund King, AA president, welcomed the Government's move to end injustices for road users.
He commented: "The AA has long campaigned, on behalf of our members, to tackle some councils using moving traffic violations, such as yellow box junctions, to fleece drivers – often caught in a trap of poor road markings and bad signage.
"We welcome this review and hope councils act accordingly," adding that the AA had called on the Government to look into private parking companies for years."
Source: Read Full Article