Elderly drivers 'pose a risk' as new driving licence discussions backed by AA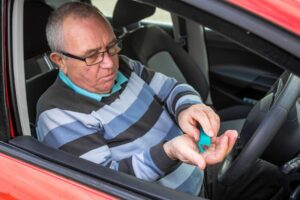 Elderly drivers: Confused.com put OAPs to the test
Elderly drivers should not be relied on to self-certify medical conditions to the DVLA with doctors urged to play a bigger role, according to AA President Edmund King.
He stresses there is a "risk posed" by road users who are unfit to drive remaining on the roads.
The AA boss then stressed these issues were more likely to impact older motorists.
Mr King highlights that encouraging a relative to stop driving "can be difficult" and feels many decisions should be taken out of the hands of families.
His comments come after the Government and the DVLA launched a new consultation which will explore driving licence applications for people with medical conditions.
READ MORE Elderly drivers may face driving licence rule changes as DVLA intervenes
Although the report does not list any potential rule changes, the evidence is likely to help policymakers decide future outcomes.
The AA President told Fleet News: "We know the car is often a lifeline for elderly people and we want to support older drivers to stay on the road as safely as possible, for as long as possible.
"However, there is a risk posed by those who are medically unfit to drive and, while it is an issue which can affect drivers of any age, it is more likely to affect older drivers. Being aware of the risks posed by driving when you are medically unfit to do so is vital – whether that is yourself or a loved one.
"We know conversations about when to stop driving can be difficult, so we welcome this consultation which should shine a light on this important issue and hope it encourages people to start having these discussions.
DON'T MISS
Elderly drivers at risk of being slapped with £1,000 fine for breaking DVLA rule[LATEST]
Elderly drivers warned over eyesight issues as campaigners demand law changes[ANALYSIS]
DVLA issues urgent warning to elderly motorists with over 70s at risk[COMMENT]
We use your sign-up to provide content in ways you've consented to and to improve our understanding of you. This may include adverts from us and 3rd parties based on our understanding. You can unsubscribe at any time. More info
"Doctors have a role to play in advising, and reporting to the DVLA, when medical conditions, such as dementia or Alzheimer's, will affect their patient's fitness to drive. This can't just rely on a self-declaration."
A recent poll of 15,739 drivers conducted by the AA found that only a third had held a discussion with an older person over whether they were safe to continue driving.
Under current rules, motorists are given the responsibility of telling the DVLA when they pick up medical conditions that warrant them a risk on the road.
This includes fairly common illnesses such as dementia and Parkinson's disease. Failure to report a disease to the DVLA can see motorists slapped with a £1,000 fine while their car insurance could also be invalidated in an accident.
However, motorists are not subject to a mandatory health check or eye test to renew a licence every three years. Minister for Roads and Local Transport, Richard Holden, said the time was right to look into the issue.
He commented: "As the volume and complexity of driving licence applications or renewals where the applicant has one or more medical condition increases, the government believes that the time is right to review the existing legal framework.
"However, we recognise that there are many people and organisations with a wide range of expertise that might have views or ideas that they wish to share and that is why we are launching this call for evidence.
"We want to understand any opportunities for change in this area and we need your help with that."
Source: Read Full Article