FLO Home X5 EV Charger Review: A Rock-Solid Smart Charging Option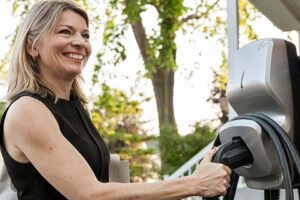 The smart-charging Flo Home X5, and its non-smart sibling, the Flo Home G5, have been two of the top-selling electric vehicle chargers in North America since their introduction in 2016.
For the first two years, the Canada-based company only sold the chargers to Canadian customers and began US sales in 2018. I reviewed the Flo Home X5 back then, but I've completely overhauled my EV charger review process since then, so I believe a fresh look at Flo's products was warranted.
The key features of the Flo Home X5
The Home X5 and its sibling the Home G5 are identical except for two differences. The biggest difference is that Home X5 is a smart charger and the G5 is not, which accounts for the $200 price difference ($695 for the X5 and $495 for the G5).
The other difference is the Home X5 is only available from Flo's website in Nickel and the Home G5 only comes in the darker, Carbon color. However, if you really want one in the other color, there are still a few available on Amazon, because Flo used to offer both colors on either unit, but once they sell out, that's it.
Both units can deliver 30 amps (7.7 kilowatts), that's good enough to add between 15 and 30 miles of range per hour to an EV, depending on how efficient the vehicle is. They also have a long 25-foot cable that performed very well in my cold-weather cable freeze test and a connector with a rubberized grip that is one of the best on the market.
They both have adjustable power output and can be dialed down to as low as 6 amps and have a NEMA-4X rated cast aluminum outer casing that is the heaviest and perhaps the most durable casing of any charger I've tested. Flo advertises that their chargers are the toughest chargers on the market and can be relied upon during the most harsh Canadian winters, even when installed outdoors. The operating temperature is rated down to -40°, which is much lower than most other EV charging equipment that I encounter.
Flo Home X5 ChargerRater score
When it came to rating the Flo Home X5, the unit scored an impressive 93 points on the ChargerRater, which translates into a 4.65 out of 5-star rating. I then always offer my personal score and average the two. I gave the unit a 4.45 rating and deducted more points for the relatively high price and low power output when compared to other chargers available today. That gave the Flo Home X5 a final rating of 4.55 stars out of five. I definitely recommend these units for those looking for a stylish, very well-built charger, and can live with only 30 amps of power.
While I generally prefer the higher-powered units, most EV owners can live just fine with a 30 amp charger at home, since they only need to replenish what was used that day. I think sometimes we focus too much on higher-speed at-home charging than what is really necessary. But some people, particularly those who drive a lot of miles and have large inefficient EVs with big batteries, will have a better EV experience if they can charge faster, and for those the Flo Home chargers probably aren't the best option.
Flo provided me with a Home X5 for the purpose of this review. It's technically a long-term loan, but the manufacturers rarely ask for the units back after I use them for a few weeks and then produce the review. However, I want to be clear that never accept any compensation from charging equipment manufacturers, since I review their products.
Source: State Of Charge
Source: Read Full Article