Ford Delays Some EV Battery Production, Cites Lower-Than-Expected Demand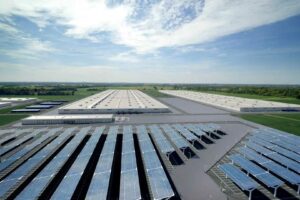 Ford will delay EV battery production at the second of two BlueOval SK plants in Hardin County, Kentucky, the company said in its third-quarter earnings call, citing slower-than-expected electric car adoption.
The construction of both facilities will continue as initially planned, but production will start in 2025 at the so-called Kentucky 1 plant only, while the second factory – Kentucky 2 – which was supposed to go online a year later, will be put on idle when construction is completed.
"EV sales are growing everywhere, including ours," said Ford spokesperson T.R. Reid for The Courier Journal. "But the pace of adoption is slower than what folks in the industry, including Ford, originally expected."
In other words, the Michigan-based automaker didn't sell as many EVs as it hoped, so it's slowing down the pace at which it's investing in electric vehicles and their batteries. The news comes after Ford's Model e business posted an operating loss of $1.3 billion in the third quarter, up from $1.1 billion in the previous quarter, which translates to a loss of around $36,000 for every one of the 20,962 EVs it sold in Q3.
The two Kentucky factories are part of Ford's joint venture with Korean battery maker SK On and have an expected annual output of 43 gigawatt-hours each or about 430,000 battery packs with a capacity of 100 kilowatt-hours each.
Gallery: BlueOvalSK Battery Park in Kentucky
It's worth noting that the maker of the F-150 Lightning and Mustang Mach-E is also building the Blue Oval City complex in Tennessee, which remains on track to start battery production in 2025.
"The narrative has taken over that EVs aren't growing; they're growing. It's just growing at a slower pace than the industry and, quite frankly, we expected," Ford Chief Financial Officer John Lawler said on the earnings call according to Automotive News. Lawler added that Ford will need less EV capacity in the near term as demand has "softened."
Mind you, General Motors also tempered its expectations and ditched its goal of building 400,000 EVs in North America through mid-2024, as well as delaying the launch of several EVs including the Chevrolet Equinox EV, Chevrolet Silverado EV RST, and GMC Sierra EV.
Sources: Ford, The Courier Journal
Source: Read Full Article