Ford Doesn't Want UK To Delay 2030 Combustion Engine Ban For New Vehicles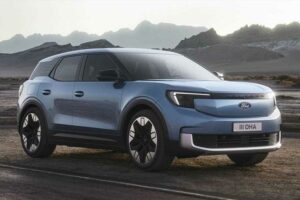 The automotive industry is headed for an electric future, though it's moving faster in some places versus others. It seems Ford is all-in for a sooner-rather-than-later transition, at least in the United Kingdom where rumors of a delay on a 2030 ICE ban have become reality.
Britain's Prime Minister Rishi Sunak announced the UK would postpone the combustion ban for new passenger cars by five years, matching the European Union's timeframe of 2035. This prompted Ford UK Chair and Managing Director Lisa Brankin to take what some might consider a surprising stance, voicing opposition to the delay.
"The auto industry is investing to meet that challenge," stated Brankin in a Ford press release. "This is the biggest industry transformation in over a century and the UK 2030 target is a vital catalyst to accelerate Ford into a cleaner future. Our business needs three things from the UK government: ambition, commitment, and consistency. A relaxation of 2030 would undermine all three."
Ford's statement also highlights a commitment of $50 billion globally for electrification, with £430 million ($532 million USD) earmarked for the UK to meet the original 2030 deadline.
Gallery: 2023 Ford Explorer Electric
The automaker's response is a stark contrast to numerous countries throughout Europe voicing opposition to the EU's 2035 ban. Germany – home to BMW, Mercedes-Benz, and Volkswagen Group – raised concerns back in 2022 and then forged an alliance with six other European nations in March 2023, all pushing back against the EU plan. It ultimately led to a modification of the ICE ban, upholding the 2035 timeframe but allowing new vehicles with engines running on synthetic fuels.
Also voicing opposition to the delay is the UK's Society of Motor Manufacturers and Traders (SMMT). A statement from Chief Executive Mike Hawes highlights investments from automakers and calls on the government to maintain zero-emission commitments.
"The automotive industry has and continues to invest billions in new electric vehicles as the decarbonization of road transport is essential if net zero is to be delivered," he said. "Government has played a key part in bringing some of that investment to the UK, and Britain can – and should – be a leader in zero-emission mobility both as a manufacturer and market. To make this a reality, however, consumers must want to make the switch, which requires from Government a clear, consistent message, attractive incentives, and charging infrastructure that gives confidence rather than anxiety. Confusion and uncertainty will only hold them back."
Motor1.com has contacted other automakers regarding the delay. We will update this article with additional statements as they become available.
Source: Read Full Article