Hyundai, Kia EV Price Cuts Coming To Korea, Ioniq 5 $3,000 Cheaper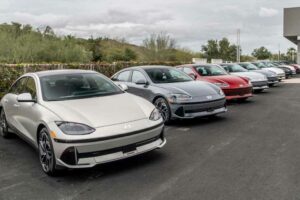 Hyundai and Kia have announced significant price cuts for some of their electric vehicles in South Korea as EV demand is slowing in their domestic market and in response to an EV price war triggered by Tesla.
This also comes after the South Korean government decided to expand subsidies as part of efforts to revive interest and demand in clean vehicles, according to Bloomberg.
The companies said in separate statements that they would lower prices of the Hyundai Kona EV, Ioniq 5, and Ioniq 6, as well as Kia EV6, Niro EV, and Niro Plus, which is a roomier variant of the previous-gen Niro EV built by the brand's PBV (purpose built vehicle) division.
Going into effect next month, the discounts will run through the end of 2023 in order to benefit from the government's temporary subsidy expansion, the automakers said.
The price cuts are significant, of up to 8 percent for the Hyundai Ioniq 5, which will sell for the equivalent of $34,100 (46 million won), a reduction of almost $3,000. Residents of South Korea's capital city of Seoul will be able to get the Ioniq 5 for even less thanks to local subsidies, which will drop the base price to approximately $30,000 (40 million won).
Gallery: 2024 Hyundai Ioniq 6
The discounts will certainly put a magnifier on the differences in EV pricing between various regions of the world, as some Hyundai and Kia models will become as much as one-third cheaper in South Korea than in other countries.
At $34,100, the Ioniq 5 will become a lot more affordable in Korea than in the US, where it starts at $41,450, or the UK, where it's priced from around $53,000 (43,445 pounds) – before potential subsidies.
Tesla started a price war in South Korea in July when it began selling its made-in-China Model Y SUV for $44,000. KG Mobility, the automaker formerly known as SsangYong Motor, raised the stakes this month by launching the BYD Blade battery-powered Torres EVX electric SUV for just $30,000.
Analysts believe the discounts announced by Hyundai and Kia will escalate the EV price war in Korea, a market traditionally dominated by the two local giants.
"A price war will intensify next year in Korea as foreign carmakers may release new models. US or European brands made in China could draw popularity," Lee Hang-Koo, head of Jeonbuk Institute of Automotive Convergence Technology, told Bloomberg.
EV sales in Korea during the first eight months of the year dropped to 67,654 from 71,744 a year earlier, according to the Ministry of Environment.
Gallery: Kia EV6
Source: Bloomberg
Source: Read Full Article