'I'm a motorhome expert – drivers must remember these rules when driving abroad'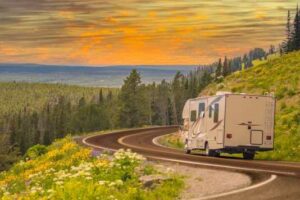 A caravan and motorhome expert has warned drivers must be aware of simple rules when travelling across Europe.
Max Schmidt, head of CamperDays, claimed motorists must understand key rules when travelling on the continent to avoid being caught out.
Motorists must ensure they check local laws before heading to France and other European nations with motorists likely to be caught out by simple differences.
Speaking to Express.co.uk, Mr Schmidt said: "Even the most experienced of drivers should do their research ahead of time and familiarise themselves with the rules of the road ahead of their trip, especially given that these can vary largely depending on the destination of travel. In France for example, it's illegal to drive without a high-visibility jacket and warning triangle in your vehicle.
READ MORE 'I'm a caravan expert – drivers must not break little-known rule'
"Also, many European countries have different set speed limits, so do your research ahead of time and make sure to adhere to each country's rules of the road when travelling. Remember that outside of the UK and the US, speed limits are set at kilometres per hour (km/h) not miles per hour (mph)."
Mr Schmidt has added motorists must make sure they bring a range of kit with them before heading over.
This includes key documents and breakdown details as well as a Crit'Air sticker for those heading to France.
These are mandatory in most major French cities and are a form of Clean Air Zone tax also seen in the UK.
DON'T MISS
'I'm a motorhome expert – Owners run the risk of being hit with a £2,000 fine'[LATEST]
Caravan covered in ULEZ protests chained outside Sadiq Khan house[ANALYSIS]
Elderly drivers could lose over £6,000 this summer due to 'lucrative target'[COMMENT]
We use your sign-up to provide content in ways you've consented to and to improve our understanding of you. This may include adverts from us and 3rd parties based on our understanding. You can unsubscribe at any time. More info
However, the strict emissions rules mean many non-compliant vehicles could be banned from travelling on the streets of big hubs like Paris so motorists must check ahead.
He added: "Drivers should also ensure that they have all essential documents on their person, that they are still valid and that they can produce them upon request. These documents could include their driving licence, passport or other form of ID.
"You may also need to present your vehicle's insurance and MOT documents, breakdown cover policy number, V5C certificate and, if you're visiting France, a Crit'air (Clean Air) sticker.
"These documents can take weeks to obtain if you don't already have them or they need renewing, but if you're renting a campervan for a definite travel period, your tour operator or vehicle provider should be able to provide you with the right documentation, along with the necessary equipment such as warning triangles and reflective jacket."
Motorists travelling in France used to need to carry a breathalyser kit at all times with at least two disposable units.
However, according to the RAC, this rule was changed in 2020 meaning this is no longer a legal requirement.
Source: Read Full Article