Kia Pickup Truck Teaser Coming Soon, Says Design Boss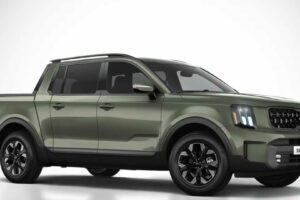 We've been talking about the possibility of a Kia pickup for many years, but it wasn't until March 2022 when the South Korean brand confirmed plans to launch two electric pickups by 2027. It won't be long until we are going to get a glimpse of one of these utes. Karim Habib, the company's design boss, told Australian magazine Carsales during the EV Day held in South Korea that a teaser is right around the corner: "I think you'll get a peek pretty soon."
Rumored to go by the "Tasman" moniker judging by a trademark filing, the Kia truck will likely adopt a design language in the same as the EV3 and EV5 crossovers unveiled this week during the EV Day. Habib said: "Our role as designers is to serve the brand and serve customers. We design products for people to use… within the framework of our brand. So design has to have those attributes and that automatically creates a family look."
2020 Kia Mohave
While spy shots from Korea showed a pickup with a Mohave-inspired front fascia, that must've been an early test mule without the production body. Given Habib's statement, the new truck is likely going to take inspiration from recent EVs. If reports are accurate, the first of two trucks will have a double-cab layout and won't be electric-only. In fact, a diesel is said to come out first, with the zero-emission variant to follow.
Unlike the Hyundai Santa Cruz with its unibody construction, the Tasman is expected to be a tougher, four-wheel-drive truck riding on a body-on-frame platform. It'll reportedly offer a payload capacity of almost 1,000 kilograms (2,204 pounds) and a tow rating of 3,500 kg (7,716 lbs). This first truck is presumably the "strategic" pickup announced by Kia in March 2022 when it also revealed plans for a "dedicated" truck as well. Logic tells us the latter will be sold only as an EV.
In an interview with Australia's Drive magazine in August, a spokesperson for the local Kia division said the truck is slated to debut at some point in 2024. Production is apparently going to take place at home in South Korea from 2025, with dealers to get the first pickups from the middle of that year.
Codenamed TK, the Tasman is rumored to be sold in multiple variants, from a no-frills utilitarian model to a potential Ford Ranger Raptor-rivaling performance derivative. Development is believed to have started in 2020 and Kia Australia is deeply involved in the engineering process.
The Tasman technically won't be Kia's only pickup truck considering the Bongo is still available in South Korea. The fourth-generation model was launched in 2005 and received a facelift in 2014 before an EV variant was added to the lineup in 2020.
Note: Top image shows an unofficial rendering based on the Mohave.
Source: Read Full Article