Mercedes-Benz says "efficiency is the new currency" – next CLA to use LFP batteries, offer more EV range – paultan.org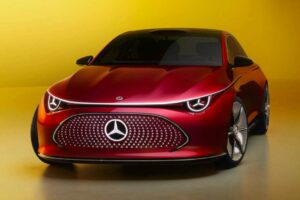 According to a report by Reuters, Mercedes-Benz's newest electric vehicle (EV) platform known as MMA (Mercedes-Benz Modular Architecture), which will launch with the next-generation CLA late next year, will offer 30% to 35% more driving range per kWh compared to the brand's current EVs.
The new CLA is expected to go on sale in early 2025 and will be offered with lithium iron phosphate (LFP) batteries, which is a first for any Mercedes-Benz EV, said Mercedes-Benz CEO Ola Kaellenius in an interview with the news outlet.
The use of LFP batteries will allow the German carmaker to offer a lower-priced model in a competitive segment that is currently dominated by Tesla. Many Chinese EV brands also use LFP batteries in their models to keep pricing attractive.
"Efficiency is really the new currency when we go into electric vehicles," said Kaellenius, who added that the new CLA has a targeted energy consumption of 12 kWh per 100 km and 750 km. The former is an improvement over the 17-18 kWh per 100 km with the current EQA350. At these levels of efficiency, the fully electric CLA's energy consumption should be the electric equivalent to a car that consumes one litre of petrol per 100 km, Kaellenius explained.
Ultimately, the challenge facing EV makers is extracting the most range from smaller and more affordable battery packs. Batteries are the most expensive component of an EV, so designing a vehicle with the most efficiency is crucial, especially when driving range is a critical point of contention for EV buyers.
With the Vision EQXX, Mercedes-Benz has demonstrated its efficiency prowess when there are no limitations, as the prototype vehicle consumes as little as 8.3 kWh per 100 km. With a battery capacity of 100 kWh, the driving range is over 1,000 km.
Looking to sell your car? Sell it with myTukar.
Research Mercedes-Benz Cars at
2015 MERCEDES-BENZ A-CLASS A250 SPORT 2.0L
2018 MERCEDES-BENZ GLC-CLASS GLC250 4MATIC AMG LINE 2.0L
2020 MERCEDES-BENZ C-CLASS C300 AMG LINE 2.0L
2022 MERCEDES-BENZ GLA-CLASS GLA250 AMG LINE 2.0L
2022 MERCEDES-BENZ GLC-CLASS GLC300 COUPE 4MATIC AMG LINE 2.0L
2018 PERODUA MYVI H 1.5L
2019 MAZDA CX-5 2WD H SKYACTIV-G 2.5L
2018 PERODUA BEZZA X 1.3L
2021 PERODUA MYVI AV 1.5L
2020 PROTON X70 TGDI PREMIUM 2WD 1.8L

Source: Read Full Article