Most Bucc-ee's Travel Centers Will Get EV Charging Thanks To Mercedes-Benz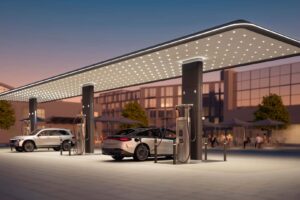 Mercedes-Benz announced the Buc-ee's chain of travel centers as its second strategic partner for its network of premium EV charging stations across North America.
Mercedes-Benz HPC North America LLC intends to build fast charging hubs at most of Buc-ee's existing travel centers, starting with about 30 by the end of 2024. For reference, Buc-ee's has 34 stores across Texas and 12 locations in other states. Some of the sites already have Tesla Superchargers.
The agreement with Buc-ee's comes on top of the partnership with Simon Property Group, which will result in at least 55 Mercedes-Benz charging hubs in the U.S. and Canada.
In the long-term, the company would like to deploy 400 charging stations (with over 2,500 chargers) in North America by 2030 (as part of a broader, global rollout), focusing on convenience and quality with a "value-based approach." The stations are promised to offer high-power, reliable DC fast charging for electric vehicles, regardless of the charging standard (CCS1 and NACS) with high-quality amenities around, "where EV drivers are and where they are going."
The first stations selected at Buc-ee's travel center are already under construction and some of them will be open by the end of this year. According to the German manufacturer, the stations in North America will be developed and operated by MN8 Energy, a renewable energy company.
Andrew Cornelia, President and CEO of Mercedes-Benz HPC NA said: "Mercedes-Benz HPC North America's collaboration with Buc-ee's represents an important moment in our pursuit of a national charging network that sets a new standard in both convenience and quality. Within a remarkably short period, we've made significant strides towards opening several charging hubs at Buc-ee's travel centers. Buc-ee's strategic locations along major travel routes, combined with their commitment to clean and accessible amenities, aligns perfectly with our vision. Together, we're not only providing exceptional value but also redefining the EV charging experience for drivers nationwide."

Source: Read Full Article