New Mercedes-AMG GLC63 S E Performance, GLC43 Debut In Coupe Trim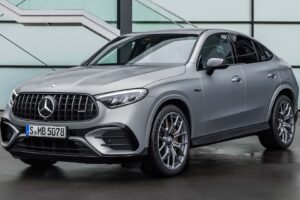 For those who prefer a bit less utility in their sport utility vehicle, Mercedes-Benz is here to answer your call. Now appearing for your visual pleasure are the AMG-tweaked GLC twins, namely the GLC43 and the GLC63 S E Performance in sloped-roof Coupe format.
First things first. Underneath the sleeker bodies, you'll find the same running gear as the standard AMG GLC SUVs that debuted back in July. For the GLC63 S E Performance, that means the overachieving turbocharged 2.0-liter four-cylinder engine making 469 horsepower all on its own, with 201 hp coming from its single electric motor for a combined output of 671 peak hp and 752 pound-feet of torque. It should be noted, however, that peak power is only available for a 10-second blast.
Gallery: 2025 Mercedes-AMG GLC63 S E Performance Coupe
The GLC43 also offers a hybrid punch, albeit considerably milder. Mercedes-Benz installs the same turbocharged four-pot under the hood, but with a tune to 416 hp and augmented with a small motor that provides a temporary 13 hp boost when needed. Both send power to all four wheels through the automaker's AMG Speedshift nine-speed transmission, and both have rear-axle steering with the AMG Ride Control suspension in the group of standard equipment.
Lopping off part of the SUV's roof for the sporty Coupe silhouette doesn't change the performance stats for either model. Mercedes-AMG lists the GLC43 as reaching 60 mph in 4.7 seconds, with a top speed electronically limited to 155 mph. The GLC63 S E Performance makes the same 60-mph run in 3.4 seconds, and its speed limiter doesn't kick in until 171 mph. Suspension options are the same, performance brakes are the same, and the interior layout with the familiar MBUX system is the same.
Gallery: 2024 Mercedes-AMG GLC43 Coupe
What's different is the interior space. For the GLC63 S E Performance, you'll find 13.8 cubic feet of cargo space with the rear seats in place, or 47.1 cubic feet when folded. There's a bit more room in the GLC43, specifically 19.2 and 52.6 cubic feet, respectfully. That's down approximately two cubic feet with the seats up and seven with them down versus the SUV versions, but that's the price you pay for style.
Speaking of price, Mercedes isn't ready to share how much its new coupe-SUVs will cost. Nor do we have full disclosure as to when they will go on sale. We can tell you, however, that Mercedes-AMG lists the GLC43 as a 2024 model whereas the GLC63 S E Performance is 2025.
Source: Read Full Article