Nissan Hyper Tourer EV Concept Revealed With Pillarless Side Openings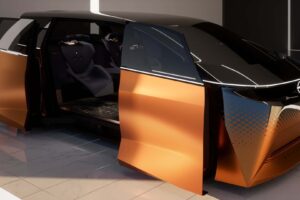 The Nissan Hyper Tourer concept was revealed by the Japanese automaker today, signaling what a future electric people carrier bearing the Nissan badge might look like.
This is the marque's third show car prepared for the Japan Mobility Show 2023 from a total of four. Previously, the Hyper Urban concept and the Hyper Adventure concept were shown, leaving just one more to be revealed in digital form on October 10 ahead of the Tokyo-bound auto show that opens its doors on October 25.
The edgy Hyper Tourer minivan features two pairs of sliding doors that open in opposing directions revealing pillarless side openings on the left and right, similar to what the retired European Ford B-Max mini-MPV championed in the 2010s.
Gallery: Nissan Hyper Tourer Concept
Nissan says that its latest concept is geared toward "individuals who appreciate the finer things in life and enjoy the company of friends and associates." The front seats can swivel 360 degrees, allowing everybody to have face-to-face conversations, even when the car is moving, thanks to the EV's autonomous driving capabilities.
There's a front-seat center display that can be controlled by the passengers via a wearable display, and an artificial intelligence (AI) system monitors the well-being of those inside – including brain waves, heart rate, and perspiration levels – and automatically selects the appropriate music and adjusts the interior lighting to make everyone feel good.
The overhead console and lighting feature traditional Japanese kumiko and koushi patterns to make the interior feel more luxurious, and there's a flat LED panel on the floor that displays images of a riverbed and the sky, in an attempt to bring nature inside the car.
Outside, Hyper Tourer's silhouette is split by a white waistline that also serves as a headlight at the front, while the combination of smooth and sharp body lines is meant to demonstrate traditional Japanese beauty.
On the technical side, the edgy electric minivan is powered by the brand's e-4ORCE all-wheel drive system that gets juice from a flat all-solid-state battery that has a "high capacity," according to the Nippon automaker. The car is also capable of exporting power from its high-voltage pack thanks to the integration of the vehicle-to-everything (V2X) feature, so in theory, one could power a laptop, a home, and even provide power to the grid from the car's battery.
Source: Nissan
Source: Read Full Article