Owners are 'losing thousands' on used electric cars in contrast to petrol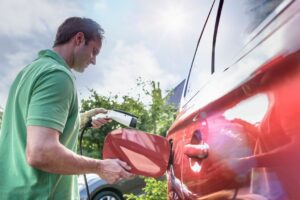 GB News guests debate using electric cars in 2022
Drivers who own second-hand electric cars are "losing thousands" of pounds in value, according to a used car dealer.
Roy Sharf, owner of Noya Motor Group, feels valuation of EVs has "dropped substantially" with owners unable to recoup their money.
However, this is the opposite for petrol and diesel owners where the market has remained consistent for two years straight.
It could be good news for those hoping to secure a second-hand electric model at an affordable price.
However, it means motorists who were early adopters of the technology could be caught out.
READ MORE The price of your car has just risen after Rishi Sunak's petrol ban delay
Speaking to Express.co.uk, Mr Sharf said: "We have seen the electric used vehicle market drop substantially in the last 12 months.
"This is due to many people opting into electric car leases for one, two or three years and all of those vehicles are now coming into circulation ready to be sold. The market is saturated with electric cars causing a massive drop in retail value.
"We have seen losses in the thousands on certain makes of electric cars whereas the petrol and diesel cars market has been stable since its rise in 2021."
Earlier this summer, data recorded that used electric car prices had plummeted in a major blow for owners.
DON'T MISS
'I've been a mechanic – here's the dumbest thing you can buy for a used car'[LATEST]
Pressing a button on your key fob for 10 seconds unlocks a hidden function[ANALYSIS]
These 10 cars retain their value best when it comes to reselling your vehicle[COMMENT]
We use your sign-up to provide content in ways you've consented to and to improve our understanding of you. This may include adverts from us and 3rd parties based on our understanding. You can unsubscribe at any time. More info
In June, Auto Trader's Retail Price Index recorded that costs were down 19.1 percent year-on-year. However, the average retail value still stands at over £31,000, way out of many people's price ranges.
Meanwhile, the AA revealed price deflation was a real concern with new models losing their value almost instantly.
The motoring experts claimed that a used electric car with less than 10,000 miles on the clock would be worth just half the cost of a brand-new model.
A second-hand Vauxhall e-Corsa is likely to sell for less than £17,000 compared to around £34,000 for a new model straight out of a forecourt.
But despite the recent drops, experts are fearful that Rishi Sunak's petrol and diesel car ban delay could see a reversal.
Ben Nelmes, CEO of NewAutomotive stressed prices would likely start to rise with many models becoming too expensive for the majority of road users.
He told Express.co.uk: "Today's announcement pushing back the ICE ban to 2035 will restrict the supply of second-hand electric vehicles.
"This in turn will raise the price of second-hand EVs, taking them further out of reach for most motorists."
Source: Read Full Article