Peugeot E-2008 vs BYD Atto 3: family-friendly electric SUVs fight it out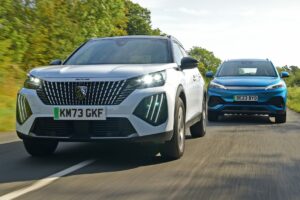 The revised Peugeot E-2008 offers more range than before, but has it progressed enough to beat the BYD Atto 3?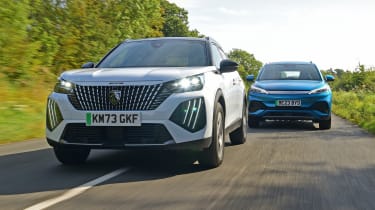 Electric car innovation moves forward at lightning speed: not only are we seeing big improvements in battery tech, but also new car makers bursting onto the market with impressive speed and regularity. We've brought together two examples for this test: an updated version of an existing EV, the Peugeot E-2008, and a new player that's already making waves: the BYD Atto 3.
While the pre-facelift Peugeot was still a good option for many buyers, the market has moved on quickly and the car's claimed 214-mile range didn't stay impressive for long. This new version has a larger battery that also happens to be lighter than before, and thanks to some other tweaks it now manages a much more respectable 250 miles on a charge. 
Boasting a reworked front end, the sharpened Peugeot is ready to take on a very interesting rival in the BYD. This newcomer has already impressed with its value for money, and here we'll find out which of the two is the better pick as an electric family car.
Peugeot E-2008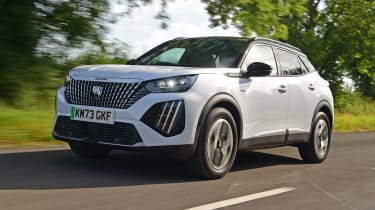 | | |
| --- | --- |
| Model: | Peugeot E-2008 GT |
| Price: | £40,700 |
| Powertrain: | Single e-motor, 54kWh battery, 154bhp, front-wheel drive |
| 0-62mph: | 9.1 seconds |
| Test efficiency: | 4.1mi/kWh |
| Test range: | 196 miles |
| Charging: | 100kW (10-80% in 26 min) |
In GT guise tested here, the updated E-2008 costs £40,700, which is £1,710 more than the top-spec Atto 3. Allure trim is slightly below the BYD at £38,500, but misses some key equipment.
Tech highlights 
The Peugeot 2008 has been a huge success since the second-generation model launched in 2019, and we reckon it was always at its best in electric form as the E-2008. The original version had a range of around 214 miles courtesy of a 50kWh battery, and this updated version – easily identified by its dramatic-looking new grille and distinctive alloy wheels – has a larger 54kWh pack that's also 5kg lighter. Together with some software tweaks, it means the facelifted car provides an official range of 250 miles.
The motor has been updated too, delivering 154bhp and 260Nm of torque. It drives the front wheels, so uses the same layout as its rival here, although the BYD has a more powerful unit with 201bhp. It's clear that the Peugeot is slower; it takes 9.1 seconds to accelerate from 0-62mph, while its rival takes just 7.3 seconds. These are family SUVs rather than hot hatchbacks, though.
A more important area where the E-2008 falls behind its rival is for charging speed, because the Peugeot is only capable of rapid charging at a rate of up to 100kW, while the Atto 3 can top-up at a maximum of 150kW. The Peugeot appears to have the edge for real-world charging, though, taking 10 minutes less than the BYD to go from 10-80 per cent capacity.
Safety: The pre-facelift Peugeot 2008 was tested by Euro NCAP in 2019 and achieved a five-star result, scoring particularly well for adult protection. It matches its rival here, which was tested in 2022, also with a five-star rating.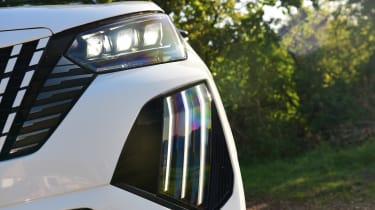 On the road
The Peugeot feels more mature than the BYD on the road. It's more comfortable and quieter over bumpy surfaces, and despite being down on power when compared with its rival it feels just as punchy at lower speeds.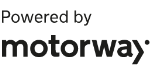 Around town: The Peugeot E-2008 isn't the smoothest-riding family car around, because it's slightly firmer than we'd like on rough, potholed roads. However it does a good job of filtering out smaller bumps and feels more grown-up than its rival in this area. It's significantly quieter than the BYD, although since they're both electric, they're equally ideal for driving in town and in traffic.
A & B-roads: Although Eco and Normal driving modes will allow you to reach the maximum potential range figure, Sport mode feels more natural on A and B-roads. The motor is heavily restricted in the other settings and can feel quite lethargic if you need to make a quick overtake or want to accelerate out of a tight corner. 
Since the Peugeot isn't hugely powerful anyway, with 154bhp to the BYD's 201bhp, it doesn't feel as quick as many have come to expect of electric cars. However, we'd still rather be driving the E-2008 overall: it's more comfortable — despite the slightly awkward driving position — and the steering is more responsive, if not as good as some of the best cars in this class when it comes to driving enjoyment.
Motorway: Both cars here are at home on the motorway and offer decent ride comfort, but the Peugeot has the edge for wind and road noise, which is louder in the BYD. As with all electric cars, though, travelling at higher speeds tends to sap the battery, and will result in a lower overall range the more time you spend going so fast.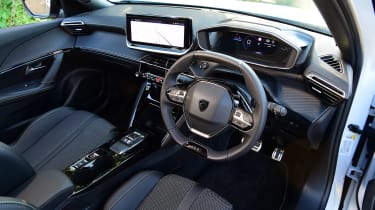 Ownership
The E-2008 continues with Peugeot's i-Cockpit design that has become a staple of the brand's interiors. It uses a small steering wheel and digital dials above, in this case featuring an interesting 3D effect. It looks really smart in low light, but we found it lacking in contrast on bright days. 
The centre console hasn't changed much from before, but the materials are of a high quality and the whole cabin feels more upmarket and luxurious than the BYD's. In fact, the E-2008 has one of the best interiors in its class in terms of styling and finish, if not ergonomics. There are a few niggles, such as the lack of physical air-con controls and the tiny drive selector that feels spongy and cheap to use, but overall it's a pleasant place to sit. 
While BYD is too new to have featured in our Driver Power customer satisfaction survey, Peugeot managed an impressive ninth place. It shows that buyers are pretty happy with their cars and the ownership experience overall, but the main area Peugeot scored highly was for exterior and interior styling. Owners love how their cars look and this new E-2008 has an even more bold appearance, thanks to that new grille.
Storage: There's plenty of space in the cabin of the E-2008, although it does feel slightly more cramped than the Atto 3, mainly because of the bulkier seats and darker colour scheme. 
There's a fairly broad smartphone shelf on the centre console, and since the drive selector is a tiny toggle switch rather than a large lever, there's lots of room between the driver and passenger for a pair of cup-holders. 
There's a storage cubby under the armrest that's larger than it first seems; the opening is quite small but there's a large and deep space underneath. There's also a fold-out shelf just below the infotainment switches, which could be useful for a second smartphone or a wallet.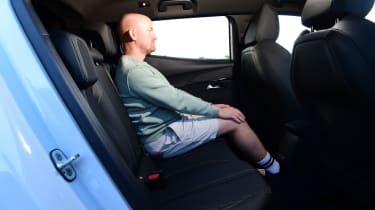 Practicality
The E-2008 is smaller than its rival here, so it should be a little easier to park in tighter spaces. Visibility isn't a strong point in either car, though.
Rear Space: There's enough space for adults in the back, and headroom is fairly impressive for the class. It feels darker inside than in the BYD, and there's less legroom, too. Kids will be fine back there, though, and there are two Isofix points. If you choose a higher-spec car, then you also get one on the front passenger seat, but it's not available on Active or Allure trim levels.
Boot: The boot is an appealing aspect of the E-2008, because at 434 litres it's more than enough for a compact family SUV. It opens up to a total of 1,467 litres, which is superior to the Atto 3's maximum. It's a decent shape and helps to make up for the slightly cramped rear seats.
What to buy?
Which version we'd choose
Powertrains: There's only one option here, a 154bhp motor and a 54kWh battery. You get 7.4kW home charging as standard, but you can add an 11kW integrated charger for £360.
Trim: There are Active, Allure and GT specs, while the First Edition is available at launch. As always, the mid-range models are the best value, because they have a good amount of kit for the money. Active costs £2,000 less than Allure, but isn't as well equipped, while the GT tested here costs £2,000 more and the First Edition is another £1,000 on top of that.
Our choice: Allure makes the most sense, although we might add a couple of options.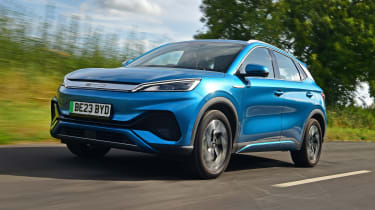 BYD Atto 3
| | |
| --- | --- |
| Model: | BYD Atto 3 Design |
| Price: | £38,990 |
| Powertrain: | Single e-motor, 60.5kWh battery, 201bhp, front-wheel drive |
| 0-62mph: | 7.3 seconds |
| Test efficiency: | 4.0mi/kWh |
| Test range: | 242 miles |
| Charging: | 150kW (10-80% in 37 mins) |
The BYD Atto 3 is a relative newcomer to the electric car market, but the Chinese model impressed in its first test against the Kia Niro. At £38,935, it's the cheaper of the two rivals here, and offers much more standard equipment at this price.
Tech highlights 
Before it ventured into cars, BYD produced buses, but first and foremost it's a battery manufacturer. There's little wonder, then, that the 60.5kWh unit in the Atto 3 is competitive: it offers a claimed range of 260 miles and can charge from 10 to 80 per cent in just under 40 minutes. The battery pack is the brand's own design and is integrated into the car's structure to save weight and improve interior space. 
Despite this, the Atto 3 is roughly 200kg heavier than the E-2008, which helps to explain why the Peugeot is almost able to match the BYD's range figure – at least in official WLTP testing – despite it having a smaller 54kWh unit.
The Atto 3 uses a more powerful motor than its rival: it produces 201bhp and 310Nm of torque, which is immediately obvious when you pull away, especially because the BYD doesn't limit power as much as the Peugeot does in its normal driving mode. The BYD has Eco, Normal, Sport and Snow modes to choose from, which change the motor's response and the available power to suit the conditions. 
There's plenty of performance on offer, although it would be a stretch to describe the BYD as sporty – no matter what the mode switch says.
Safety: Standard kit is a strong point for the BYD Atto 3: blind-spot detection, adaptive cruise control, lane assist, traffic-sign assist, forward-collision alert and a rear-traffic warning are all included here. Earning five stars from Euro NCAP in 2022 shows it will protect you in a crash, too.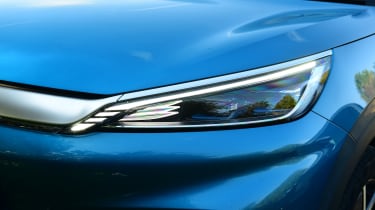 On the road
The Atto 3 isn't as good to drive as its rival, nor is it quite as comfortable, but this isn't as much of a let-down as you might think. It does a fine job of keeping you relaxed and is very easy to drive, so it feels fit-for-purpose. It's not that far behind the E-2008 for comfort, either.
Around town: Cushioning big potholes and speed humps on urban roads is one of the BYD's strengths. The soft suspension is very good at dealing with big bumps, but over poorly surfaced roads with a lot of small imperfections it vibrates and shakes more than the Peugeot, so it doesn't feel as well put-together. It's not uncomfortable, but it's noticeably more unsettled.
A & B-roads: The soft suspension means the Atto 3 rolls in corners more than its rival, plus it lurches back and forth as you accelerate and brake. It means you have to make more of an effort to be smooth than in the Peugeot, which is more fun when you want to drive quickly on twisty roads. 
If you're a keen driver, however, neither of these models will suit you because the Peugeot isn't particularly sporty either – it's better than the BYD, but both are much more suited to people who want something relaxing and easy to drive. 
The BYD does benefit from its extra power, though, which means you can overtake more easily than in the E-2008 on country roads.
Motorway: Although we found the standard-fit adaptive cruise control to be too aggressive with its acceleration and deceleration, the BYD is generally at home on the motorway. It's comfortable and has plenty of torque even at higher speeds, but there's more wind noise in the Atto 3 than in its rival here, especially from the door mirrors.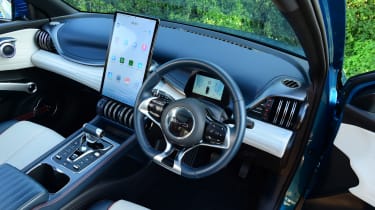 Ownership
A rather unconventional cabin design is an Atto 3 highlight. There's a large centre console with some odd-looking vents and a handful of buttons to access commonly used features, while a little screen behind the steering wheel provides driving info. Buttons on the wheel operate the most important functions, but everything else is handled by the 15.6-inch display. 
There's a button to rotate it from portrait to landscape if you want, but we didn't find much use for this beyond the novelty factor.
It's a similar case with the 'guitar string' door pockets, which have tensioned elastic on them that's perfect for annoying mum and dad on every journey with constant plink-plonk sounds.
However, these unique features, along with the funky design of the seats, steering wheel and vents, mean the BYD has a distinctive personality inside and it's a pleasant cabin to live with. It has more going on than most cars of its type, but it still loses out to the Peugeot E-2008 here, which has a brilliant interior that looks much more upmarket while still being different from the norm.
BYD didn't feature in the 2023 Driver Power survey, so we don't have much data yet on how this new brand treats its customers.
Storage: There are cup-holders on the centre console and a large storage bin under the armrest just like in the BYD's rival, but the Atto 3 also benefits from a space under the console with USB ports – an ideal place to keep your phone so it's out of sight of the driver.
The door pockets aren't all that big, but the tensioned strings that run above them are relatively useful for keeping larger items in place if needed. The whole cabin feels more airy and spacious than that of the E-2008, partly because the seats are a little less enclosed around you and partly because there's more light inside due to a standard-fit panoramic sunroof.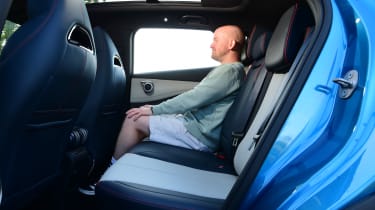 Practicality
The Atto 3 has a large battery pack under the floor, so both the cabin and boot are fairly high up. It's spacious, though.
Rear Space: The high-set floor is completely flat across the rear passenger compartment. Combine this with decent legroom and headroom, and it means the Atto 3 is more comfortable for taller passengers in the back than the Peugeot. 
One drawback of the high floor is that taller passengers will have their knees up in the air, because the seats are set quite low to maximise headroom. This is an issue in many EVs, though.
Boot: A high hatch opening makes loading items inside the Atto 3 harder than in the E-2008. Volumes are very closely matched between the two, but the Atto 3 also has a powered tailgate, a flat loading lip and a hidden compartment under the floor.
What to buy?
Which version we'd choose
Powertrains: There's only one motor available in the Atto 3 – it has 201bhp and 310Nm of torque, which is 47bhp and 50Nm more than the Peugeot's motor.
Trim: There are three levels: Active, Comfort and Design. LED headlights, two-zone climate control, 18-inch alloys, ambient lighting, a panoramic roof, keyless go and a 12.8-inch touchscreen are all standard, while the Comfort version adds 11kW home charging.  Design comes with a 15.6-inch display with Apple CarPlay and Android Auto. Prices start at around £36,500 and rise to just under £40,000, so the Atto 3 is good value.
Our choice: Design is the one to choose if you want the eye-catching infotainment screen.
Results
Winner: BYD Atto 3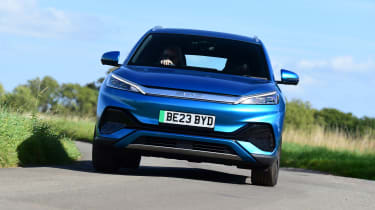 | | |
| --- | --- |
| Pros | Cons |
| Value for money | Some ergonomic flaws |
| Punchy performance | Noisier than E-2008 |
| Lots of tech | Unproven dealer service |
| Unique yet practical interior | Plain styling |
Both of these electric SUVs are pleasant enough to drive, have enough space for a family and offer low running costs thanks to their electric powertrains. 
The Atto 3 gets almost all of the basic stuff right without blowing us away in any one area. But if you're looking for an EV that offers strong value for money, then it's hard to beat. The BYD manages to undercut its rival, but also achieves this with stronger performance, a longer real-world range and more standard equipment.
Runner-up: Peugeot E-2008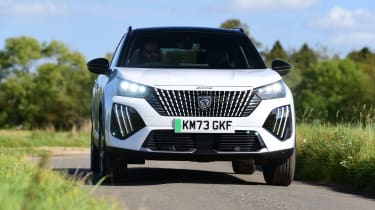 | | |
| --- | --- |
| Pros | Cons |
| Comfort and refinement | Not as much kit as BYD |
| Interior quality | Rear legroom less generous |
| Luggage space | Low regen braking effect |
| Smart looks | Fiddly touchscreen |
The E-2008 is better than its rival in a few areas: the interior is smarter and more upmarket, plus it's more comfortable and more enjoyable to drive than the Atto 3. Those aren't the key points for most buyers, though. 
Even in GT spec, there's quite a bit of kit missing that's standard on the BYD, and the tech you do get isn't as impressive. There's more space for luggage inside, but passengers will feel a little more cramped. High monthly finance prevents the E-2008 from challenging here.
Rivals and other options
The Model 3 wins our twin test, but what else is out there?
Same class: Hyundai Kona Electric
Same money: Volkswagen ID.3
Used: Kia e-Niro
Used: Jaguar I-Pace
Coming soon: Volvo EX30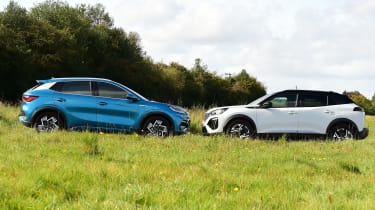 The great debate
What the Auto Express test team would do…
Jordan Katsianis, senior staff writer: "Of all the new Chinese brands flooding the European market, BYD seems to have hit the ground running quickest. It also makes the Seal – a Tesla Model 3 rival – and the Dolphin, which was good enough for our sister title Carbuyer to name as its 2023 Car of the Year."
John Mcllroy, editor–at–large: "Peugeot's interiors have come a long way in recent years. At a time when small cars are becoming less affordable, it seems like perfect timing; if you're going to spend big money on a car like this, you'll want it to feel justified. The E-2008 is special inside where many rivals aren't."
Dawn Grant, picture editor: "Beside many rivals, the E-2008's performance stats might seem a little underwhelming. But it's more of a reflection of how needlessly fast EVs have become. Do most buyers need a family SUV that'll do a sub-eight-second 0-62mph time? I'd argue not."
Steve Fowler, editor-in-chief: "If you don't really care for an SUV body, then it's hard to look beyond the MG4. We'll admit that it's not quite as fancy inside as either of these two, but it's quick, great to drive, and the Trophy Extended Range will do 323 miles for £36,495. MG is offering zero per cent finance, too."
Dean Gibson, senior test editor: "If style matters more to you than practicality, then the Jeep Avenger is worth a look. Under the handsome yet compact body – it's the same length as a Volkswagen Polo – it shares the E-2008's powertrain, but is more fun. It's the best Jeep in the line-up."
Which would you buy? Let us know in the comments section below…
Specs and prices
| | | |
| --- | --- | --- |
|   | Peugeot E-2008 GT | BYD Atto 3 Design |
| On the road price/total as tested | £40,700/£42,250 | £38,990/£38,990 |
| Residual value (after 3yrs/36,000) | £16,565 (40.70%) | £21,289 (54.60%) |
| Depreciation | £24,135 | £17,701 |
| Annual tax liability std / higher rate | £153.78/£307.60 | £156/£311.50 |
| Annual elec. cost (10k / 20k miles) | £659 (£1,317) | £675 (£1,350) |
| Ins. group / quote / VED | 26/£986/£0 | 35/£867/£0 |
| Length/wheelbase | 4,304/2,605mm | 4,455/2,720mm |
| Height/width | 1,523/1,815mm | 1,615/1,875mm |
| Powertrain | Single electric motor/lithium-ion battery | Single electric motor/lithium-ion battery |
| Peak power | 154 bhp | 201 bhp |
| Peak torque | 260 Nm | 310 Nm |
| Transmission | Single-speed/fwd | Single-speed/fwd |
| Battery capacity / usable | 54/47.7kWh | 60.5/60.5kWh |
| Boot capacity (seats up / down) | 434/1,467 litres | 440/1,338 litres |
| Kerbweight | 1,548kg | 1,750kg |
| Turning circle | 10.4 metres | 10.7 metres |
| Basic warranty / recovery | 3 yrs(60,000)/8 yrs(100,000) | 4 yrs(75,000)/TBC |
| Driver Power manufacturer position | 9th | N/A |
| Euro NCAP: Adult / child / ped. / assist / stars | 93/84/73/73/5 (2019) | 91/89/69/74/5 (2022) |
| 0-62mph / top speed | 9.1 seconds/93mph | 7.3 seconds/99mph |
| Claimed range (WLTP) | 250 miles | 260 miles |
| Charging capability | 7.4/100kW | 11/150kW |
| Charging time | 8hrs 15mins/26mins* *10-80% | 6h 30 min/37 min* *10-80% |
| Number of airbags/Isofix points | Six/two | Seven/three |
| Parking sensors/camera | F&r/yes | Front & rear/360 |
| Lane-keep assist/blindspot/AEB | Yes/£300/yes | Yes/yes/yes |
| Climate control/adaptive cruise ctrl | Yes/£300 | Yes/yes |
| Leather/heated seats | No/£500 | Yes/yes |
| Metallic paint/LED lights | £650/yes | Yes/yes |
| Keyless entry & go/powered tailgate | Yes/no | Yes/yes |
| Sat-nav/digital dashboard/USBs | Yes/yes/four | Yes/yes/six |
| Online services/wireless charging | Yes/yes | Yes/yes |
| Apple CarPlay/Android Auto | Yes/Yes | Yes/yes |
Source: Read Full Article