See Five Future Cars In Spy Shots For The Week Of September 4, 2023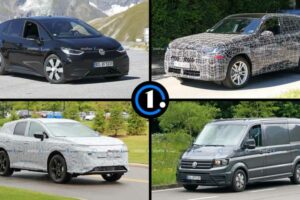 Motor1.com puts up spy shots of upcoming vehicles practically every day and sometimes more often than that. If you want to stay on the cutting edge of what's on the way, check out this list of all the glimpses of development vehicles from the past week.
2025 BMW X3 Spied Showing Production Lights Through Camo
Here's the future BMW X3. This one reportedly maintains a combustion engine. Although, an EV is coming too. The one with the license plate ending in 4072 appears to be a sporty variant because of the two-tone wheels and red brake calipers. It seems to gain flush-mounted door handles, too.
Gallery: 2025 BMW X3 new spy shots
Next-Gen MG3 Hatch Spied With Refined Design And New Taillights
The MG3 is in desperate need of an upgrade because the current one dates back to the 2011 model year. A new one is finally coming. It retains a similar aesthetic as the current one but with small revisions.
Gallery: Next-gen MG3 Spy Photos
New Nissan Murano Spied For The First Time, Gas Engine Confirmed
This next-gen Nissan Murano was near the automaker's corporate offices in Michigan. It has smaller headlights than the current model. There's a trapezoidal opening in the lower fascia. This one is still under heavy camouflage that hides specific styling change details.
Gallery: Next-Generation Nissan Murano First Spy Photos
Volkswagen Crafter Test Mule Spied Inside With Digital Gauges, Bigger Screen
This gallery includes exterior and interior looks at a test mule for the new Volkswagen Crafter van. The cabin features a new digital driver display and a large center screen with a floating-style layout. The outside might change a little from what's on display here.
Gallery: Volkswagen Crafter Interior And Exterior Spy Photos
Volkswagen ID.3 GTX Spied For The First Time, Should Debut In 2024
This looks like a normal ID.3 but with an updated front fascia, new rocker panels, and tweaks to the rear VW obscures bits of the nose and back end. The GTX would feature a pair of electric motors making around 300 horsepower.
Gallery: Volkswagen ID.3 GTX Spy Photos

Source: Read Full Article