Tesla Cybertruck Towing Specs Leaked: Here's How It Compares To Gas Pickups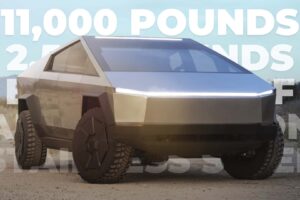 The Tesla Cybertruck's long-awaited debut is on November 30, but a leaked poster (below) on the Cybertruck Owners Club forum, allegedly from a sign at the San Diego Tesla store, gives us an early scoop on the pickup's towing and payload figures. The vehicle can carry 2,500 pounds in the cargo bed and tow 11,000 pounds. Let's see how that compares to the traditional, combustion-powered trucks from Chevrolet, Ford, and Ram.
Before we get too deep into comparing the pickups, it's worth noting that a VIN decoder indicates two variants of the Cybertruck are coming, likely indicating two- and three-motor powertrains. The lighter version has a gross vehicle weight rating of 8,001 to 9,000 pounds, and the heavier one's GVWR is 9,001 to 10,000 pounds. Unfortunately, the promotional image doesn't tell us which variant of the truck has these payload and towing specs.
Payload
A pickup's payload refers to the maximum weight the vehicle can carry, including cargo in the bed and passengers. The Tesla Cybertruck's spec of 2,500 pounds puts it on top compared to the Silverado, Ford F-150, and Ram 1500. However, these trucks are also lighter than Tesla's electric offering. For this reason, we also include figures for heavy-duty trucks from Detroit in the table below. These models can carry thousands of pounds more than the Cybertruck can bear.
Towing Capacity
Gallery: Tesla Cybertruck
A pickup's towing capacity is simply the rating of the maximum weight a truck can pull, whether you're hauling a horse trailer, a boat, or a race car.
The Cybertruck's 11,000-pound towing rating puts it at a disadvantage against combustion-powered full-size and heavy-duty trucks, full stop. A 2024 Ram 3500 can pull over 26,000 pounds more than the Tesla, but even half-ton combustion trucks out-tow the edgy electric pickup.
We expect to learn significantly more about the Cybertruck during Tesla's big debut/delivery event, slated to take place on November 30. Stay tuned for more.
Source: Read Full Article