The Audi e-tron Is A Half-Price Used EV Bargain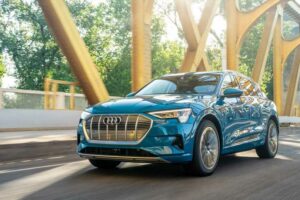 Almost disguised as an elegant internal combustion engine crossover, the 2019 e-tron was Audi's entrance into the mainstream EV sector. Unlike the most prominent electric sport utility vehicle at the time, the Tesla Model X, the e-tron was a breath of normalcy and German sophistication. Despite being a solid and luxurious entrant, it was by no means perfect, and due to the four-ring insignia emblazoned on the grille, it has suffered from immense depreciation. 
When new, the 2019 Audi e-tron Premium Plus (Audi later introduced an entry-level "Premium" trim) started at $75,795. The higher-end Prestige variant entered the market with an even higher starting price of $82,795. At the time, the e-tron was priced in line with other options like the Jaguar I-Pace and the Tesla Model X; it was a high-end vehicle with a high-end price. 
Today, the luxurious Audi is no longer a vehicle for just the top echelon of buyers. In fact, used buyers can now snag used examples for the same price as a decently-equipped Chevrolet Bolt EUV Premier. On TrueCar, there are numerous used Audi e-trons listed between $30,000 and $35,000 across the country. Some used e-trons for sale have lost over 60% in value, and still even have some remaining basic warranty. But should you buy one just because they're more affordable?
2019 Audi e-tron: The Specs
While the 2019 Audi e-tron wasn't the most competitive EV at launch, there is no doubt that it is an impressive crossover. Sitting at 193 inches long, the Audi e-tron is six inches longer than the Tesla Model Y and two inches shorter than the BMW iX. For its range, the Audi e-tron can travel 204 miles per the EPA's tests, thanks to a 95-kilowatt-hour battery pack (of which 86 is usable). However, unlike that of a Tesla, e-tron drivers can usually see more range in real-world conditions (this 70-mile-per-hour highway range test yielded 224 miles with the larger wheels). 
One reason why the e-tron's range is limited is due to its sheer mass; it weighs a colossal 5,754 pounds. That said, it isn't all negative, and the electric crossover has many impressive capabilities. For instance, it can tow up to 4,000 pounds with the applicable package. Moreover, its powertrain makes 402 horsepower with Boost mode engaged, delivering a swift zero-to-sixty time in the mid-five-second range. In normal driving, the electric motors produce 335 horsepower, though that's still plenty to get the car moving. 
The most notable feature of the e-tron is its charging. With a 150-kilowatt maximum charging rate, the e-tron can reach 80% from zero in just thirty minutes. But the charge rate doesn't explain the whole story. Thanks to the cobalt-dense battery pack, the e-tron can sustain that 150-kilowatt figure well above 70 percent state-of-charge. Its smaller sibling, the Q4 e-tron, began to ramp down to under 100 kilowatts at just above the 43-percent state-of-charge figure in our test, despite having the same 150 kilowatt rating. 
The Luxury Amenities
While the e-tron may not have 300 miles of range, taking one on a road trip should be viable thanks to its impressive charging abilities. But equally as important for a luxury road trip are the vehicle's onboard amenities. Since the e-tron came in Premium Plus guise as standard in 2019, every used example from that time will come with an array of creature comforts. 
The 2019 Premium Plus e-tron has a punchy Bang and Olufsen audio system, ventilated front seats, adaptive cruise control, rear seat climate controls, a 3D vehicle camera, and an opening sunroof. While used e-tron Prestiges usually run a little more money, they offer massaging seats, soft close doors, a head-up display, and an in-cabin fragrance system offering two scents: summer and winter. 
Reliability: An Issue?
For those wanting an e-tron as their next vehicle, there are several things to note. Despite being an EV (requiring little maintenance in theory), the 2019 e-tron was Audi's first electric vehicle. Considering this, some buybacks dot the market landscape, and some models have Carfax reports documenting a concerning number of service appointments. Unlike Tesla's Model Y, the e-tron is a complex vehicle. It has air suspension and many bells and whistles that may not last the life of the car. Simply put, despite keeping a powertrain with fewer moving parts than that of an ICE vehicle, it's still a luxury car with features that could go awry down the road. 
Considering this, it's best to secure an e-tron with some of its four-year 50,000-mile warranty remaining. Even with several months remaining, it can give new owners the chance to notice any abnormalities that could warrant a service appointment. But there's another option: buying certified pre-owned. While trending more towards the $35,000 mark and above, there are e-trons available that come with an additional one-year 20,000-mile warranty on top of the already remaining basic warranty. 
Since these stack, some CPO examples come with nearly two years of basic warranty. With a warranty period of two years, most concerns should be minimized. For those with a proclivity to take risks, there are less expensive e-trons available with over 50,000 miles. Will anything go wrong with one over 50,000 miles? Not necessarily, but if something does go wrong, you'd be out of luck, so long as the issue doesn't reside within the lithium-ion battery pack (that is warranted for eight years or 100,000 miles). 
Verdict
At under $35,000, the Audi e-tron is now priced in line with the Hyundai Kona EV, Chevrolet Bolt EUV Premier, and Mini Cooper SE. For that price, the e-tron is a killer value. Checking nearly every high-end car feature box, the electric crossover is quiet, refined, and luxurious. It has one of the most pleasant interiors in any EV, and features a design that's conservative and not locked to a specific time period. Though, since it's still a new EV, long-term reliability just hasn't been addressed yet. 
Will its aura of grandeur be enough to make you opt for the e-tron? Let us know if you'd consider one in the comments below!
Source: Read Full Article