Twin-Turbo Hurricane Inline-Six Engine With 520+ HP Confirmed By Stellantis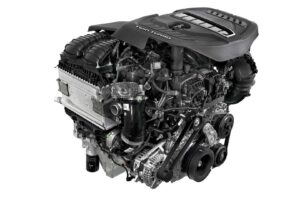 In March 2022, Stellantis introduced a twin-turbo, inline-six dubbed "Hurricane" as a future replacement for the venerable HEMI V8. The 3.0-liter engine was presented in a Standard Output (SO) version with over 400 horsepower and 450 pound-feet of torque alongside a High Output (HO) delivering more than 500 hp and 475 lb-ft. As it turns out, an even more potent configuration is currently in the works.
During a conference held this week in Detroit about how it intends to further electrify its lineup, Stellantis also mentioned investments are still being made in internal combustion engines. Michael Bly, Senior Vice President, Head of Global Propulsion Systems, said the new Hurricane engine is bound to get a beefier iteration: "We have more power. We just haven't released it yet."
A final number for the HO variant of the engine has yet to be revealed but Automotive News has it on good authority it's 520 hp, so this third version of the engine will pack an even greater punch. Provided the ICE muscle car era isn't about to be sunsetted by Stellantis and the new Charger will indeed have a gas engine, we could easily imagine the top-tier Hurricane under the hood.
Hurricane won't be available strictly with six cylinders as Bly also disclosed there are plans for a downsized configuration as a four-pot with a 2.0-liter displacement. In addition, an even smaller, unrelated three-cylinder unit derived from an existing engine available in Europe is planned. Stellantis sells a variety of products on the Old Continent with a turbocharged 1.2-liter PureTech that goes inside cars as small as the Peugeot 208 supermini and as large as the 508 midsize sedan/wagon.
While some would be tempted to say Hurricane will also replace the Pentastar V6, that's not going to be the case. Bly explained Stellantis will continue to invest in this engine since it's a "very good, lower-cost, rock-solid, high-quality stalwart of our collection." He went on to mention the V6 is going to be electrified in the near future. That shouldn't come as a big surprise considering that in mid-2022, the conglomerate announced a $24.7-million investment into the Trenton, Michigan assembly plant that puts together these 3.6-liter V6s.
Source: Read Full Article