Two iconic sportscars from the 50s given new lease of life as electric vehicles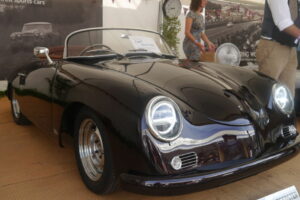 A famous name in classic car replicas has returned, offering a range of hand-crafted sportscars that feature a fully electric powertrain.
Sebring Works produces brand new examples of the Austin-Healey 3000 and Porsche Speedster, using fibre-glass bodies and a unique 'skateboard' platform.
Rebecca Denyer, co-founder of Sebring Works and Head of Happiness, explained how she bought the business.
She said: "We used to have an Austin-Healey replica from Sebring International, and we realised they weren't going anywhere so we decided to approach the owner and we purchased the assets from them in 2020.
"And we decided to bring that back with an electric drivetrain, but as soon as we developed our skateboard chassis, we soon realised that any body could fit on it, hence the Speedster and all the other ones we have."
READ MORE: Caterham Seven owners celebrate car's 50th anniversary at Silverstone Festival
Whilst the models produced by Sebring Works, who are based in Moreton-in-Marsh, Gloucestershire, look like the originals, the new powertrain makes the cars better suited for the roads of today.
For extra practicality, each model features a 'frunk' (front trunk) as well as a conventional boot, and each model can stand out, with buyers being able to specify their own colour schemes, interior materials and wheel designs.
Sebring have yet to say how fast their cars are, however, they can cover a range of 200 miles under normal driving conditions and up to 250 if the motorist is careful.
Don't miss…
Three best features of the new Mini Countryman[INSIGHT]
These 10 cars retain their value best when it comes to reselling your vehicle[ANALYSIS]
Police find double the amount of chop shops as vehicle thefts increase[REPORT]
We use your sign-up to provide content in ways you've consented to and to improve our understanding of you. This may include adverts from us and 3rd parties based on our understanding. You can unsubscribe at any time. More info
Rebecca also noted that, before production began, Sebring Works got permission to use the classic Speedster body from Porsche, who manufactured the model between 1948 and 1965.
"Because the copyright has ran out, it's over 25 years, they can't stop us from doing that. Some of the other manufacturers we'd love to go after, but we know they won't be too happy about it.
"Porsche themselves have been fantastic and they're quite happy, they used a replica in their 75th celebrations so all very happy."
With each car retailing at about £80,000, Sebring do not intend to make the cheapest possible electric vehicles on the market.
However, the price is similar to a new Taycan, produced by Porsche since 2019, which is priced from £79,200.
Nevertheless, Sebring's plans to produce about 50 cars per year means they will be an incredibly exclusive way into electric car ownership.
Source: Read Full Article