Used Subaru Impreza Turbo (Mk1, 1994-2000): a rally legend for the road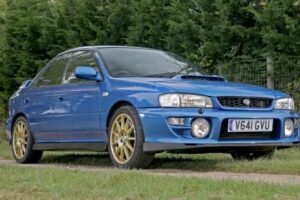 A full used buyer's guide on the Subaru Impreza Turbo that was on sale in the UK between 1994 and 2000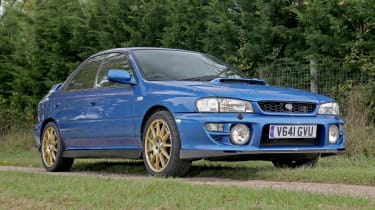 Verdict
The Impreza Turbo really did change the motoring landscape when it burst onto the scene 31 years ago. Capable of leaving hugely valuable supercars for dead, while taking the family along for the ride, the Impreza is a seriously talented car. Now seen as a modern classic, its prices have gone crazy over the past few years, especially for cars to factory spec. Whether you're buying for regular road use, track- day fun or as a collector's piece, the car won't disappoint if you do your homework. The key issue is that these cars were often bought for hard use and time has taken its toll on many examples, which is why you really need to have any potential purchase inspected by someone who knows the Impreza inside out.
Soon after Audi had axed its quattro, Subaru introduced the next generation of turbocharged four-wheel-drive supercar. As with the quattro, few people realised just what a machine the Impreza would be, but soon this four-door saloon was making its mark on rally stages around the globe.
Just like the quattro, the Impreza wasn't simply a competition machine, and there was a road-going version available, which offered a greater level of usable performance than virtually any car previously offered. Better still, the Impreza was attainable, even if its running costs were steep. The Subaru has now moved into classic territory, but it offers the same thrills and practicality that it always did, and if you buy well, you'll have a car that goes up in value rather than down.
History
The 208bhp Impreza Turbo made its debut in Japan in 1992, but it didn't arrive in the UK until March 1994, in saloon and estate forms. At the end of 1996, the suspension and brakes were upgraded, while engine tweaks boosted torque from 273Nm to 290Nm. The nose was reshaped and there were far more supportive bucket seats.
More reviews
Car group tests
Subaru Impreza vs Volkswagen Golf vs Honda Civic
Gripping tale: Subaru Impreza vs Mazda 3
In-depth reviews
Subaru Impreza review
Subaru Impreza (2014-2016) review
Subaru Impreza review (2007-2011)
Road tests
New Subaru Impreza 2017 review
Subaru Impreza S206
Subaru WRX STi 320R
A much-improved interior was fitted from the end of 1997, with white dials, higher-quality trim, a Momo steering wheel and a passenger airbag. For 1999 there was a new 215bhp engine, firmer suspension, bigger brakes and a top-spec alarm/immobiliser.
Meanwhile, the 247bhp Impreza WRX had arrived in 1994 with a close-ratio gearbox and a strengthened engine. The
P1 of 1999 was a glorious and now very collectible 276bhp two-door saloon.
Which one should I buy?
Any well maintained original-spec Impreza Turbo will be sensational to drive and own, but most have had some modifications. These can make the car better or worse in terms of driveability and reliability, so pin down what's been done, and by whom. The standard car is known as the UK Turbo; generically this generation of Impreza was codenamed GC8 by Subaru.
There was also a WRX model with a stronger engine, while the best of the regular models was the WRX STi, which had an engine that was strengthened further, for greater reliability when tuned; some early Turbo editions also featured a strengthened engine. All of these cars are well represented in terms of availability (a bit less so where the STi is concerned), if you're not a stickler for originality.
Alternatives to te Subaru Impreza
The Mitsubishi Evo IV, V and VI are the closest rivals, with their turbocharged 2.0-litre engines and four-wheel drive. They came only in saloon guise, but they're every bit as exciting and just as hard to find in standard form. Even more expensive is the Ford Escort RS Cosworth, and it's the same with the Lancia Delta Integrale. Both of those came only as hatchbacks, but if you'd prefer a seriously quick estate the Audi RS2 could be for you, or there's the S4, which was also available in saloon form.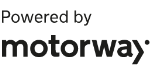 The snag with all of these cars is that they've become collectors' pieces that are often bought for their investment potential rather than to be used. Original-spec cars are highly prized and consequently valuable, because they're so hard to find.
What to look for
Rust
Corrosion is common. Check the inner rear wheelarches and subframes. Glassfibre panels are sometimes used to fix the former.
Damage
A lot of Imprezas have been crashed, which is why it's so important to get a vehicle history check, and analyse the structure closely.
Oily bits
Engines are strong but turbos can fail (£450 to fix), and the big-end bearings eventually wear out, which requires a full rebuild, costing £4,000.
Bushes
The suspension lasts well, but the rubber bushes wear. It's worth switching to polyurethane items, which are firmer than the originals.
Common faults
Hardly anyone buys an Impreza Turbo for everyday use now, but if you intend to drive yours on a regular basis, check that the insurance is affordable along with the maintenance and fuel costs, because all three can be very high.
Interior
The Impreza was always marked down for its cheap interior; Subaru clearly spent all of its budget on the turbo engine, ultra-precise gearbox and four-wheel-drive transmission. The dash was dated in period and it's even more so now, but it's clearly laid out and easy to use. The seats are supportive and there's reasonable space in the back for two or three adults.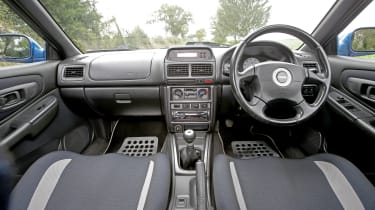 Boot space is good and while the headline figure of 365 litres isn't that big, it's well shaped. If you need more carrying capacity, you could track down an estate Impreza; with the rear seats down you can stow up to 1,189 litres.
Prices
There's no significant difference in values between saloons and estates, but it's the former that are by far the most common. Some of the special editions are especially sought after, such as the RB5, while the two-door P1 also carries a significant premium over an equivalent Turbo model.
To check prices on a specific model head over to our valuation tool.
Running costs
With a service interval of every 7,500 miles or six months, the Impreza needs more maintenance than you might expect, but an annual service is usually enough. Few owners use official dealers to look after their cars, because there's generally more expertise with independent specialists and they tend to charge less.
Services alternate between minor and intermediate, at £115 and £200 respectively; the first is an oil and filter change, while the second includes fresh spark plugs. Every fourth service is a major, at £425, while a new cambelt is required every three years or 45,000 miles, which equates to every sixth service; budget £400 for this to be done. The really big one is every eight years or 90,000 miles, and costs £625. All of these prices are from the very highly rated scoobyworld.co.uk.
Recalls
There are no recalls on record for the first-generation Impreza, and the first campaigns launched by Subaru, according to the Driver and Vehicle Standards Agency (DVSA), which manages the system, were not issued until 2004. While that recall was for the Impreza Turbo, it wasn't for this generation; it was for the second-generation 'Bug-Eye' model that was launched in 2000.
That action was because engine oil leaks could lead to a fire; there wouldn't be another Impreza recall until 2012, once again for the 'Bug-Eye'. This time the problem was suspension corrosion. The same model was recalled again in 2014 because of brake fluid leaks, then again in 2015, because of airbag glitches. There would be another campaign in 2018, for cars as old as 2004, because of faulty fuel pump wiring.
Driver Power owner satisfaction
The last of these Imprezas was built almost 25 years ago, so they fall outside the remit of our Driver Power surveys. When new they were bought by enthusiasts who accepted the high running costs and low-rent interior, and now that they're bought as toys for occasional use, the shortcomings are accepted even more readily. Which is easy to do when the Impreza serves up so much fun and usability.
Looking to sell your current car quickly and for a good price? We've partnered with Motorway to bring you the best offer from its network of UK dealers…
Source: Read Full Article