Volkswagen up! Discontinued As Production Ends: Report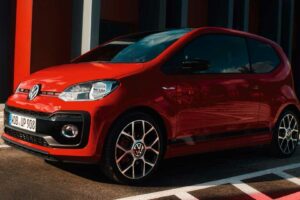 Following the discontinuation of the Skoda Citigo in 2020 and SEAT Mii about a year later, the last of the Volkswagen Group's trio of city cars is no more. The up exclamation point has been terminated, according to a new report from Autocar. The last pint-sized hatchback has left the assembly line at the factory in Bratislava, therefore putting an end to the automotive conglomerate's New Small Family (NSF) of A-segment cars in Europe.
A replacement for the Fox, the VW up! was in production for no fewer than 12 years, therefore making it one of the oldest cars sold by the German automotive conglomerate. Its demise comes about 10 months after the GTI hot hatch derivative was discontinued. All three NSF models were also offered as electric vehicles, and while direct replacements are not available, the VW Group has promised a new wave of cheap EVs will arrive later this decade.
2018 Volkswagen Up! GTI: First Drive
The core brand is expected to launch an ID.1 as a smaller and cheaper alternative to the ID.2 it previewed earlier this year with a concept, which has already spawned a GTI equivalent. This ID.1 will come exclusively with electric power as VW is abandoning ICE cars in Europe's smallest segment. The Group has even said B-segment cars with ICE are in jeopardy due to the Euro 7 regulations, but that was before the standard was significantly watered-down.
Much like the Fabia and Ibiza became the entry-level cars from Skoda and SEAT after the Citigo and Mii were discontinued, the Polo is now the most affordable VW in Europe. The decision to axe the up! marks the end of an era for the Group considering there's never going to be an A-segment model with a combustion engine given the EV push.
The plant in Slovakia where the up! was assembled is getting ready to accommodate new models as the wagon-only 2024 Volkswagen Passat will be built there. In addition, the forthcoming Skoda Superb in both liftback and wagon body styles is going to be manufactured in Bratislava as well.
From 2033, VW has pledged to only build EVs in Europe.
Source: Read Full Article