Dusty De Tomaso Pantera Barn Find Emerges After 46 Years For Future Restoration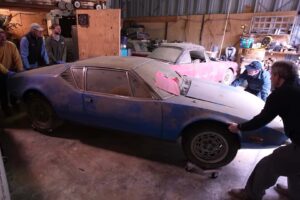 The De Tomaso Pantera was a fascinating combination of Italian looks and American power thanks to its mid-mounted, Ford-sourced V8 engine. The 1972 example in this video has been in a garage for decades. Now, a restoration is underway to return the classic performance machine to the road.
The owner of this Pantera inherited the car from his father, along with an impressive collection of British sports cars, including several Sunbeam Tigers and Lotus Elans. A layer of dust covers the De Tomaso, but you can see the body is in good condition underneath the grime. The interior is immaculate and even has an 8-Track player. The only significant issues are the coolant tubes and normal wear items after sitting for around 46 years, like the brakes.
The Pantera is on dollies, which makes moving the car much more manageable. A shelf and one of the Sunbeam Tigers need to get out of the way, and then the guys can roll the De Tomaso out of the barn. It heads to a shop with a lift for a proper underbody inspection.
This Pantera is quite a survivor. Everything underneath is still original, with no sign of extensive rust. The next step is to see what's necessary to get the V8 running again. The car also needs all the rubber parts replaced because they're falling apart.
The Pantera's Ford connection goes deeper than its V8 engine. The automaker sold them in the United States through Lincoln-Mercury dealers from 1971 through 1975. A combination of rising gas prices and increased emissions regulations caused the Blue Oval to stop selling them.
The 1972 example in this video features the early nose with metal bumperettes on each corner. Later vehicles have a full-width piece of rubber across the nose. This model year uses the Ford 351-cubic-inch (5.8-liter) Cleveland V8 making 296 horsepower. The only gearbox is a five-speed manual with a gated layout in the cabin.
Hagerty plans to keep covering this Pantera's restoration in future videos.
Source: Read Full Article