Stealthy Off-Road Ford Camper By AEONrv Has Queen Bed, $219K Price Tag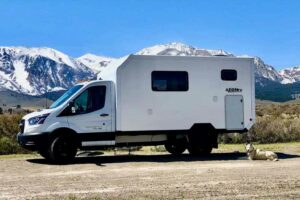 In a world of camper vans and motorhomes adorned with multi-colored stripes and flashy graphics, this Ford Transit upfit from Nevada-based AEONrv looks pretty darn boring. Inside the boxy white facade is a different story, where you'll find a handsome living space for four people to enjoy the outdoors, any time of year. Suspension upgrades further help this all-wheel-drive Transit venture well off the beaten path.
It all starts with a one-ton Ford Transit chassis cab. AEONrv builds the living space from scratch, insulated for all-season use with an onboard air conditioning/heating system that includes a ducted air heater that runs off the gas tank. Speaking of fuel, you won't find any propane hookups here – everything inside is either electric or set up to use existing vehicle systems. That includes the single-burner induction stove (a two-burner stove is optional) and the 4.3 cubic-foot refrigerator. Hot water comes courtesy of an eight-gallon marine heater warmed up either by an electric element or the Transit's engine coolant.
Electricity comes from a 24-volt DC system using an 8.2-kWh self-heating battery pack with a 3,000VA, 70-amp inverter. An upgraded battery pack to either 10.9-kWh or 13.6-kWh is optional, but regardless of the setup, it charges from the van's alternator or through 700 watts of solar on the roof. The van carries 59 gallons of fresh water and 28 gallons of gray water.
As for creature comforts, AEONrv installs a full bathroom with a stand-up shower and cassette toilet at the very front of the living space on the passenger side. This allows exterior access to the shower when the weather is warm, while also separating it from the kitchen via the side entrance. The refrigerator is also separate from the kitchen, mounted on the driver side between the cab and large convertible dinette area. The queen bed occupies the rear portion, mounted up high to allow for an enclosed 65 square-foot garage space accessible from the outside. A passthrough upfront allows access from the Transit's cab without going outside.
Gallery: AEONrv
AEONrv doesn't just build a mini house for the back and call it a day. Utilizing the Transit's existing all-wheel-drive system, a two-inch suspension lift is installed along with upgraded springs front and rear. A quarter-inch steel skid plate is bolted up to protect the differential, and it rides on 16-inch black steel wheels with all-terrain tires. The engine is Ford's twin-turbocharged 3.5-liter EcoBoost V6, driving the wheels through a 10-speed automatic. Standard equipment includes 3.73 gears, 10-way power heated seats, and a plethora of Ford driver assist systems including parking sensors, blind-spot monitoring, and more.
As you might expect with a made-to-order camper van, AEONrv offers all kinds of options. That includes living upgrades like extra windows and exterior awnings to off-road add-ons such as brush guards, more skid plates, and tow hooks. A 150-psi air compressor is also mentioned in the options list.
Such gear quickly adds up, however. Originally debuting in 2021, AEONrv's starting price for 2023 is up to $219,500 but buyers are already lined up to get one. The company says it recently expanded in manufacturing facility to help curtail an order backlog of 18 to 20 months.
Source: Read Full Article