BMW Considering Rear-Wheel-Drive Electric M Car With Dual Motors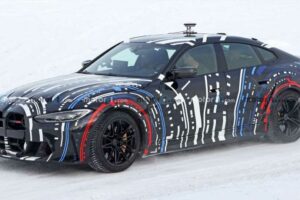 It's a known fact that BMW has been working on a quad-motor electric performance car for a while. Not only have they released images of an i4 M50-based prototype, but our own spies have caught it while undergoing testing. The German luxury brand has said it will launch its first full-fat M car with a purely electric drivetrain in the second half of the decade, with BMW Head of Development Frank Weber telling Car Sales an electric M3 is planned.
However, the future M3 and a potential X3 M without a combustion engine might not necessarily have a monstrous quad-motor, all-wheel-drive setup. Speaking with Ars Technica, M CEO Frank van Meel said BMW is also considering a rear-wheel-drive setup with dual motors. Although an xDrive-equipped electric M car would undoubtedly be quicker, having an RWD setup would make the cars lighter and likely more fun to drive.
Quad-motor BMW i4 M50-based EV spy photos
Frank van Meel pointed out that while bulky and powerful electric motors have been in trains for over 100 years, these e-motors must be small yet still punchy for high-performance EV applications. The M division's head honcho also pointed out the engineers must come up with an optimal cooling solution so that those motors can deliver performance consistently. Then there's the battery, which mustn't overheat while the motors are working at full tilt.
BMW already has a wide variety of electric M Performance-badged cars such as the i4 M50, i5 M60, iX M60, and the i7 M70. However, an actual M EV "will still take a couple of years" after the initial release of Neue Klasse models. The first NK-based models are coming in 2025 as a sedan and SUV in the 3 Series segment. Consequently, a real M car without an ICE is expected to land around 2027. It remains to be seen whether it'll be an M3 sedan or an X3 crossover.
Whatever the case may be, it won't be related to the i4 M50 pictured here since this is a prototype on the existing CLAR platform. BMW is testing some new hardware planned for NE cars, which will adopt a fresh design language previewed by the Vision Neue Klasse concept.
Source: Read Full Article