New Tesla Safety Feature Auto-Activates Hazards After An Accident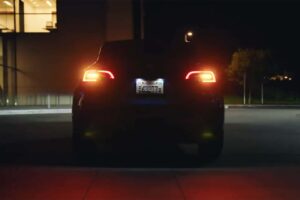 Tesla is rolling out a new safety feature for its entire portfolio of passenger cars sold in the United States that should provide better visibility after a crash.
Starting yesterday, all US-bound Model 3 and Model Y vehicles, as well as Model S and Model X cars made after 2020 and sold here will get an over-the-air (OTA) update that will add a hazard light auto-activation feature after an airbag is deployed.
Furthermore, the hazards will flash faster than their normal rate, making the damaged EV easier to see, especially at night, considering the car's turn signals will act as a sort of strobe light that's usually seen on some heavyweight machines.
The Austin-based company announced the new feature in a post on the Tesla North America X (formerly Twitter) account that was accompanied by a short video showing the feature in action.
It's worth noting that a lot of carmakers have baked this safety feature into their cars starting as far back as the 2000s, including Volvo, BMW, and Volkswagen.
Back in July, the Elon Musk-led EV manufacturer pushed an OTA software update that added new windscreen wiper controls allowing the driver to adjust the speed of the wipers directly from the steering wheel, without having to activate the wipers first.
Other updates from the past include better use of the regenerative braking function while using the so-called Autopilot driver assistance system, as well as the addition of the circuit-oriented Track Mode.
According to a report from last year, Tesla is the biggest adopter of OTA updates when it comes to addressing recalls issued by the National Highway Traffic Safety Administration (NHTSA), with seven out of 19 recalls issued from 2020 to 2022 being handled through a software update.
The EV maker's CEO even went so far as to say that the NHTSA's terminology is outdated and inaccurate when it comes to recalls, in the context of Tesla issuing a software fix for roughly 1.1 million vehicles across all its models last year because the side window automatic reversal system may not react correctly after detecting an obstruction.
Source: Tesla North America (X)
Source: Read Full Article