Tesla Cybertruck Front And Rear Castings Piling Up At Giga Texas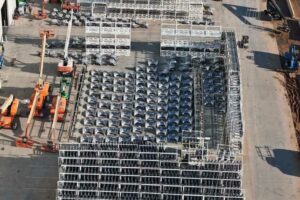 Tesla is rumored to start initial customer deliveries of the Cybertruck this month, and while it's anyone's guess whether that will actually happen, there are signs that something big is cooking at Gigafactory Texas. Namely, what does it mean when we see so many Cybertruck front and rear castings just sitting around?
Drone operator Joe Tegtmeyer lifted the drone above the site today, and he was surprised to see a plethora of Cybertruck castings placed directly on the concrete platform right outside the plant.
As you can see from the photos shared by Tegtmeyer on his X (formerly Twitter) page, there's probably a total of 200 castings in these photos. Now, you're probably wondering why Tesla is storing these castings outside when the Giga Texas plant building is so huge.
Well, this is something Tesla has been doing for a while now at all its plants, and it likely means these are excess castings. It probably also means that there are many more castings stored inside the factory.
As Tegtmeyer puts it, "we have never seen this many" Cybertruck front and rear castings ever, and that in itself is very telling. The high number of castings may suggest Tesla is satisfied with their quality and has started to churn them out in large batches and pile them up for production, which is something we saw in the past with the Model Y castings as well.
In another sign that Cybertruck customer vehicle production is about to pick up at Giga Texas, a shipment that appeared to include structural battery packs was delivered at the factory earlier this week.
Tegtmeyer's drone was there to capture the moment, and the footage shows what look like pallets of structural battery packs. While Tegtmeyer spotted the pallets at the southwest receiving door of Giga Texas, near the area where the Cybertruck is being assembled, it's not very clear what vehicle the deliveries were for.
In the photo, one can see two pallets side by side, with the furthest ones including metal from what seems to be a visible battery pack. Some of the X users said in the thread that the battery packs looked much larger than those for the Model Y, while others commented that the packs looked similar to the structural packs for the Model Y.
It's difficult to place a verdict in the absence of clearer images, though. The Cybertruck structural packs are being assembled both at Giga Texas and at the Fremont Factory. In this case, the shipment likely came from California.
Either way, these sightings are very exciting for Tesla and EV enthusiasts because it means the most-hyped electric vehicle ever is finally getting ready to enter production for customers. 
Source: Joe Tegtmeyer / X via Teslarati
Source: Read Full Article