Tesla Cybertruck Range Might Be Around 350 Miles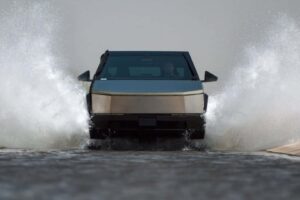 One of the biggest unanswered questions about the upcoming Tesla Cybertruck refers to its driving range.
When it was first announced in 2019, there were a lot of figures shown on the stage, including a 500-mile version, but the Austin-based EV maker removed all of the technical information from its website two years ago, leaving everyone wondering what the pickup would be capable of, range-wise.
Now though, thanks to a post on the Cybertruck Owners Club forum, we've learned that Tesla's delayed truck might offer around 350 miles of range. The post, published by the user CHC, spotted a release candidate (RC) unit of the electric pickup at a Supercharger in Mojave, California, so he pulled up next to it to take a closer look.
When he got there, he found out that the Cybertruck was apparently unable to charge, so the person driving it was waiting for a tow truck to get it out of there. According to the original poster, the Tesla engineer said that he doesn't know the actual range of the truck, as all RC units only display battery percentages, but that it's "as good as or as better than a Model X."
For some context, a base Tesla Model X with dual-motor all-wheel drive has an EPA-estimated range of 348 miles on a full charge, while the tri-motor Plaid can go up to 333 miles on a full charge, according to the EPA estimate.
Gallery: Tesla Cybertruck
At the same time, a Rivian R1T has between 270 and 410 miles of range, depending on the drivetrain configuration, while the Ford F-150 Lightning offers between 240 and 320 miles on a full charge, depending on battery and motor specs.
Regarding the battery percentage display on the truck's screen, it explains why the video featuring a Russian-speaking man who managed to film the Cybertuck's interior screens didn't show the predicted range but only the state of charge (SoC).
With the first units scheduled to be delivered at the end of next month, it looks like Tesla is still figuring out some things with the Cybertruck, including range prediction.
In related news, the National Highway Traffic Safety Administration (NHTSA) recently published some information regarding the Cybertruck's VIN, revealing that Tesla's first pickup could weigh less than the Ford F-150 Lightning, yet tow more and carry a higher payload than the Ford-badged EV.
Source: Cybertruck Owners Club
Source: Read Full Article