BMW's Facelifted M4 Could Get More Power, Won't Get Smaller Kidneys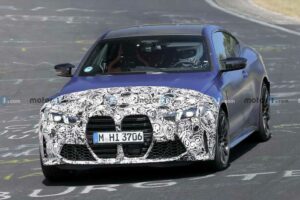 BMW is currently working on a refresh for the entire 4 Series range, which includes the M4 Coupe. We've seen prototypes testing on public roads and at the Nurburgring, and we know visual changes will be kept to a minimum. However, there might be a healthy upgrade in the engine department.
Three internal documents from BMW leaked earlier this week and were shared to the Bimmer Post forums. They suggest the S58 inline-six under the hood of the M4 Competition could get 20 more horsepower. Apparently, the extra ponies will be exclusive to the AWD Competition trim. The RWD Competition will reportedly miss these updates, with output staying at 503 hp.
Gallery: 2025 BMW M4 Coupe Spy Photos
The leaked info shows 390 kilowatts for the 3.0-liter twin-turbo mill for the AWD M4. That converts to 523 hp, and the documents claim it will come to cars sold in Europe and the United States. It is probably safe to assume the base M4 will carry over with the same 473-hp peak output currently available at BMW dealerships.
Another important piece of information revealed by the leaked documents is production-related. Specifically, we see production of the new M4 family should begin in March 2024 for  North American and European markets. We expect the facelifted model to make its official debut during the first quarter of 2024 and arrive in the US as a 2025 model. As a reminder, the M4 already entered the 2024 model year on this side of the pond. 
We're curious as to whether the mechanically identical M3 Competition xDrive will also receive the same power increase after the mid-cycle refresh. A report from March 2023 hinted this might indeed be the case, and it is also worth mentioning that BMW is currently working on a refresh for the M3 Touring, which is sold exclusively in Competition guise with AWD.
Source: Read Full Article