Brought home a Tata Altroz petrol: Buying experience & first thoughts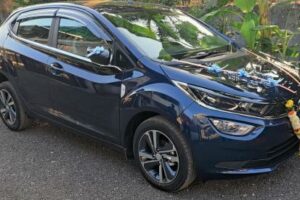 We made a trip to Indore in the new Altroz the car performed beautifully on rough roads and speed bumps.
BHPian Vivian.A34 recently shared this with other enthusiasts.
It all started when my younger brother was searching for a car and I had to assist him with one. This was almost 10 months back when I was the only driver at home. you'll know how a middle class family works when you are the only car driving member in the family. The sleepless long drives when your entire family is dozzing off in the back seat. Anyways coming back to the topic so we started with Suzuki obviously because it is the most famous brand when you have budget less then 10 lakhs.
We visited the Suzuki showroom in Nashik MIDC and I had suggested my brother Swift as it was quite popular in the hatchbacks. However I always had my 6th sense poking me saying no to Suzuki because of the bad safety ratings I have heard for Suzuki Xpresso and other cars they made. And just to let you'll know I use to drive my classic Ford Fiesta which was a gem of a car it was a 1.6L Duratec Petrol with a power which can even beat today's modern generation sedans, it was full of power and comfort and it was a 2006 model. I will write another post for my experience with my Ford. However I now own a KIA Sonet D 1.5 IMT again another post and review for my current IMT.
My initial expression the SA was trying to push us towards Wagonr and the new Celerio I am not sure why but may be they had sales target for these car that month. But I was firm and asked my brother to only insist for Swift. They did not have a manual available for test drive so I tested the automatic petrol version also for some reason they insisted I drive in their parking lot only and not outside on the road it clipped me and I immediately felt something off with their SA and we had an immediate disconnect. I could not test the full potential of the vehicle because of this incident and we left the showroom. I am assuming it was a delivery vehicle for some customer and they did not want to show kms on the ODO.
Next up we went to Sterling Motors near Dwarka in Nashik the SA was quite good and welcoming he immediately adjusted a test drive vehicle and we are off doing a test drive. First up the looks of the car are amazing the curves and the body structure you will know the engineers have put a lot of effort in designing the exterior of this car and it is a piece of art. Similarly the interior is equally mesmerizing with the ambient lighting and other loaded features which you usually get in a car above 10 lakhs with good hard plastic and fiber used only where required and still it did not felt cheap inside the car.
It was heavy traffic that day hence I could not drive freely so we insisted we get another test drive the next day during noon hours when there is less traffic the SA was okay with it.
Me and my brother were on time the next day at 1pm for a test drive and this time I took it for a good 15mins ride initial expression the car had less power then my Ford and that was understood as this was a 1.2 NA Petrol and the eco mode was anyways designed to have less power and more efficiency however I was expecting more from the city mode but that mode also did not please me. But then my brother was going to be learner driver hence I was okay with his car having less power and more of safety.
Comfort wise the seats are adjustable for height and position so it was good, the visibility from the cabin was good only durin right turn the A pillar was blocking the view subsequently this could have been better. Atat Altroz XZ model which we were eyeing at comes with R16 so the ground clearance was good. Harman music system is a cherry on top with its crystal clear output and bass levels upto the mark it makes the Altroz a complete car.
We were supposed to check out the i20 but we decided that Altroz it is as me and my brother had a common opinion on the new looks of the i20 and it did not pleased us also it was more expensive then the Altroz. Ford which was already out of market hence Figo was never there in our checklist however I still wonder if Ford was still available then it would have been a difficult choice for us. We booked the car and now the waiting period started for the delivery the SA told it will 1 month but the car arrived in 20 days we did a PDA at their warehouse we had booked the opera blue colour. Delivery experience was great 11th Nov 2022 the car was ready for delivery the SA explained my brother about the whereabouts as per their standard process and also helped us with the paperwork swiftly.
Dec 22 we made a trip to Indore in the new Altroz the car performed beautifully on rough roads and speed bumps. There was not many jerks and the suspension is accurately built for the Altroz to sustain impacts. Steering is comfortable and weighs adequately and gives a sense of control on speeds above 100kmh. It gave me a good average of 19kmpl on highway with all the traffic and bad roads near Dhule. I felt the engine could have been more peppy as I felt the car gives up after it crosses 120kmh. Maybe I am asking more from a 1.2 NA but then Altroz is a full size hatchback it did need a peppier engine. Doors are heavy and it feels the car is built with strong metal. Automatic climate control AC is good not as good as my KIA but does the job nicely. Weight distribution of the car is good and you do not feel the centrifugal force pushing you harshly here and there on high speeds. Overall I would rate the car a 7 out of 10 only because of the engine.
P.S Tata still needs to work on their customer service reps at the service center as they are still not trained to handle passenger car customers. Tata will lose its ground if they do not improve on their customer service skills they are making excellent vehicles but only because of their customer service they will lose it.
Check out BHPian comments for more insights and information.
Source: Read Full Article