David Brown launches all-electric Mini eMastered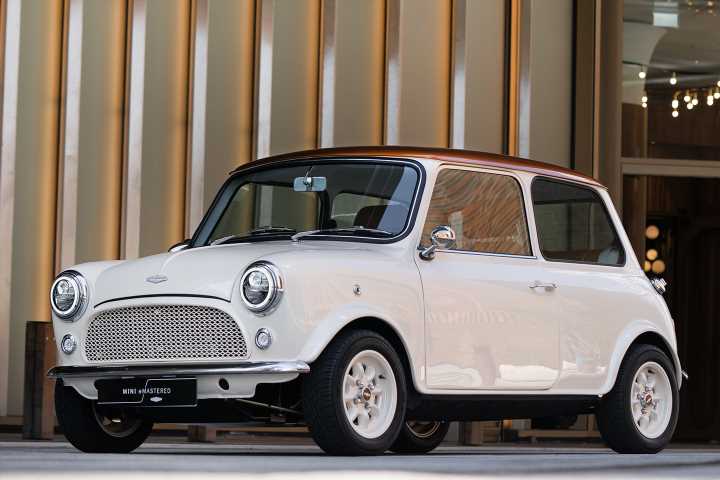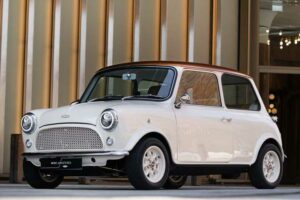 After a small, lightweight, fun-to-drive EV? The 640kg, 97hp eMastered might be it…
By Matt Bird / Wednesday, 20 September 2023 / Loading comments
It can often feel like the same old things are being said about the same old electric vehicles. Too big, too heavy, too hypocritical, and so on. The Mini eMastered from DBA looks to be doing things a little differently. It's small and light, and so is its battery. It's brisk without being silly and the range is within a handful of miles of something like a Mazda MX-30. Maybe there's hope after all.
Despite launching as a company paying homage to the DB5 (makes sense when your name is David Brown), DBA has become best known in recent years for its original Mini restomods. This eMastered takes a very similar approach to cars like the Oselli Edition, with the whole thing completely renewed and rejuvenated to be the best a Mini can be. For this car, David Brown Automotive's first EV, we're told to expect 'exceptional expertise in British handcraftsmanship blended with a timeless, retro design and effortless electric propulsion'.
Speaking of which, the eMastered's spec reads more like the setup for a plug-in hybrid than a full electric vehicle, but then such are the benefits of low mass. The battery is just 18.8kWh (the one that sits alongside a 1.5-litre petrol in a new Passat is 19.7kWh), and the motor produces 97hp and 129lb ft, which again feels very modest. But then this newly electrified Mini weighs the same as an original, at just 640kg, and so it'll reach 62mph in 8.5 seconds, on its way to 92mph. Which is far speedier on paper than many with an A Series ever were, and they always felt fast enough because they were so tiny.
There are some disadvantages to this approach, inevitably. The WLTP certified range is 110 miles, which will be fine for those city-slicking but potentially poses some problems for any journeys further afield. Especially as it won't fast charge. Presumably a lack of DC compatibility saves some weight and complexity, but AC only means a best-case scenario of three hours to brim it from a home wallbox. Or plug it into a lamppost and make it a really long lunch, presumably.
Far be it from us, however, to criticise a Mini EV that looks this good and weighs probably a third of what a new Countryman plug-in does. For the moment, DBA is a little light on the details that make an eMastered, though it would have to be assumed some thorough restoration and preparation is going to be needed; even modest-for-an-EV torque is quite a lot to hurl an old Mini along, for example. The battery pack looks a neat fit under the bonnet, at least.
The whole thing looks very neat, in fact, because that's just how pitch-perfect the original Mini still is, especially if the fundamentals aren't tampered with too much. As is David Brown Automotive tradition, the sky's the limit when it comes to customisations; buyers will be encouraged to personalise every aspect inside and out, with sustainable materials available for those who don't fancy leather. Modern, smartphone-compatible infotainment will be standard on all eMastereds, so it'll be the ideal commuter. David Brown Automotive says this latest Mini 'raises the bar for owners seeking a modern classic that offers a clean, quiet, and convenient driving experience.' Kudos to whoever in the team went for ivory over tan, too – works a treat.
The first eMastered will be revealed later this autumn, at which point we'll probably know a little more about the price. Given a Remastered with an engine was £93,000 last time we checked, we'd have to assume similar this time around. And that's before going crazy with the customisation, of course. But we all know that the demand seemingly exists already for doing retro EVs a bit differently, from Range Rovers to old 911s – it's only right for there to be a classic Mini along for the fun, too.
---
DBA Mini Remastered Oselli Edition | PH Review
All-new Mini Cooper Electric priced from £30k
Source: Read Full Article