Got an Interceptor 650 Black Ray: Buying & initial ownership experience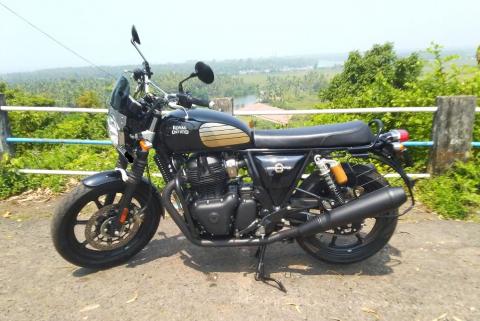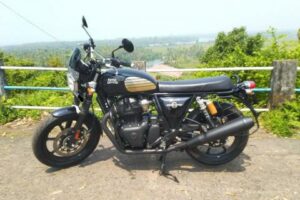 I always had a thing for twin-cylinder engines since my first encounter with the Yamaha RD350.
BHPian rascalangel recently shared this with other enthusiasts.
I finally scratched the itch that's been nagging me since my teenage days when I first heard the sweet raspy stereo sound of the 2-stroke RD350. What a sound porn that was! One may even call it the attempted cure of my mid-life crisis. I gifted myself a vehicle bought (kind of) with my own money. Yes, I got myself an Interceptor 650 Black Ray.
The Prologue:
I always had a thing for twin-cylinder engines since my first encounter with the RD350 plus I am more of a biker than a car person. I got my first motorcycle, a 2nd gen 2014 Pulsar 150 DTSi as a gift from my mother (Well less of a gift and more like I asked for it like any kid would). I covered almost 1.3 lakh kilometers on it. I wouldn't say it was all rosy for the past 19 years of owning it but I have no regrets. Given a chance, I would buy it again. Fast forward to 2018 I wanted a new motorcycle.
The Contenders:
This was before the Inty was launched by RE. The only choices were the Yamaha R3 and the Ninja 300. Loved the 1st gen Yamaha R3 to bits. Even test rode it in 2018'ish, but didn't have enough bank balance and the baby was just born. The Ninja was always costly anyway. In 2019'ish the Interceptor was launched for a mouth-watering price and I booked it immediately. However, life took another turn as I had to leave my hometown for higher studies. So had to put that purchase on hold but didn't cancel the booking. That brings us to 2023!
I had a good enough bank balance and I was back in my hometown for good. The motorcycle itch came back. Scouted options on OLX for second-hand twins. Saw many Interceptors for good prices and a few Ninja 300s too. There was one Ninja that caught my eye. Barely ridden about 4000 kms. Looked good in pictures and the asking price was just 2.6 Lakhs. Took a test ride and loved the way Ninja handles. But the bike itself was poorly maintained. Keep to rot in rain, there were rust issues on the shocks, frame, handlebar, chain and silencer. The nearby Kawasaki was non-committal on the price it would cost me to restore it to pristine condition. So gave up and decided to take the plunge on Interceptor.
The Machine:
I loved the Interceptor when it was first launched with its retro looks and a fun 650cc engine. However, when they launched the blacked-out editions with alloys, it was a sealed deal. For some time I even evaluated getting a second-hand low run Interceptor and upgrading to alloys along with a 3rd party matt black paint job. But the long waiting times for alloys put me off to the idea. I love the way RE motorcycles look with the Red-Black scheme. The below limited editions launched in Italy by their local dealer were my absolute favorite.
So from the two blacked-out options that were available, I chose the Black Ray. This is because of something that GTO mentioned in one of the threads. Buy new, use it as it is for a few years then mod it as per one's desire. Then it's a new vehicle again! So with Black Ray getting to the Red-Black matt scheme would require minimal changes. Plus Batman is my favorite superhero.
The buying experience:
Nothing much to write here. It was the usual affair. The total cost of the Black Ray edition on road in Goa was 4,19,000/-. This included accessories worth 11600/- (Engine Guard, Sump Guard, Bike Cover, Visor, Number Plate and Paint protection). I took a loan of 2,14,000/- and the rest were paid by me. Everything went smoothly as far as delivery was concerned. No complaints here.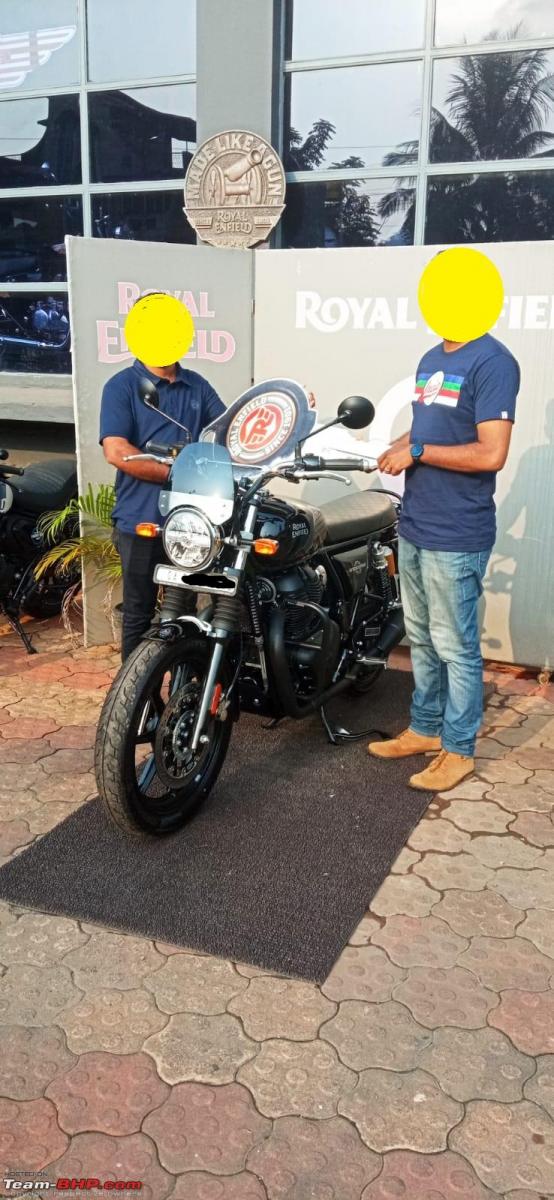 The riding experience so far:
Joy! Pure joy! I love the motorcycle. The sound, the way it pulls, the way it looks. I couldn't be more happier. I haven't been able to take it on a long ride yet but soon.
The niggles:
So I faced a few niggles with respect to the showroom. The first was that I was not provided an invoice for the amount I paid for the motorcycle or the accessories. Only after writing to RE support did the showroom provide an invoice for the amount I paid through cheque (1.95 lakhs) and accessories (8990). They said no invoice can be provided for the paint protection and number plate for reasons best known to them. One of my friends bought a SuperMeteor 650 from the same showroom and he too was not provided any invoice. This I found strange and smells like some tax avoidance scam. So I want to ask the fellow owners who might have bought their Interceptor with a loan, Is this the normal process? Or you folks have been given a full invoice for on-road price?
The second issue I am facing right now is that the visor has developed a crack near one of the screws. This can be seen in the attached picture.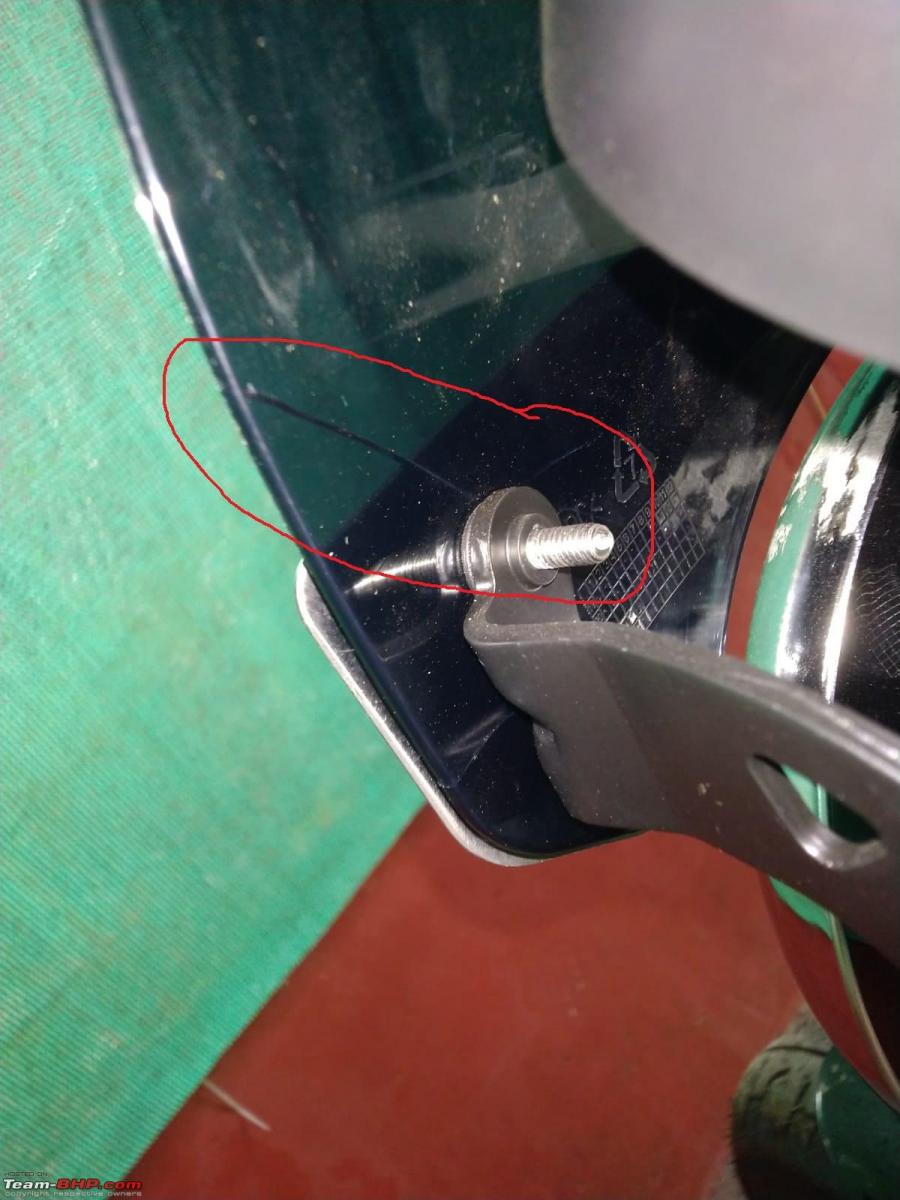 My guess is that it started as a small crack and grew over the last week. (It's only been 15 days since I bought the bike). I contacted RE regarding the issue since their website mentions a 3-year warranty on accessories. However, they told me to take it up with the showroom. So I contacted the sales guy and he said he will get back to me once he confirms what can be done with his PDI fellow.
It would be great if someone could throw light on whether this will be covered in the warranty or not. I paid 2150 according to the invoice for this.
Here's what BHPian VijayAnand1 had to say about the matter:
According to RE, if parts fall under warranty, they're mostly covered for manufacturing defects. From my experience with the RE Himalayan, and the dreaded visor mounts, they were prone to hairline cracking and progressively expanding during riding. Part of it's partly to be blamed for over-torquing the bolts that secure them.

Secondly, the metal-to-plastic combination, which is the case with most REs. A plastic-to-plastic mating nullifies some of the vibrations that get amplified during riding or over-torquing of a given nut/bolt combination to an extent. In short, a plastic-to-plastic combination spreads the force evenly to prevent cracks as opposed to metal which outright cracks/breaks the part it's mated to if over-torqued and vibrations, which is the case sadly with RE and its visor mounts.

The PDI guy could perhaps gone a bit over-zealous in torquing the bolts in place is anyone's guess. But these cracks are sinister and as I mentioned a hairline crack is all it takes to progressively get worse over time.

Keep pressing them to replace parts if you're under warranty. Good luck.
Check out BHPian comments for more insights and information.
Source: Read Full Article