Litchfield-owned BMW M3 Touring for sale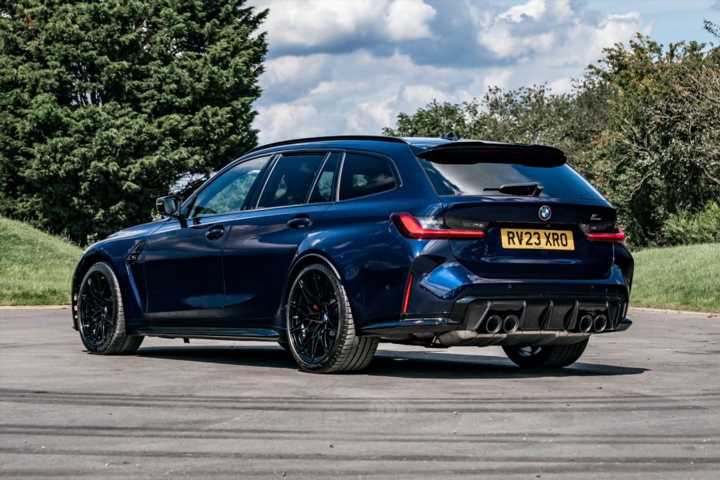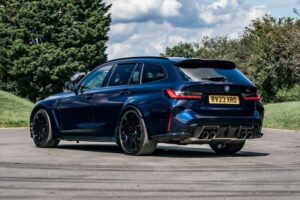 Back to basic for the moment, but with a free 620hp Stage 1 upgrade available for those that want it…
By Matt Bird / Monday, 2 October 2023 / Loading comments
You don't get anything for free these days. We live in a world of tighter margins than ever, one standard paint colour and subscription heated seats. The days of driving away from a dealership with a full tank of fuel, some free mats, or any kind of freebie actually worth having, seem a very long time ago. Any news to the contrary is greatly welcomed…
So here is one of those odd exceptions – how does an extra 110hp for precisely £0 sound? That's the deal on offer with this BMW M3 Touring, and would surely prove pretty hard to resist. Additional power is often great news; even better when it doesn't cost a penny…
The reason for the hot deal is that this M3 Touring was Litchfield's demonstrator, now being sold again by them shorn of its uprated parts – but with some engine work available as the sweetener. There remains the 700hp possibility, too, though that'll cost extra. As will all those other buts, if a new buyer would like them, written about a couple of months back: KW suspension, Akrapovic exhaust, HRE wheels and so on. They're pricey modifications – because the good stuff always is: think £3k for the wheels alone.
A monstrous M car they make, too, although admittedly the suspicion lingered that going the whole hog was perhaps a bit OTT for what was still meant to be a family estate to some extent. The ride was even less forgiving, the noise even more raucous. Now the Litchfield car could offer the perfect compromise, with as much power as a Ferrari Roma alongside standard settings everywhere else. Certainly, the standard 510hp Competition never seems close to overwhelmed by its output. Nor does it seem anything like a seriously fast car, either – but since when did that ever stop anyone?
And even if you didn't want the power, it's a very nice M3 Touring. Tanzanite Blue is less attention-grabbing than some other colours, and the Ultimate Pack is a much nicer option to have secondhand than it must be to have to pay £11k new for. It's covered 3,000 miles (and we were on our best behaviour, promise), with PPF applied from new.
Granted, a prospective buyer isn't short of options when it comes to getting an M3 Touring right now (there are 12 for sale on PH alone) the Litchfield car is one of the less expensive cars at £90k. And should the next owner not fancy keeping it stock, they'll be buying from the perfect place to talk upgrades…
---
Source: Read Full Article