Maruti Ignis ownership review after 6 months & 11,500 km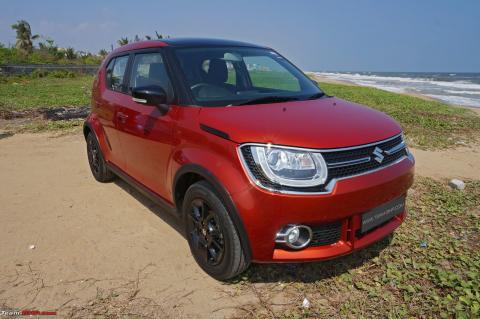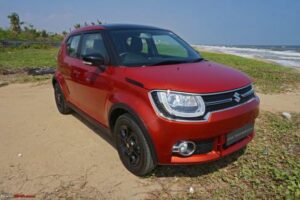 The 6-month ownership so far has been alright. No complaints or niggles. However, I was in for a nasty surprise when I gave the car for the second service.
BHPian rogerthat recently shared this with other enthusiasts.
Ownership review of Iggy | Ignis Alpha MT | 11500 km / 6 months
Hi everyone! This is my first ownership review of a vehicle on this amazing forum. I have been a long-time reader of team bhp and though I still consider myself a novice, I am hoping that I can do justice to a very underrated car (even now!). In fact, I arrived at the decision, to the dismay of many, to buy an Ignis only after reading the posts here.
Iggy on delivery day
I took delivery of my Ignis Alpha MT, named Iggy, on March 31, 2023, the day before the RDE norms came into play. Shoutout to Nexa Kalyani, JP Nagar, and especially Sukhith, my SA, who was patient with all my doubts and kept me updated regularly.
OTR Iggy costs around 9 lakhs including accessories. Everyone has balked at my decision and here is why I still went ahead with my choice:
1. Budget was 9 lakhs max.
2. I wanted very good after-sales service. So that automatically removed Tata or Mahindra vehicles from consideration.
3. Low waiting period as I wanted my car to be delivered before my marriage in May.
4. Small footprint
5. Good ground clearance was a major priority. I travel through many rural areas of Kerala, Karnataka, and Tamil Nadu so needed something that would not scrape the ground. I have been driving my dad's Ertiga for a decade now, so I know the value of a good GC!
6. LED projector headlamps as I travel early morning on my various road trips. From many reviews here, I have observed that the headlight throw-off of the halogen lamps on Zeta and lower variants wasn't that great.
7. Good front seat under-thigh support and adjustable headrests. Overall, good comfort for the front 2 passengers was my ask. Back seat comfort was secondary as usually it's just going to be me and my wife.
8. The rear wiper and washer were a necessity. Most cars in the budget had no wiper.
9. Decent mileage and easy to maintain.
10. I took a gamble on safety features, and I was content with ABS EBD, dual airbags, and the usual ones.
Cars considered
I didn't go ahead with the Tata Punch or Tiago due to its three-cylinder engine, which was noisy as per my observation, at lower speeds. The sales and the after-sales reviews I have read here put me off too. I went with a friend to a Tata showroom in Bangalore to test drive the Altroz and the sales guy literally told us that he doesn't know the features and we can figure it out ourselves. This put me off even more
Hyundai i10 Nios Asta was a bit out of budget and the waiting period was long. Moreover, its low GC and lack of adjustable headrests in the front did not appeal to me.
Lower variants of Baleno or i20 were not considered as they lacked many features that I wanted.
Ownership Experience
The 6-month ownership so far has been right. No complaints or niggles. However, I was in for a nasty surprise when I gave the car for the second service.
I had the dealer pick up my car from home as it was a working day.
They took the car by afternoon and promised to deliver it first thing the next morning. The next morning, I received a call saying that my windshield had been broken due to a coconut. Apparently, they parked the car overnight under a coconut tree and for the first time ever, one fell. They agreed to repair it free of cost and I declined their request to have me claim insurance for it as it clearly wasn't my fault. They delivered the next day and they seemed to have done an okay job. I had to leave for Chennai soon, so I was hurrying them, but they did a decent job, nevertheless.
Broken windshield of Iggy
The throttle response is amazing, and it sounds like a race car when put through the paces! Surprisingly, I find the car stable at speeds of 100 km/h. Anything beyond will not give you confidence (trust me, I have pushed Iggy to 150 km/h).
To improve my driving experience, I bought an armrest from Amazon. It helps rest my left hand during long drives.
I did not go in for PPF or Ceramic Coating due to the cost though I have been advised to do so. I intend to get my car polished once every 3-4 months at a detailing shop to keep the paint shine.
Highway performance
The car has run approx. 8000 km on highways and rural roads, and I couldn't be happier. The car feels planted at 100 km/h, which is the speed I don't go beyond most of the time. I have stretched it more but anything more than 120 km/h makes me feel like I am losing control.
I get an average of 21 km/l on most recent highway trips as I rarely push the car above 100 km/h. I love how I can quickly overtake on slopes when I am behind slow-moving vehicles.
Overall, my wife and I were never tired. I was fatigued only because of the excessive heat but otherwise, I was all good
City performance
The car performs city duties with equal ease. I get an average of 14 km/l in Bangalore traffic, which is not bad all things considered. The size of the car makes it a boon to park and drive in a congested place like Bangalore.
Cons:
1. Bumpy ride quality for all passengers.
2. The windshield and windows seem to be flimsy. I felt my Ertiga's OEM Saint Gobain glasses are sturdier and do not attract dirt easily. Another cost-cutting measure?
3. Claustrophobic rear seating.
Regardless, Iggy is serving my wife and me well and we are very happy with our pocket rocket. She loves how everyone compliments the colour choice (celestial blue) and balks whenever I say how difficult it is to maintain it!
Planned long-term mods:
1. Dashcam installation
2. TPMS installation
3. New mats (the OEM ones look worn out already)
If any of you want to know anything more, feel free to let me know!
Check out BHPian comments for more insights and information.
Source: Read Full Article