MITI hopes to see purchasing incentives for EVs being included in upcoming Budget 2024 – Tengku Zafrul – paultan.org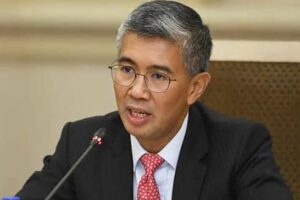 Electrification may be moving along at a decent pace in Malaysia, but the investment, trade and industry ministry (MITI) is hoping that the finance ministry will consider introducing purchasing incentives in the upcoming Budget 2024 to further encourage the uptake of electric vehicles.
It minister, Datuk Seri Tengku Zafrul Abdul Aziz, said the ministry had received a large number of proposals from industry players and people with regards to incentives that can be included in the budget, including that related to the EV ecosystem, Bernama reports.
He said the introduction of purchasing incentives to promote the purchase of EVs in Malaysia is a good proposal which should be included in the budget. "I am confident that the prime minister (as the finance minister) will give due consideration to proposals from all ministries, including MITI," he said following the launch of Yinson GreenTech's rydeEV EV leasing and battery swapping service yesterday.

He said this in response to a question regarding the possibility of more EV incentives being introduced, and added that the suggestions for purchasing incentives includes that for two-wheelers. "Indonesia is the only ASEAN country (so far) that has introduced subsidies for the purchase of their electric motorcycles," he said
Tengku Zafrul said that while the ministry will continue to support the growth of EV charging infrastructure for two-wheelers, battery-swapping would go a long way in pushing along the adoption of electric motorcycles.
"As the battery of an EV constitutes up to 70% of the cost, battery-swapping can significantly reduce the ownership cost for e-bike owners. This battery subscription service takes popularising EV to a whole new level, where users can simply switch on their e-bikes and enjoy the ride," he said.
Looking to sell your car? Sell it with myTukar.
Source: Read Full Article