New 739hp Cayenne is 'most powerful of all time'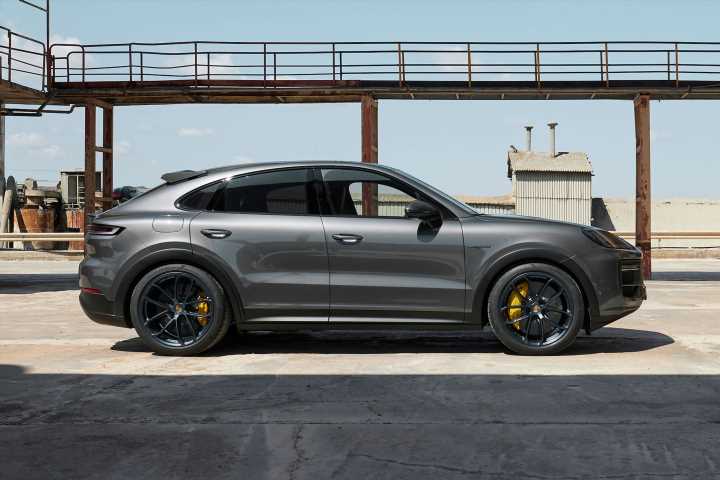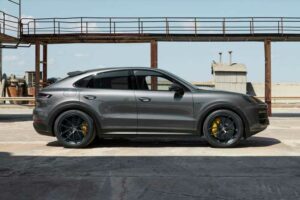 Porsche finally goes the whole hog with updated Turbo E-Hybrid – and adds new 'GT Package' into the mix
By PH Staff / Tuesday, 29 August 2023 / Loading comments
When we brought you news of the facelifted Cayenne lineup back in the spring, we prefaced it with the surprise revelation that the Turbo GT – the physics-defying flagship developed by Porsche motorsport and newly endowed with 659hp from its twin-turbo V8 – would not be sold in Europe. It was surprising because a) its predecessor was very good and b) supposedly what a power-hungry SUV buyer was after. How was its maker seriously hoping to take on the likes of the Aston DBX707 when the latest V8-powered Cayenne S only produced 474hp?
Well, now we have the answer. Ahead of the Munich show, Porsche has revealed the new Cayenne Turbo E-Hybrid, not just the most powerful model in the latest range with 739hp, but also 'the most powerful Cayenne of all time'. It gets to that preposterous figure (32hp more than the Aston, you'll have noticed) by combining an 'extensively reworked' 599hp 4.0-litre twin-turbo V8 with an uprated 176hp electric motor. Porsche reckons it'll hit 62mph in 3.7 seconds and, thanks to a new 25.9kWh battery, get you 51 miles up the road without ever troubling the combustion engine.
Now, the Cayenne fans among you will likely recall that the was a Turbo S E-Hybrid previously, and while it may have been furnished with 680hp (combined) from much the same petrol-electric powertrain, it wasn't quite the full ticket to drive. Partly because it could only manage a paltry 19 miles of battery range, but mostly because it weighed about as much as a gas giant and Porsche couldn't decide whether it should be a proper performance SUV in the 'Turbo' mould or just a very fast top-of-the-line hybrid. So it wasn't really fantastically good at being either.
In stock format, the Turbo E-Hybrid obviously replaces that car (in both SUV and Coupe bodystyles) and while the facelift extends to standard air suspension with all-new two-chamber, two-valve tech, we'll just have to wait to see if it's actually solved some of those character issues. Or probably we won't because Porsche has potentially hurdled the identity problem (and the demise of the Turbo GT in Europe) by introducing something called the 'GT Package' for the Coupe from day one. Or the have-your-cake-and-eat-it solution.
You get no additional power, thankfully. But you do get 'selected performance features' from the Turbo GT. Tick what amounts to a very expensive box (think £21k) and its maker says all the chassis and control systems will be 'specifically tuned' to fit. Consequently, the body sits 10mm lower, and GT-specific pivot bearings increase the negative camber on the front axle in conjunction with wider 22-inch wheels. You also get ceramic composite brakes and a carbon fibre roof alongside some nifty exterior details and the centrally positioned tailpipes that arrive courtesy of the sportier titanium exhaust system. Benchmark acceleration, presumably courtesy of the overall weight saved, drops to 3.6 seconds.
That, you might have noticed, is not quite as quick as the outgoing Turbo GT, which managed it in 3.3 seconds despite being 100hp down and quite some way short of the Turbo E-Hybrid's 700lb ft of torque. Obviously, that can be chalked up to a much (much) lighter kerbweight, although it's also worth mentioning that the combustion-only model benefitted from standard PDCC active-roll, rear-wheel steering and stickier P-Zero Corsa rubber. All can be had on the GT Package car – but only at additional cost. So it's fair to say the Cayenne Turbo E-Hybrid Coupe with GT Package plugs a gap in the market – whether or not it adequately replaces the old Turbo GT in spirit remains to be seen.
---
Aston Martin DBX707 vs. Porsche Cayenne Turbo GT
2023 Porsche Cayenne S | PH Review
Source: Read Full Article