Nissan Hyper Force concept previews electric GT-R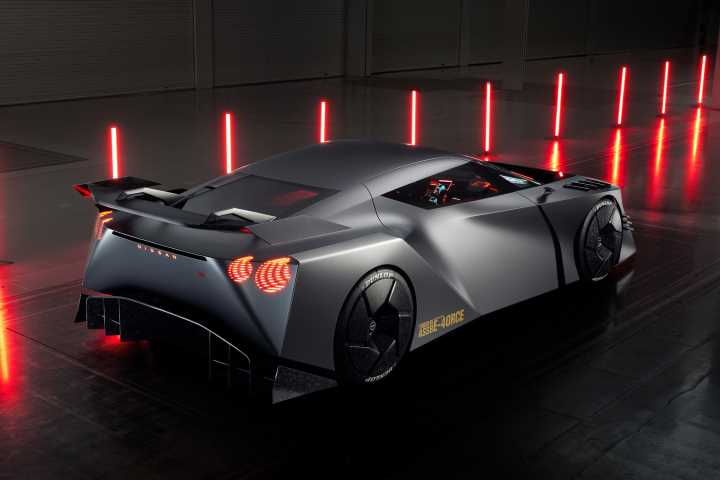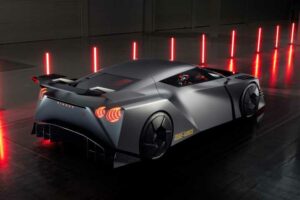 Silly name? Check. Silly power? Check. Silly look? Check
By Matt Bird / Wednesday, 25 October 2023 / Loading comments
Nissan has a quandary on its hands when it comes to making another GT-R. You'd have to assume the six-cylinder petrol engine will go, which was in GT-Rs for 50 years (either as a vee or an inline). Additionally, while the R35 was renowned as a tech fest, it was actually its raw, nitty gritty feel that made it a legend. And how on earth do you make a tech fest now, when there are already 2,000hp EVs out there?
The Hyper Force (yes, real name) is our first look at what the future might hold for Nissan's most iconic car. It's described by Nissan as 'an all-electric high-performance supercar aiming to deliver the ultimate in driving pleasure while also offering high environmental performance and comfort for daily use', which almost seems a bit tame for a car that looks like this and is said to offer up to 1,000kW of power (or 1,341hp) with 'precise and rapid acceleration'. The significant news in terms of powertrain is the use of solid-state batteries, which should bring benefits for weight and charging. The Hyper Force also employs a new version of the e-4ORCE all-wheel drive seen in the Ariya for 'enhanced cornering' as well as 'exceptional handling'; big things will be expected of Nissan when it comes to electrified chassis technology given the pioneering steps made back in the day with Super-HICAS four-wheel steer and ATTESA four-wheel drive.
Tradition hasn't been ignored when it comes to the design of the Hyper Force, either, even if Nissan won't bring itself to say 'Skyline' or 'GT-R' in the press release. Instead, it states that the front and rear lights, for example – the rears in particular couldn't be anything but GT-R lamps – 'pay homage to Nissan's high-performance cars'. Right you are. Even by the standards of crazy GT-Rs, however, this concept is pretty wild, from a dual-level rear diffuser to a super aggressive front end that looks like something from a Bosozoku car. There's even something called a 'plasma actuator' which 'suppresses air detachment to maximise grip and minimise inner-wheel lift during cornering'. Maybe it is still possible to make a GT-R tech fest. By contrast, features like forged carbon wheels, however cool they look, seem almost old hat.
The joke with old GT-Rs was that they were like PlayStations on wheels; now Nissan has really run with the idea, collaborating with Polyphony (creators of Gran Turismo) to design graphics for the interior of the Hyper Force. The layout of the cabin will change depending on whether the driver has selected GT or R mode; the former illuminates the interior in blue light, with simple infotainment and more relaxed suspension settings. R mode floods the cabin with red light, and extends elements of the dash to wrap around the driver and reveals more screens to show vital car temperatures. It sounds like exactly the sort of thing Nissan might incorporate into a production car.
Augmented Reality and Virtual Reality have made it to the Hyper Force as well, which ought to transform the charging experience. There are blind visors for VR gaming and what is being called skeleton visors for AR, which will enable drivers to compete against rival ghost laps – perhaps set by pros or their friends – at tracks all over the world from the seat of their Hyper Force. Nissan says it will permit drivers 'to safely push their driving skills on real-world tracks'. All while plugged in outside McDonalds. We're all familiar with being monstered by GT-Rs on track days; now that looks set to happen in both the real and virtual worlds.
Perhaps some elements of the Hyper Force are a tad far-fetched for now, then, but that's also the point of a concept car. It's supposed to show what's coming, not what's happening right now. The 2001 GT-R concept looked wildly futuristic back when an R34 was on sale, only for it to look remarkably prescient when the R35 arrived half a dozen years later. Which still looks like nothing else after a decade and a half on sale. Might something like the Hyper Force be the GT-R of the late 2020s?
---
2023 Nissan Z | PH Review
Nissan GT-R | PH Carbituary
Latest Japanese cars articles
Is this the future of the Mazda MX-5?
Nissan Hyper Force concept previews electric GT-R
Toyota FT-Se officially unveiled at Tokyo show
Honda shows surprise Prelude Concept
Behold the Edifice Honda Type R Edition
Source: Read Full Article