Place Bids On Supercar Collection With Ferrari 512 TR Spider, 46-Mile Jag XJ220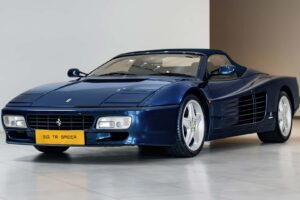 When a 30-year-old Jaguar XJ220 with only 46 miles isn't the highest-valued car in a collection headed to auction, you know you have something special. That's what we have here in The Factory Fresh collection – 20 vehicles that will cross the block with RM Sotheby's in November.
How special are we talking? The aforementioned Jaguar supercar is very rare with just 282 built during its short early 1990s production run, and who knows how many are left with less than 100 miles. However, the auction listing for a 1994 Ferrari 512 TR Spider says only three were built, and this is apparently one-of-one finished in blue with a dark blue interior. It doesn't have the Jag's two-digit odometer reading, but with just kilometers (354 miles) showing on the odometer, it's not a daily driven exotic by any means.
Photo Credit: OnceSavage / RM Sotheby's
The Ferrari's combination of rarity and low miles has RM Sotheby's giving it an auction estimate of up to £2.7 million, which equates to $3.3 million in US currency. By comparison, the basically new Jag only has a value of $460,000 to $521,000.
But wait, there's more.
Another exceedingly rare machine in this collection is a 1991 Bentley Turbo R Drophead Coupe, packing Pininfarina styling and said to be one of two built. Yes, it's called a coupe because that's how this Bentley started life, with the convertible conversion coming after the fact. And keeping in line with the whole factory fresh theme, it has traveled all of 460 miles.
Photo Credit: Robert Cooper / RM Sotheby's (Bentley), Paolo Carlini / RM Sotheby's (Ferrari)
Less rare but arguably more desirable is a 2001 Ferrari 550 Barchetta. The auction listing states it is one of 48 built with right-hand drive, finished in the iconic Ferrari shade of Rosso Corsa with a black interior. The owner apparently preferred the Bentley though, because the open-roof 550 shows only 220 kilometers on the odometer. That's just shy of 137 miles.
What's the deal with this ultra-low mile collection? Per RM Sotheby's, this comes from a collector in Singapore who was also the official importer for Ferrari in that area. That explains why nearly all (17 out of 20) wear Prancing Horse badges, and the majority of those are straight from the Radwood era. You'll find multiple Testarossas and 512s, a pair of 348s, another 550 with less than 100 miles, and a few late-model Ferraris like a couple of 599 GTBs. Aside from the aforementioned Bentley and XJ220, there's a 1969 Jaguar E-Type for those seeking something a bit older.
Each car will be auctioned through RM Sotheby's during the London event on November 4.
Source: Read Full Article