Ruf unveils air-cooled Tribute and BTR Twin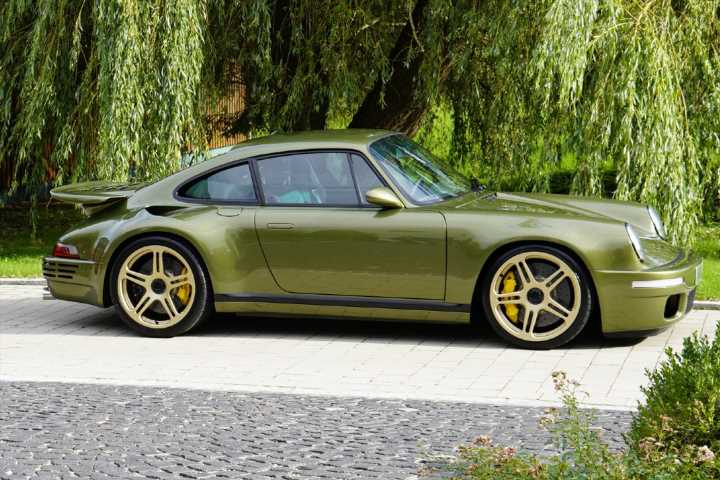 Thought the days of air-cooled 911s were dead? Not if Ruf has anything to say about it
By Cam Tait / Monday, 21 August 2023 / Loading comments
Ruf has gone big for this year's Monterey Car Week. Hot on the heels of the CTR3 Evo and R Spyder announcements, the tuning outfit is closing out the Californian motor fest with another pair of modified Porsches: the Tribute (that's the green one) and the BTR Twin (the silver one).
We'll start with the Tribute, which is packing something rather special behind the rear axle. To celebrate the 911s 60th anniversary, Ruf has gone back to the sports car's roots by designing its own 3.6-litre, air-cooled flat-six engine, albeit with all the mod cons you'd expect from a modern-day motor. There's are three-valve cylinder heads, for instance, as well as variable valve timing and lift. A pair of turbochargers have been slapped on as well, with peak power coming in at 550hp at 6,750rpm and 553lb ft at 4,500rpm. Lovely stuff. But despite Ruf's old-school approach with the Tribute, there's no physical connection between the throttle and motor – it's fly-by-wire.
But that's the whole point of the Tribute. Retro appeal, modern engineering. So while it may look like it's another 964-based restomod, it's actually built around a carbon fibre monocoque – just like the Yellowbird-inspired CTR Anniversary. There's double-wishbone suspension all round, with horizontally mounted dampers to reduce unsprung mass. On that note, Ruf hasn't revealed a weight figure yet, but if the CTR Anniversary tipped the scales at around 1,300kg, the lighter air-cooled engine could result in a lower figure for the Tribute.
The BTR Twin, meanwhile, is a Ruf in the more traditional sense. Because there's no better birthday present than the gift of power, Ruf has elected to mark 40 years since the BTR2 by giving its 993-bases supercar an extra turbocharger. This ups the now-twin-turbo, 3.6-litre flat-six to 550hp and 502lb ft of torque, while a limited-slip differential helps transmit that to the road while, hopefully, dialling out some of the 'widow-maker' traits.
Unlike the Tribute, mind, the BTR Twin is still a 993 at heart. To bring the looks into the 21st Century, Ruf has developed new LED head and rear lights, which can be fitted on all existing 993s if your wallet can't quite stretch to the full BTR Twin-spec. Though it won't make you go faster, they'll be a considerable improvement over the old halogen lamps. A set of five-spoke Ruf wheels wouldn't hurt, either…
Ruf hasn't disclosed pricing, but with the CTR Anniversary coming in close to €1m six years ago, we wouldn't be surprised if the Tribute commanded similar money. The BTR Twin should be a touch cheaper, though if this original 964 BTR is anything to go by it'll still be closer to seven figures than five. You can, however, pick up this exceptionally cool Ruf 3.4 CR for £134,995 – a bargain Yellowbird if ever there was.
---
Ruf shows new R Spyder and CTR3 Evo
Mind-blowing Porsche 911 S/T officially unveiled
Latest German cars articles
Ruf unveils air-cooled Tribute and BTR Twin
Did we beat the Golf R? | PH Project Car
All-new Mercedes-AMG GT keeps V8, adds seats
BMW 630i (E63) | PH Private Area
Two-seat Mini returns with JCW Bulldog Racing Edit
Source: Read Full Article