Sarawak to begin trials of its Autonomous Rail Transit (ART) hydrogen-powered trackless tram system – paultan.org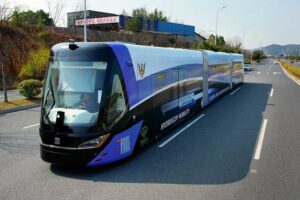 Sarawak is set to begin trials of its automated trackless tram system with the arrival of the prototype hydrogen-powered vehicle in the state. The three-car set, built by Chinese company CRRC Zhuzhou Institute, will be assembled and then given a two-month engineering run ahead of a proof-of-concept (POC) exercise, the Borneo Post reports.
The engineering run, which starts on September 1, will be conducted at the Isthmus area, while the POC exercise will be held in November along a section of the Kuching Samarahan expressway. The site for the POC exercise is a 3km-long lane built between two roundabouts, which have been converted into smart traffic light junctions. This stretch will be part of the permanent dedicated lane built for the ART Blue Line alignment.
Sarawak economic development corporation (SEDC) chairman Tan Sri Datuk Amar Abdul Aziz Husain said that the engineering run would allow Sarawak Metro to refine the specification of the ART and also to identify any potential issues before the POC exercise begins.
"The POC exercise is for us to collect data to evaluate the feasibility of the prototype for the final design of the vehicle. During the engineering run and the POC exercise, the ART will mostly not carry any passengers. Rides on this prototype ART will only be held at certain times, and this is by invitation only and for selected stakeholders," he said.
According to Sarawak Metro, the ART – which will form the backbone of the Kuching Urban Transportation System (KUTS) – is the world's first such transit system to use hydrogen fuel cell-powered trackless vehicles on rubber tyres and operating on dedicated lanes.
The trackless tram system will cover routes totalling 70 km over three rail lines and 31 stations in its first phase. Revenue services are expected to commence in stages from the fourth quarter of 2025, beginning with the Blue Line (Line 1) from Rembus in Kota Samarahan to Hikmah Exchange in the centre of Kuching.
KUTS Integrated Transit Map, Phase 1 – click to enlarge.
Two other lines are also set to be constructed under phase one of the KUTS project, and these are the Red Line (from Kuching Sentral to Pending) and the Green Line (from Pending to Damai Central). The entire first phase is scheduled to be completed by 2027. Sarawak Metro will have a feeder bus network that will provide the first mile and last mile connectivity for KUTS.
The Chinese-made ART vehicle measures 30.2 metres in length, 2.65 metres in width and 3.7 metres in height. It can reach speeds of up to 70 km/h and will be able to accommodate 300 passengers.
Looking to sell your car? Sell it with myTukar.
Source: Read Full Article