Story of my Renault Kiger: Hunt, purchase & 1 year ownership experience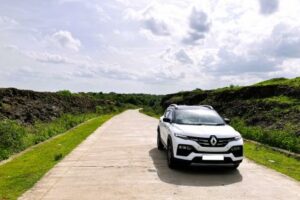 In terms of fuel efficiency, the SUV has varied from as low as 8 km/l to as high as 27 km/l.
BHPian confused.geek recently shared this with other enthusiasts.
The hunt for a new family car began in 2017. In that fateful year, the honoured passenger seat traveller (a.k.a wife) shot down the idea because no quadra-wheeled steed would meet her expectations. A disappointed buyer, his heart wanting the Mahindra Thar, accepted the decision (She hurt my feelings by saying, "Jeep hai" and I was trying to say, but that is the whole point!). The year after, the family moved into a new home and all the gold and kidneys and liver were given away for pots and pans, curtains and drapes, sofas and beds, bedspreads and pillowcases, cabinets and stands, paintings and decor. In 2019 a highly expectant buyer, now having been trained on the purchase process (having been domesticated), began the booking process of a Hyundai Venue. But fate had other plans. The day before the booking, the magic stick said positive and impending fatherhood meant my wife stomped on the idea because we predicted we wouldn't be doing a lot of driving till our child was born and at least a year old and I agreed. Little did anyone know that this decision would prove to be wise in time, for in 2020, a fiddly little bug came about and caused the world to lock its doors and stare at each other's faces for hours and days. The need for a vehicle, let alone a new one, was a moot point.
For 4 years, I kept telling myself it was time to buy a new family car. My beloved Alto (2006 – LXI, There is an L.T.O. Review in the Forum) was starting to show signs of ageing. Some of its horses were dead and others were wheezing with rheumatism and arthritis. The problem was, that any car I purchased, even the current year Alto would be an upgrade for me, so the decision-making process was starting to get confusing. Part of me wanted a used Mercedes C-Class or BMW 3-Series, but the maintenance cost, cost of spares, and general condition of the used cars I was seeing were a deterrent. So, I switched back to the new car market and here are the cars considered and why I had to drop them from the list
Kia Sonet / Hyundai Venue: Pricing. Very simple pricing. The Sonet DCT or TC models all started at an on-road price of 14L and above. The fully loaded 1 Litre came in at 16L on-road and the 1.5 litre at 17L on-road in Hyderabad. While things like a sunroof sound good, to be honest, they come at the bottom of my wish list. If I wanted to stick my head out into the air, I'd ride a motorcycle. I was also thinking of the fact that I was once hours away from booking a Venue and a couple of years later despite newer vehicles on the road, considering it felt odd.
Tata Nexon: Let me start by saying, that this was the front-runner choice. It was the AMT transmission that did me in. The Nexon is a wonderful car. Well built and quite easy on the eye. But the AMT and its performance kept running in my mind. A friend of mine drives one and I have seen it struggle going uphill when you need to get past long-wheelbase vehicles. I just felt the car was let down by its AMT, given its price point. The Nexon Dark Edition was leading the pack and I was mulling over driving to the dealership.
Renault Triber: This strangely was another choice at the top of the list. At the time of buying, the family grew to include my mother, wife, daughter, and our pet a Golden Retriever named Murphy. The Triber RXZ AMT sounded like a viable option. While it sounded contradictory when I criticized Nexon's AMT, the huge price difference between the top-end Nexon and Triber made it bearable. With the Triber, there were no illusions of power and performance, it was going to be a family haulier. So it was a compromise and a rationalization.
Even with the rather strange analysis, I had put together, I was nowhere close to a decision, except on 21st August last year, I just wandered into the Renault showroom and asked if they had the Kiger CVT in Stealth Black. All of a sudden a car that was not even on the radar became a front-runner. It looked really good to the eye (Until I saw the dual-tone white and black and decided to switch colours). It was priced competitively, had a good engine as per reviews and was overall supposed to be a jolly good buy.
Test Drive Experience: Arka Renault, Kondapur, Hyderabad was the dealer I visited. Their test drive is through a network of roads behind their dealership which is a really good place to test a car. A few streets with undulations lead to wide open roads where you can push the car, so you get a good feel of ride quality, comfort, engine performance, breaking, NVH levels, etc. And they were more than happy to let me throw the car into Sport mode and stomp on the throttle. Once we returned to the showroom, I asked if they were willing to let me have a 2nd go at the test drive, but this time with my family and again they were very happy to arrange it. So, 2 hours later with my wife and daughter in tow, I had another go at the car and I found myself smiling.
Purchase Experience: A lot of my purchase experience was simplified by the fact that I had a pre-approved car loan from ICICI and all I had to do was share the document with the dealership and they took care of the rest. I walked in on a Sunday and paid the booking amount of 10K and walked out on a Thursday with the car. (PS: The car was ready by Wednesday, but I waited the additional day for my wife and mother to agree it was an auspicious day). They did a full vehicle inspection prior to the delivery and walked me through all the features and options (Which I listened to half-heartedly, considering I wanted to hit the road and could figure out what was what, without an explanation). They did the usual pomp and show of delivery (Again, meh for me, happy happy moments for the family). I put up with the whole, remove the cover, spray confetti, take a million photos exercise with the same mood as a hungry tiger being led across its whole enclosure before being allowed to eat the meal that it could see. In my head, I was grumbling all the way. Finally, out comes the car, head to a fuel station, visit the temple, return home, send WhatsApp messages to family and friends, complete the obligatory Facebook post, answer 500 questions from my 3-year-old daughter, get 500 items of caution from my 67-year-old mother and hear my wife say, "please put Lord Ganesha's idol on the dashboard" every 15 minutes! At this point, the inside of my head was pulsating. A large iced americano later some patience has crept in, family finally settles in and at 5 pm, I sneak out with the remote and get my first "me time" with the car.
Ladies and Gentlemen, I present to you, Ghost The Direwolf (Yes, it is a GoT reference)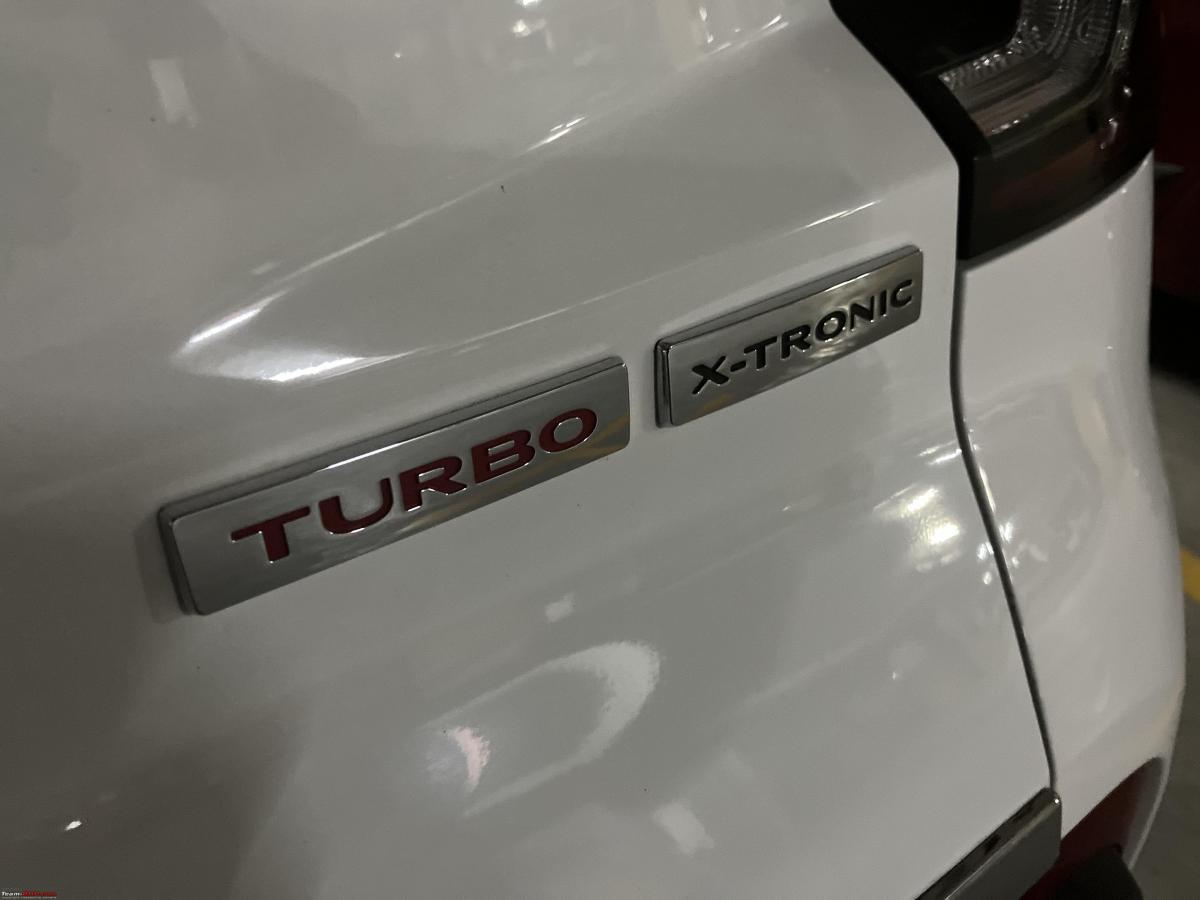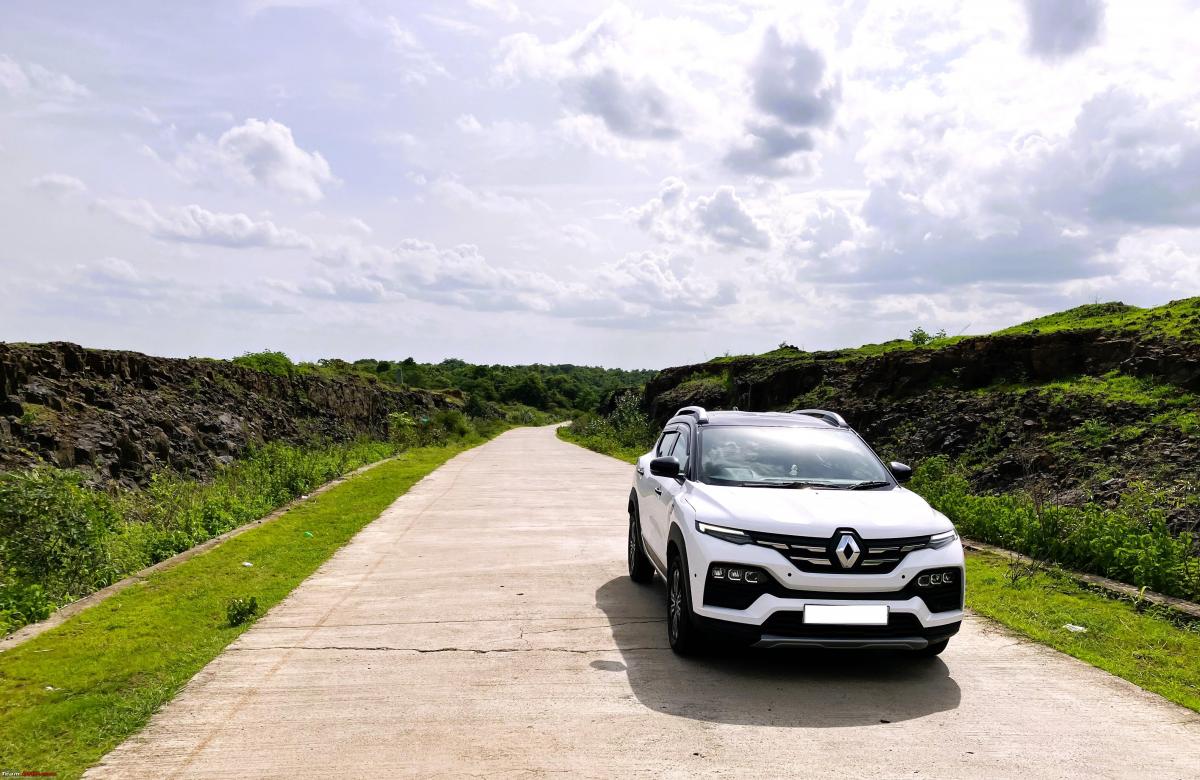 What I like:
The looks! I think it is a well-designed car. The glaring front end, the slightly swooped roofline from the side view and the coupe-ish read-end design
The pricing. Renault has done their market research really well. The pricing for this car (And its sibling the Magnite) is really spot on, in what can be described as a hyper-competitive market segment
The overall drive. I've seen and heard mixed reviews here and there, but here are my two cents. This is a no-nonsense car. It does what Renault says, it will do. More on this below
The rear passenger seating and space. I can't be sure, but I think it even gives the Sonet / Venue and Nexon a run for their money in this area
Ride quality – Very very good for the price point and soaks up a lot of road undulations
Overall build and experience – Pure Value for Money. Not a rupee wasted
The engine! I love the CVT. It's been set up in a way that makes the car feel like it was designed to be a CVT and all other variants were afterthoughts.
The boot space is fantastic and if you throw in some boot space organizers, you can drop 3 suitcases in without taking out things like the car cover or accessories (I carry a portable vacuum, a tire inflator and a car duster always)
What I don't like
This is a nitpick, but I am not a fan of the factory-shod MRF tires that my car came with. They do not engender confidence in me.
Second, nitpick, they could have improved the interiors a little. Like the pop-out door locks seem dated, most cars have switched to door locks integrated into the door lever console
The digital instrument cluster is my biggest gripe. I hate the fact that you can't see RPM in Normal mode, but you can see it in Eco and Sport modes. Would it have killed the folks at Renault to make it available in all 3 modes? Especially since you'd spend most of your time in normal mode
Some NVH and some bumps on harsh roads. I have experienced suspension bottoming out once and learned to drive better after
The Aircon Vacuum pump on my car failed in 11 months! I got a full free warranty replacement without any hassles, but I hated the fact it failed and needed to be replaced. Didn't engender confidence.
A few personal gripes, detailed below
Optional Reading
Overall, I've thoroughly enjoyed the experience of driving this car. It is fantastic to look at. Possibly the best pricing in the segment. I can go toe to toe with any car in this pricing segment. My family loves the car (Big green check mark). People stop me in fuel stations and drive-ins to ask about my experience (So it does turn heads). A choice between the top-end Kiger and the top-end Sonet, I'd pick the Kiger each and every time, because I simply can't justify spending an additional 3 lakhs for a few goodies that I barely might use. (Talk to me about a full panoramic sunroof where I am in the back seat and staring at the stars, you have my attention, but show me a dinky little hole in a car's roof and tell me I have to pay more money for it, I find it as practical as a bikini in a dessert).
End of First-Year Ownership Review
Let's start with fuel economy. This car is very sensitive to pedal inputs. What you get is what you do. I have varied from as low as 8 km/l when stomping on the throttle to as high as 27 km/l on a ring road, running on cruise control at 60 km/h. Maintenance cost so far has been moderate. Nothing extraordinary stood out. But I will call out the tendency of the Renault SAs to try and "upsell" everything from AC clean-ups to underbody coatings to accessories. I've made it clear, I don't care for it and they stopped after their first attempt. Drivability in bumper-to-bumper traffic is good, you will not feel too tired out even if you are crawling in traffic for an hour. The dual glove boxes, in-console storage space, wireless charging, door pockets and all add up to a really good amount of in-car storage space. My friend and I did a test of how many bottles we could get in and without cramming any bottle, I managed to get ten 1-litre bottles in. I could have done fourteen if I crammed four more in the door pockets which was completely possible. NVH levels are acceptable. Suspension does a great job of smoothening the ride on Indian roads. There is enough space for a family of 3 adults, a child and a large pet to drive around (We've happily done 300 km weekend day trips)
Here is an insight into the technicals of the car
On-Road Price and Discounts: Rs 12.6 Lakh (15K Discount and 3K worth of free accessories)
Extended warranties & service packages: 3 Year Extended Warranty inclusive in price
Variant: Renault Kiger RXZ – Turbo CVT – Dual Tone (Basically the top variant)
Safety Features: Standard seat belts (Not height adjustable) + 4 airbags (2 front and 2 side – the side airbags deploy out of the seat cushion towards the door)
Odometer Reading (Current): – 13648
Usage Pattern: Daily 12 kilometres (To work and back) + Alternate weekends 200 – 300 km on day trips
Build Quality: The sheet metal in the body is thin. There is body panel flex. Panel gaps are few. The paint quality and finish are average. There is a slight orange peel effect and if something scraps the bumpers even slightly, it can leave scratches (In my case, I had to drive over an unpaved surface and shrubs growing on the sides of the unpaved road, brushed against the bumper and remove paint)
Wheels & Tyres: MRF 195/60 R16. Low on tire noise. Hard compound. Feels less assured in terms of road grip. I have seen at least one Kiger RXZ from this year that came with CEAT tires, but I am not sure of how their performance is. (For the MRF I can tell you their puncture resistance is high, the side walls are strong and I predict they'll last a long long time. Side note: A friend has a car with similar MRFs that developed a side wall bulge due to a stone hit. Normally when you buy new tires you get a year or year and a half of unconditional warranty, but it turns out MRF won't replace the tire unless the bulge reaches a certain size, so that is definitely a huge negative for me. Basically, you are left with no option but to pay for a tyre replacement with MRF)
Interiors: Black for the dashboard, door panels, and centre console, with a red insert in the dashboard panel added in the 2022 model. The front driver seat is both forward/backward and height adjustable, but it is via a manual lever and not electronic. The front passenger seat is forward / backwards adjustable. Rear seats have a 60:40 split and have an upright seating posture. The seat foam is slightly on the harder side, but not harsh nor uncomfortable. You just don't get a sense of plushness or luxury. On long drives, everyone is seated comfortably though. Space in the rear for three abreast seating is fairly good for people with a medium build, which when I compare with the Venue / Sonet tends to be a little bit of a squeeze, while the Nexon is comparable with the Kiger / Magnite. Under thigh support is good and I haven't felt fatigue in long drives.
Driving Experience: When you are seated in the driver's seat, adjusted to be high and have your seat back slightly upright, you get a really commanding view with clear visibility all around with one notable exception. The position of the right side ORVM position and size, creates a bit of a blind spot, especially if you are exiting a roundabout and entering a road where the dividers are not high. You will need to take a moment to find your on-road position with hesitation you might hit the low road divider. (For those who live in Hyderabad, the service roads leading in and out of the ORR near Nanakramguda, TSPA Junction etc. are an example). Adding on to this for the ORVMs, I would have preferred if the left one could rotate outwards a little more. When you come out of a U-Turn and are trying to merge into oncoming traffic, the left maximum outward position of the left ORVM will show you the view of your exit from the U-Turn. A little bit more outward movement would have helped as you would then be able to see oncoming traffic as you merge. So, you are forced to look outside your passenger side window for longer than you want. Both ORVMs are electronically controlled, however, they do not auto-fold on engine stop (Like you would see on the Tata Altroz, Nexon etc.). Not that it's an issue, it's just a cool feature I suppose. The IRVM is day and night adjustable, but the smaller read windscreen means you don't really have a lot to look at.
Air-Conditioning: It is a silent unit. You can barely hear it when it is running at blower level 5 or below. At blower levels 6 and 7 there is a bit of a whisper. It is effective in cooling down your car quickly, but I am coming to realize that Renault has a part quality issue, because there is a higher-than-normal incidence of vacuum pump/line failures, specifically for the CVT edition. I had one last month and while my car was in the workshop there was another blue colour RXZ Turbo CVT with the exact same issue, 2 bays away. The root cause apparently is the vacuum pump on the CVT is driving both braking and air-conditioning and if the quality of manufacture is not that great, it fails within the first year. If the quality of manufacturing of the vacuum pump is good, you don't see this issue.
ICE: The in-dash 10-inch touchscreen unit is located so it is easy to view irrespective of which seat you are in. I find this to be one of the most responsive touchscreen units in its class, but the UI could be better. Apple Car Play and Android Auto are both wirelessly supported. The car has 6 speakers and 2 tweeters, with 2 speakers on the dashboard, 2 on the front two door panels and the tweeters and the remaining 2 speakers on the rear door panels. There isn't a lot to write about the audio system, since it gets the job done. Mids and Lows are fairly well-defined. This isn't an audiophile system or a Bass blaster. You get OEM speakers and tweeters, while this car's twin the Magnite gets JBL ones. But you won't be disappointed. The in-call performance if you take a call is fantastic. The microphone is crystal clear to the other party and is noise cancellation enabled. The unit has both Aux and USB enabled for video and audio playback. 2 Important points for video playback. The unit does not support above 480p video! (Which is terrible) and as a safety feature videos won't play when the car is being driven. The USB port can be used to charge phones as well (Not fast charge though) There is a wireless charging pad right below the AC controls and in a pinch it's good. During longer drives, I place my phone on the wireless charger and it holds its battery charge level as it discharges to enable the Apple CarPlay but gets charged by an equal amount at the same time. After 30 minutes the phone might feel a little warm to the touch, but nothing different from using any other wireless charger.
Engine: This is where the Kiger Turbo CVT comes into its own unique space. Dead halt to hundred, I can do it in normal mode within 8 seconds. It beats all AMTs and IMTs in its class. The only real contender is the 1.5 Litre DCT on the Sonet, but that is a big one, With a kerb weight of 1012 Kilos and a torque of 152 N*m vs. the kerb weight of the Sonet at 1233 kilos with 172 Nm, the extra power is negated out and it comes down to the driver and his / her willingness to stomp the throttle. I have actually outrun my friend's Sonet 1.5 DCT from a dead halt simply because he hesitated a little. The engine is butter smooth, and very well refined and while some reviewers have spoken about turbo-lag and the rubber band effect, I can tell you the turbo-lag is very low (Do not go by numbers that it kicks in at 2.8K RPM, the car gets to that RPM rather quickly). The rubber band effect is something I theorize will be felt as the car ages as the belt and pulleys in the CVT unit experience regular wear and tear. Right now, below 15K kilometres, I am yet to experience this, despite some really aggressive driving, even in sport mode. The car takes off beautifully and brilliantly. Puts a smile on the driver's face. May scare a passenger who isn't expecting it. That is that. Enough said.
Interior storage, practicality & boot space Let me simplify it by saying, that if you are a Mafia hitman, this is the car for you. There is tons and tons of space for storage, right from the dual glove boxes to door pockets to boot.
Reference Photos of Interior
View of Dashboard (Apologies for the lesser sharpness)
Check out BHPian comments for more insights and information.
Source: Read Full Article