Subaru Impreza 22B Owned By Colin McRae Fetches $606k At Auction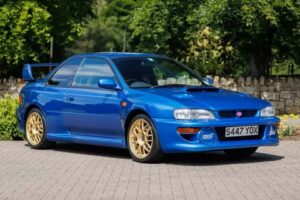 A 1998 Subaru Impreza 22B prototype formerly owned by World Rally Championship legend Colin McRae brought the equivalent of $606,042 (480,500 pounds) at the Silverstone Festival auction on August 26. It was the first time this car was available in a public auction.
Subaru delivered this 22B in November 1998. It was one of three prototypes for the rally-inspired limited-run model. The automaker made 400 of them for Japan, 16 for the United Kingdom, 5 for Australia, and the trio of pre-production examples. The examples for Japan allegedly sold out on the first day.
Gallery: 1998 Subaru Impreza STi 22B Formerly Owned By Colin McRae
The 22B celebrated Subaru's WRC team winning three consecutive WRC manufacturers' championships – 1995, 1996, and 1997. It also marked the automaker's 40th anniversary.
The 22B name allegedly comes from the cigarette brand 555 sponsoring the Subaru WRC team at the time. In hexadecimal code, 555 translates to 22B.
The car featured the EJ22 turbocharged 2.2-liter flat four-cylinder. The factory rated it at 276 horsepower to comply with the Japanese automakers' performance agreement at the time, where they didn't advertise outputs higher than this. Subaru also modified the gear ratios, clutch, driveshaft, brakes, and suspension to create the closest thing possible to a road-going WRC machine.
Subaru offered one of the 22B prototypes to Colin McRae, WRC driver's champion in 1995 and came second plate in '96 and '97. The car wasn't a gift; he had to buy it. Subie allowed McRae's co-driver Nicky Grist and ProDrive's David Lapworth to purchase the second and third pre-production models.
This one has covered just 7,333 miles (11,802 kilometers). It came with an aftermarket exhaust installed, but the sale included the original piping and tires. The deal included all of the invoices for parts and maintenance.
Gallery: Prodrive P25 First Drive Review
Two models are roughly equivalent to the 22B in modern times. One was the 2019 Subaru WRX STi S209. The company brought just 200 to the US for $64,880 each. The EJ25 turbocharged 2.5-liter four-cylinder made 341 hp and 330 lb-ft, which was 31 hp and 40 lb-ft, more than a regular STI at that time.
The 22B's spiritual successor is the ProDrive P25 (gallery above), which costs the US equivalent of $506,000 (460,000 pounds). All of them already have reserved buyers. A turbocharged 2.5-liter flat-four engine makes over 400 hp and runs through a six-speed sequential gearbox.
Watch this Motor1.com Test Car Happy Hour to find out what it's like to drive the P25:
Source: Read Full Article