Subaru Impreza WRX STI Wagon | Spotted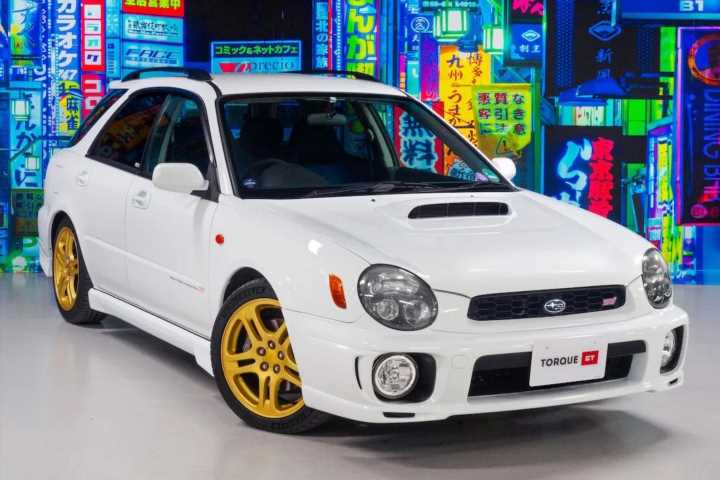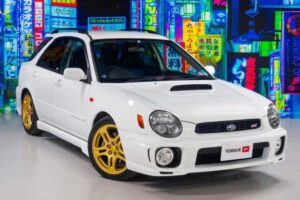 Not a fan of the Bugeye? Maybe this will change your mind
By Cam Tait / Wednesday, 15 November 2023 / Loading comments
Take a long, hard look at the front end of this Subaru Impreza WRX. Not as bad as everyone made it out to be, is it? Even the 'Bugeye' nickname, imparted on it to differentiate the then-new rally saloon from the old one, sounds a touch backhanded (because no one's ever looked at a fly's face with endearment). Perhaps it's the barrage of questionable car designs that have been thrown our way of late, or simply a rush of nostalgia, but the Bugeye is actually far better looking (or at least, not so bad looking) than many give it credit for.
Granted, it's the first of three iterations of the GD generation and, therefore, the newer models typically get a bit more love. The follow-up Blobeye is widely considered the best of the bunch, with a cleaner Peter Stevens design and, in later wide-track STI form, Subaru's DCCD torque scroller. Meanwhile, the later Hawkeye packed a more powerful (if more fragile) 2.5-litre boxer in Type UK cars and also served as the basis for the legendary, JDM-only Type RA-R. But there's one thing the Bugeye has going for it that the other two don't – and that's a hot estate.
An STI Wagon must have seemed like a no-brainer for Subaru's bigwigs. Impreza estates were big sellers back in the day, and so too were STI saloons. The firm's first fast wagon came during the old GC (known as GF for wagons) generation and it was an immediate hit in Japan, so a second model was given the green light for the Bugeye. Known as the Sport Wagon, the super estate received all the STI goodness from the four-door model, including stiffer suspension, an extra ratio for the gearbox, a larger intercooler and lots of blue interior trim. The only notable difference (though happy to be proved wrong in the comments) were standard Subaru brakes on the Sport Wagon vs the Brembos on the saloon, and a tiny weight gain of 15-or-so kilos. Other than that, they're close to identical.
Unless, of course, you compare a Sports Wagon with a Type UK 'prezza. Yep, that's right, the Sports Wagon is another JDM special and that means it benefits from a twin-scroll 2.0-litre boxer turbo that's widely considered to be far more responsive than the UK-grade motors (though unequal length headers on the latter is what gives the WRX its signature burble). In standard form, the STI Sports Wagon produces 265hp and 253lb ft of torque, but the EJ20 is an engine of much potential; you only have to look at it and another 50hp will appear. So it comes as little surprise that this example has been treated to a cold air intake, decat downpipe and an upgraded fuel pump, bringing the total power up to 325hp. That'll do nicely.
Yes, everybody wants their Impreza in Blue Mica for the rally look, but you've got to admit it looks mega in white (a colour offered exclusively in Japan on all STI models). Of course, it helps that the car was given a full respray when it was imported in 2020, while the underbody has been treated to a wax oil under seal to protect it against corrosion. So although it's covered just shy of 96,000 miles, it looks to have been well-maintained and will hopefully feel as box-fresh as it looks.
These STI Sports Wagons weren't as popular as the non-STI WRX estate, which naturally makes them hard to come by – especially in the UK. This version is up for £14,990, though if you want a lower mileage example (albeit in a less interesting spec) and without any mods, you could always go for this one for a £1,000 premium. Either way, you're getting an exceptionally cool (and rare) super saloon that has yet to be bitten by the JDM tax that cars of this vintage are often subject to. Well, not yet anyway.
---
SPECIFICATION | SUBARU IMPREZA WRX STI SPORT WAGON
Engine: 1,994 four-cylinder boxer, turbocharged
Transmission: six-speed manual, all-wheel drive
Power (hp): 265@6,000rpm
Torque (lb ft): 253@4,000rpm
MPG: 25.45
CO2: 290g/km
Year registered: 2002
Recorded mileage: 95,512
Price new: N/A (Japan)
Yours for: £14,990
Source: Read Full Article