Taking delivery of my Toyota Camry: A sad & unpleasant experience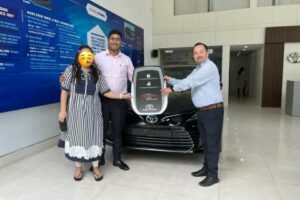 I cannot forgive myself for such a decision based on such offers, and the financial planning done for the same goes for a toss.
BHPian ICECutlet recently shared this with other enthusiasts.
Let me start my Team-BHP journey by asking you all 2 simple questions, and later state the horrible experience faced with my recent purchase of a Toyota Camry 2.5 Hybrid in Burning Black shade from Saini Toyota, Kolkata.
"You purchase a car marketed to you with a buyback offer/scheme on the 5th Year/60 Months (with written details of Offer, Car Details and Terms) on Dealership/Company Letterhead with stamp sign. NOTE: This copy of letterhead was sent on two email IDs of the Dealership with other pending lists with the Subject line being TOYOTA CAMRY BUYBACK.
After one month, while speaking to the Head of Guest Relations and brand Customer Care on a call for other pending accessories, cashback and matters, it urged a discussion of this offer, and this lady informed me that there was no such offer(with shock).
Further, they clearly & easily informed me that it was not valid and it was under the capacity of the employee of the dealership (of Toyota).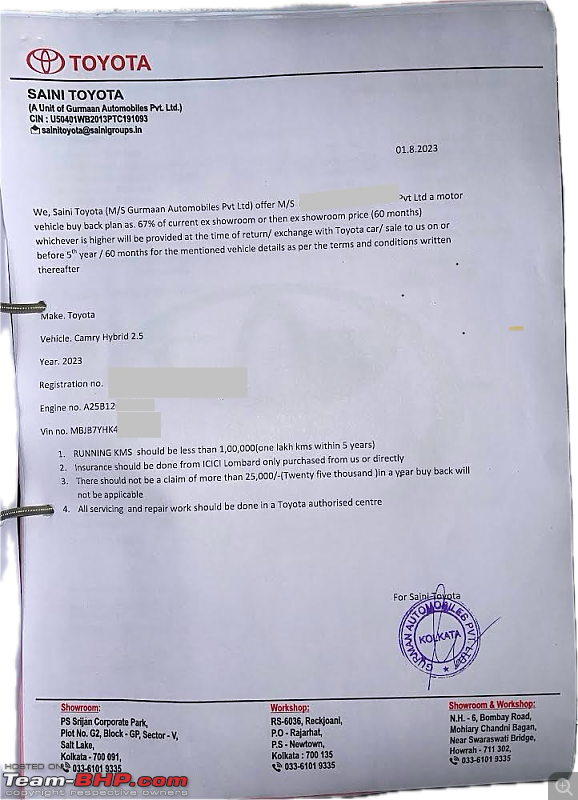 TIME MACHINE runs you to the 5th year-end:
Q1. Whom would you go for the buyback offer – Rs. 31 Lakhs approx. (as per present Ex-showroom price)
The Sales Executive? The other employees or owner of the Dealership? The Brand's AWESOME Telephone/Email Customer Care? The Toyota Trust(Used car)? Consumer Complaint Forum? NCDRC(dot)NIC(dot)IN? Legal Case?
Q2. How do you report and prevent such wrong experiences and ill-commitments by dealerships where the brand is not participating in any matters as listed below? "
The need for an upgrade from Skoda Superb 1.8TSI: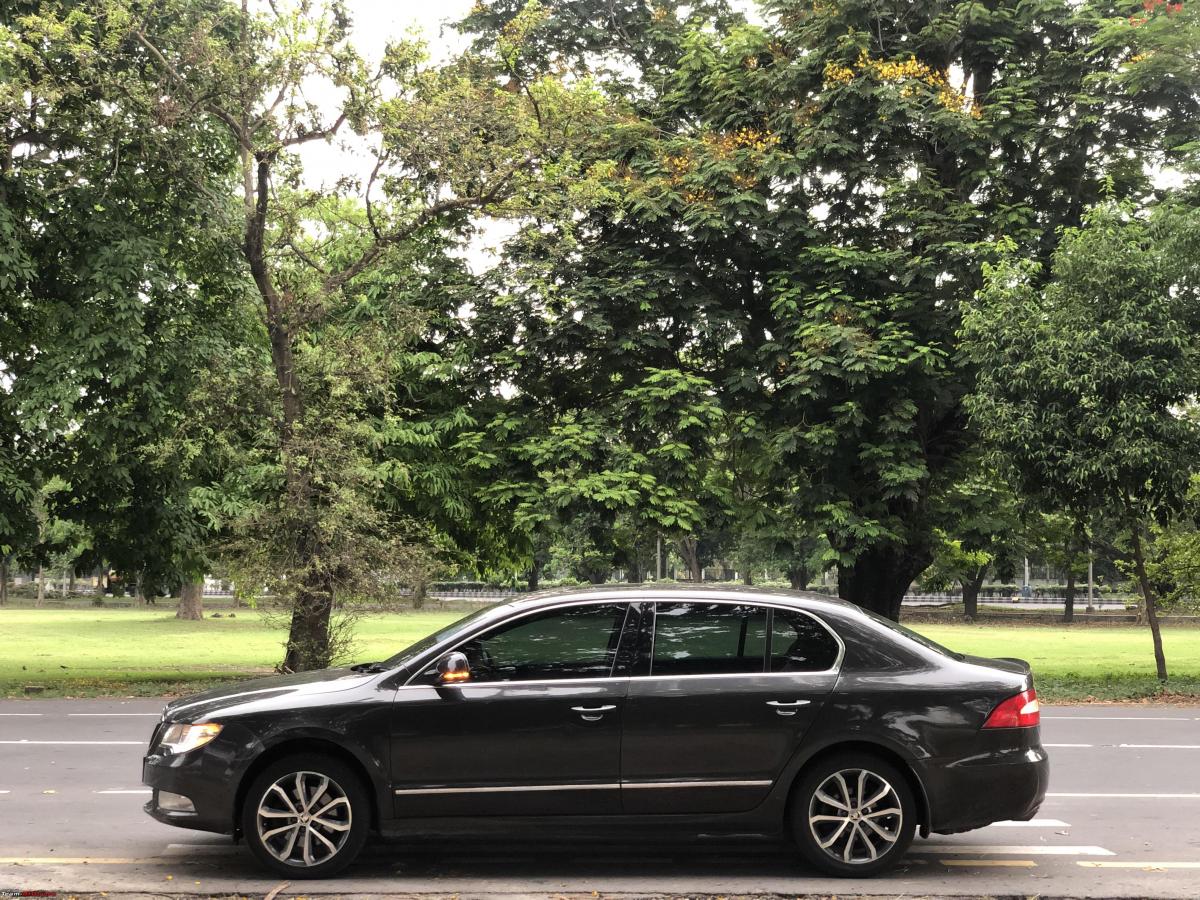 We were using the 2012 model of this car, and performance was upgraded to Stage 2+ by Tuneotronics, Bangalore. I have ridden this car a lot since I started driving, and have driven around for a good 11+ years, although among the hustles with Skoda's After Sales Service network which was not present in Kolkata for a good 2+ Years. (The Skoda's DSG is another day's thread that I will write). The car faced an engine breakdown, and it was a lot more to maintain it this time, so decided to part ways, with this Skoda aka Jahaaj.
The must-haves for a new ride must be a sedan, back seat space & comfort, brand reliability, after-sales, and strong engine efficiency. So, after all, rounds of blogs, vlogs, test drives and feedback concluded that the Toyota Camry for its back seat ride, space and comfort like no other in the segment, Toyota's after-sales cost, fitting my pocket, and decent features available on this Hybrid which must be a CKD or SKD, afaik. I felt I made a fair decision rather than hitting on the Premium Brands.
After visiting and understanding the delivery time frame and offers from both Topsel and Saini Toyota in Kolkata, I booked the better deal at Saini Toyota, which was as follows:
The Hustle starts:
I was informed in mid-July about the car being in transit, and I can come for a quick PDI just 4 days from then. I was very happy.
I loved the look of the Burning Black colour with Purple pearls in this metallic shade on this car. Sat to finalise the timelines ahead and was informed of the Ex-showroom Price Hike of Rs. 88,000, whereupon negotiating an offer from the manager Mr Simon, finalised with additional Cash Discount as Cashback of Rs. 70,000.
Did the payment transfer, as per my commitments on 25th July 2023, and was promised quick delivery, and with regret and all hustles got it delivered on 3rd August 2023, An unfortunate delay due to which the car was standing inside my garage until 23rd August 2023, due to good mahurat days for car Puja.
Note: I took the delivery with all necessary documents and, most importantly the buyback offer document.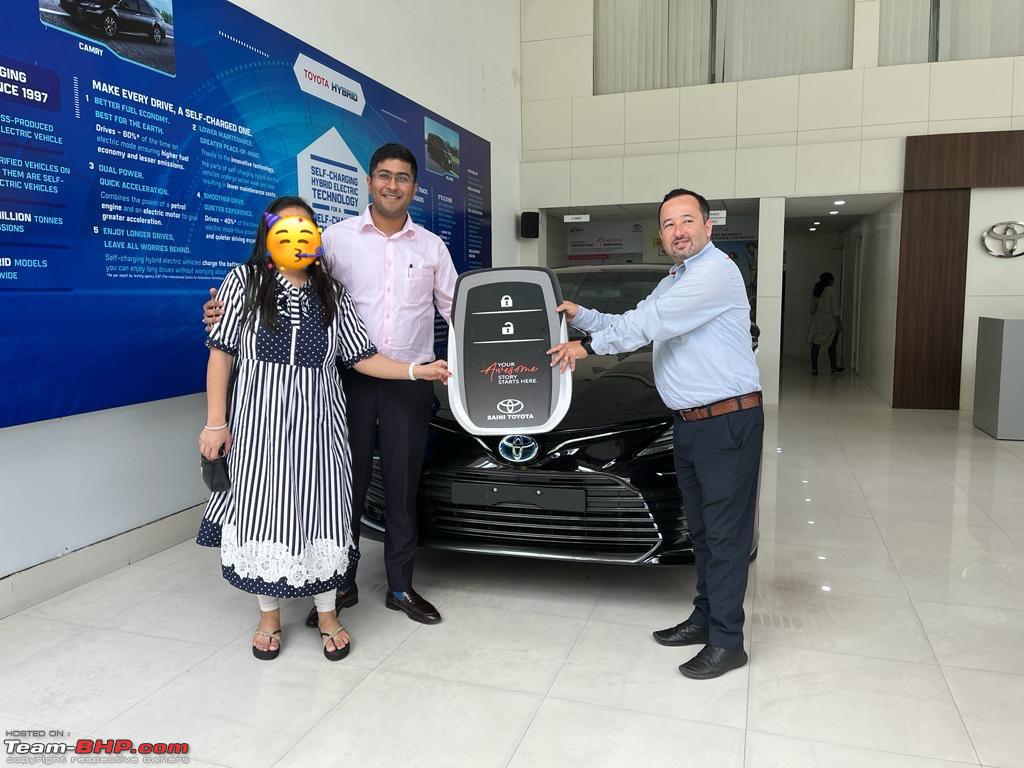 I sent them the received/ pending issues via email on 5th August and marked a cc to other executives, as the dealership was not ready to write the same on the car delivery note. I also made the necessary remarks and requested the Home demo on Toyota Bharat's Form given to me for my father and brother.
After more than one and a half months of delay to deliver the promised, after repeated emails, WhatsApp and calls, I finally decided to write to Toyota Customer Care, and the GM, Sales Head, CRM and CEO of the dealership came into the scenario and started to understand the below-mentioned concerns, which I have been given to them in writing, and all they had was to "regret the inconvenience caused" where also they had multiple irrelevant reasons to offer for all the delay. Till today, no one from the Toyota Team has gotten in touch to resolve the matter rather I had to arrange the contact of Mr. Varun Gupta, from Toyota, looking after this dealer, who also was supposed to revert by 25th September 2023, but unfortunately not to rescue me.
How I came to know of this fishy fraud:
So, in between all this, while speaking to customer care and CRM Saswati, in a quick discussion, I told her that "today he is in your company and you are not aware of the cash-back since it is on WhatsApp and no emails, tomorrow if the advisor is not there in your company, you will tell me that the Buyback is not in your knowledge, so the Letterhead would only help me" and to my shock it was found that Saini Toyota does not offer this particular buyback scheme!
The representatives of Saini Toyota visited my office to consider it invalid, and they cannot offer such offers. NOTE – Mr. Simon accepted in front of all colleagues that he had offered me the same with no undue pressure or forced situations. (I have recently learnt how fraud can be diverged)
I regret this has been one of the most horrible experiences and pathetic situations, with the problems faced as under:
On any next purchase, my steps of Intra & Post Delivery would be:
Never accept debit notes as a valid document for payments done to the dealer. They cannot keep holding Debit notes. Members are strong in accounts, could you also clarify your stand on the same?
I suggest as a forum, we can make more detailed pointers and create awareness for all three Delivery Inspection situations- especially INTRA & POST period, and update such brands about malpractices or fraud being done at their dealership to sell cars and reluctantly being pointed on the Manager and no responsibility of the dealer.
Presently, I would like to ask fellow Team-BHP members to guide and advise on how to prevent myself from this situation, along with the above 2 questions and what steps are at my disposal.
I decided to purchase this car after receiving such a lucrative scheme, but as a consumer, I am at a loss now, as the offer is not validated.
At,Toyota, is this the Customer after Sales? False commitments and wrong experiences?
Is it also the same across all Toyota dealers in India? On top of that no help from anyone from, Toyota. I have heard of really good experiences from Toyota, but unfortunately, my first-hand experience is very horrible. Please see – my immediate family owns Corolla Altis, Innova Crysta, and Glanza.
Are such practices applicable and acceptable at Toyota?
As a customer, I am left helpless and hopeless of such fraudulent malpractice to sell a car!
Until then, Happy Driving!
Check out BHPian comments for more insights and information.
Source: Read Full Article