Triumph speed 400: A 390 Adventure owner's opinion post test ride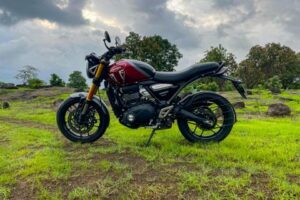 If I were in the market today for a primary do-it-all bike with a lot of touring on my mind – I would save a bit more and go for the Adventure 390.
BHPian Malliketh recently shared this with other enthusiasts.
KTM 390 Adventure vs. Speed 400.
I am one of the first 10k customers to pre-book the Speed 400 as intended to add it to the stable for my partner. Triumph recently opened a new showroom in Thane which is close-by. I was in the area over the weekend so decided to drop by and finally check out the Speed 400 and if it lives up to the hype.
Showroom and SA Experience
The Thane Shaman showroom was quite empty with 2 customers completing paperwork. I assumed weekends would have waiting line for a test ride. Good for me.
The SA was quick to take my license to register for a test ride and also provide me a helmet (as I was in a car and this was an unexpected stop). I asked him on the route I could take, to which he suggested the service road on which the store is. For context, this service road is two-lane road with speed breakers every 300 metres with multiple exits. I told him I would not be able to test this bike over 3rd gear on this street and I want to understand the bike's entire gear-range. He understood and without any argument, he created a receipt which allows TC-registered bikes to ply on the road and told me I could hit the highway on which the store is located (with no pillion from the dealership). Kudos to Shaman Thane for this.
The test ride was a 15-min test ride on a Sunday afternoon on the Easter Express Highway. There was decent traffic so there was no space to safely test the bike in sixth gear.
Key takeaways, especially in comparison to KTM 390 ADV which is my daily rider and hence a benchmark. This should be helpful for anyone considering both of these bikes.
Transmission. Speed 400's transmission is forgiving. It is very noob friendly allowing you to be in the wrong gear, giving you enough time to rectify or even be lazy. So I was able to remain in 3rd gear at 10kmph. The KTM would stutter and remind you of the incorrect gear even if it was in second gear.
Similarly, the power is well spread across the rev range in the Speed 400 compared to KTM. More linear compared to KTM's maniac behavior post 4k RPM while being a dud below it. Again, more friendly to newer riders or riders upgrading to a higher cc bike
Heat. As soon as I started my ride, it started drizzling with cool breeze. To my surprise, my legs were feeling the heat of the brand new engine. The bike was parked when I had arrived at the showroom so I know it was not the result of back-to-back abusive test ride. Also, I started feeling this heat with 2 minutes of me on the service road. This should be a point one should be mindful of and it could get annoying in traffic. On the contrary, while the KTM's engine is high-revving, the fans kick-in early (almost preventatively) and ensure minimal heat even in long traffic. I have never felt discomfort from the bike (my daily commute is through decent traffic).
Looks. While they're subjective, I believe your bike should be an object that makes you turn around after you park it. It happens with my every single day with my KTM. It still makes my heart skip and my eyes gleam on seeing how it stands tall in every single parking lot even after a year. I had the same feeling when I saw the KTM 390 ADV in flesh in the showroom. With the Speed 400? I found the looks to be adequate. While there's no arguing the paint finish is excellent, the design is meh. I feel that over time I will get over it very quickly. This worried me.
Finish quality. Every reviewer has written and spoken about great quality of finish. I believe it remains at par for a bike above 3L. I don't believe even slightly lower quality would be a deal breaker. I don't see the 390 ADV quality to be inferior.
Dashboard. I think Triumph messed it up. The analogue needle should have reflected the RPM and the speed as a number in the small window. In current structure, it's very hard to look and understand the RPM level given they're extremely thin tiny bars in a small window (especially when you're pushing higher speeds and concentrating on the road, as you should!). It takes away from the thrill of the trifecta of you revving up – seeing it on your dash – feeling the complementing vibrations from the engine stress. On the KTM 390, a quick glance at the RPM meter is a big part of my riding experience (fun fact: it even has a feature where you can set an RPM level post which the RPM reader would start blinking – indicating you to upshift!).
Insurance cost, I was surprised to see it costs almost Rs. 20,000 given much lower IDV than my 390 (3.17L), for which I paid ~ Rs. 17,000 (Zero dep 1-year, 5-year comprehensive). Does this imply the insurers are factoring in a higher cost of repair? Would be helpful to understand what's the quote if bought from outside.
Price. This is what would explain the delta between the KTM 390 and the Speed 400 (of course apart from one being an adventure tourer). You save a sweet 1 lakh, which is a lot of petrol and trips. So for me the question really is what is my current requirement.
If I were in the market today for a primary do-it-all bike with a lot of touring on my mind – I would save a bit more and go for the Adventure 390 for all the aforementioned points + the extra bells and whistles it gets (bigger fuel tank, larger road presence, cornering ABS, quick shifter +/-, better pillion seat, etc.).
However, if I were in the market with a tighter budget with a requirement of powerful, more utility than fun (while the engine will provide plenty of fun no doubt given its power), I would probably this pick up (albeit upgrade to another bike not too distant in the future).
Read BHPian comments for more insights and information.
Source: Read Full Article