Verna 1.5 Turbo MT: Observations on mileage, ADAS, AC after 1100km trip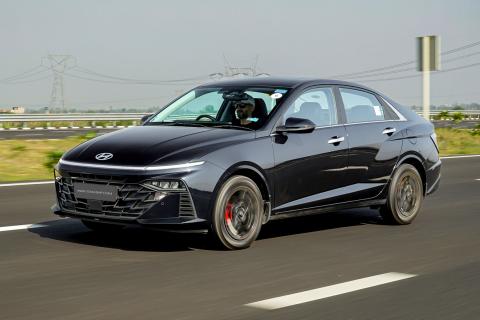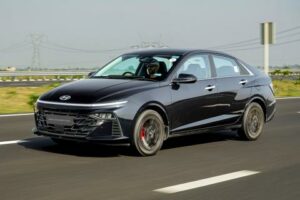 Coming from a Kia Seltos diesel automatic as my daily driver, I found the 2023 Hyundai Verna's fuel efficiency to be extremely sensitive to throttle input.
BHPian xotiq recently shared this with other enthusiasts.
Took delivery of my wife's Verna 1.5 Turbo SX(O) MT last week. Abyss Black color. Came home, removed all ribbons/covers, and completed 1100+ kms drive Bangalore-Kochi-Bangalore.
Posting my observations.
Engine is a highlight. Linear power delivery. Smooth.
1st to 2nd gear transition- this was not smooth. Tried every position with the clutch literally to no avail.
AC cooling was so-so. Had set the lowest temp, still felt cooling to be average. Outside temp was 34-35 deg C with high humidity.
Display & screens- Fluid, responsive. OTA update works fine. Sound quality- just above average.
Bluelink- Works fine, and so do voice commands.
Ground clearance- Did not scrape anywhere (3 PAX + Luggage).
Mileage- Extremely sensitive to throttle input/speed. Per MID- Got as high as 22.5km/L over 90.6kms in 1.32 hours en route to BLR. The overall mileage for this 1100kms trip was 15km/L. MID numbers may be inflated, so 14km/L seems acceptable. Happy? Yes!
NVH- good, but could do with better wheel well cladding. Boot lid insides- need proper covering/coating.
Ride quality- Coming from my daily driver, a 2021 Seltos diesel automatic, this felt better and supple.
Headlights- Strictly average. This car needs better projectors. Cornering lights work great.
Seat comfort- Getting the right position took time, but once set was comfortable for the drive both ways.
Build quality- Will not go with thickness, weight, perceptions etc, but will wait for NCAP ratings.
Turbo- All black interiors coupled with black exterior- nice heat soak recipe!
ADAS
Works fine. It was on throughout the journey except inside BLR and Kochi.
Deactivated the Forward Collision Warning as it can cause accidents rather than prevent them, especially with sudden braking leading to rear ending.
Blind Spot Detection was helpful and worked well.
Lane Keeping Assist works perfectly.
Driver Attention Warning was quite intrusive and did not go away even after taking 30+ minute breaks.
Missed Adaptive Cruise Control (as it's an MT). Overall, thumbs up for ADAS.
Did not allow the wife to get within a foot from the steering wheel during the entire 1100kms, so all observations are mine as a driver.
Check out BHPian comments for more insights and information.
Source: Read Full Article