See Audi S1 Hoonitron Smoke Tires In Drag Race With R8, RS E-Tron GT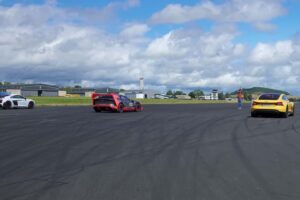 We hesitate to say the Audi S1 Hoonitron is a fish out of water in this three-way Audi family drag race. A 680-horsepower, all-wheel-drive race car weighing 3,571 pounds is certainly fast in a straight line, but lest we forget, the Hoonitron was purpose-built to do everything but go straight. As such, pitting the supremely expensive electric prototype against a road-going RS E-Tron GT and a gas-burning R8 could lead to some surprises.
That's what we learn in this latest CarWow drag race video, featuring the aforementioned Audis in a rare drag racing encounter set up by Audi executives. To refresh your memory, the RS E-Tron GT is also electric and all-paw, packing 646 hp from dual electric motors beneath its sleek sedan shape. The R8 GT is even sleeker, and with a 5.2-liter V10 turning just the rear wheels, it's the lightest of this trio at 3,460 lbs. However, it's also the least powerful with only 620 hp.
Gallery: Audi S1 Hoonitron in Las Vegas
By the numbers, the S1 Hoonitron should take the win and that's exactly what happens for the first race. And the second. And third. And fourth. But there are some surprises worth mentioning, chief among them being the RS E-Tron's dominance off the line. It features a dual-speed gearbox to make the most of acceleration, and as a result, the road car nips the priceless prototype in the first half of the standing-start quarter-mile races. An eighth-mile race (still surprisingly common at drag strips in North America) could be a photo finish, but once rolling, the Hoonitron comes on strong despite spinning all four tires.
The unfortunate news for fans of combustion power is that the R8 doesn't stand a chance. Even with a great launch, the rear-wheel drive supercar lags behind both competitors by bus lengths through the quarter-mile. Switching to an R8 with AWD doesn't help, but it's not all gloom and doom for the V10. A half-mile rolling race closes the gap, and it's here we learn the S1 Hoonitron has a speed limiter set to 140 mph. In a standing-mile race, the R8 could stand a chance but even in a half-mile venue, the Hoonitron reigns supreme. Perhaps a mile-long rematch is in order?
With Ken Block's tragic passing at the beginning of 2023, we haven't seen much of the gymkhana-focused Hoonitron. Built with considerable input from Block and his team, it's a unique vehicle in Audi's stable that positively filled Las Vegas with tire smoke last October in Electrikhana, Block's final exhibition in a series of gymkhana videos that spanned over a decade.
Source: Read Full Article